Zika Virus in Singapore Likely Evolved From Southeast Asia
By
Virus found in two local patients is from Asian lineage

Research team behind analysis to release more details shortly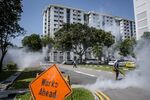 The Zika virus behind an outbreak in Singapore was not imported from South America, Singapore's Ministry of Health said in a statement Saturday.
Analysis by the National Public Health Laboratory and the Bioinformatics Institute discovered that the Zika virus found in two patients from the first cluster in the area of Aljunied Crescent and Sims Drive belongs to Asian lineage, according to the statement.
The virus in Singapore likely evolved from a strain already circulating in Southeast Asia, and was not imported from South America, where the outbreak has been linked to a condition called microcephaly, in which infants are born with abnormally small heads. The research team is expected to release more details shortly, according to the statement.
There were 26 new cases of locally transmitted Zika virus infection in Singapore on Sept. 3, the ministry confirmed. It said Sunday that it is also considering letting suspected Zika-infected patients stay home while their blood and urine samples are tested, an approach that is in line with the ministry's view on those who test positive for dengue and aren't warded in hospitals.
In Malaysia, Director-General of Health Noor Hisham Abdullah said in a Facebook posting that a man from Sabah, who was the first local transmission of Zika virus, died on Saturday.
Before it's here, it's on the Bloomberg Terminal.
LEARN MORE