markets
Yuan's Big-Money Bears Killing Rallies Before They Take Hold
Bloomberg News
Stronger yuan fixings bring out sellers on big volumes

Potential Fed rate increase may test market after G20 calm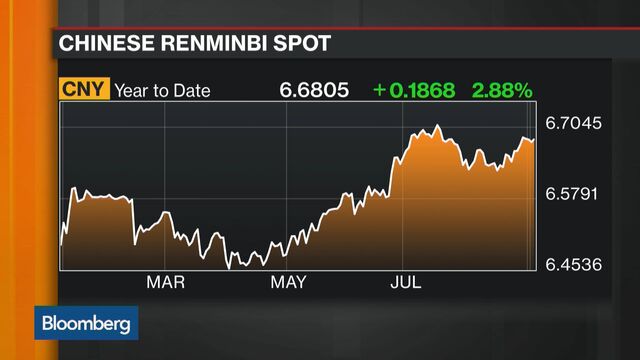 Yuan bears are turning rallies in the Chinese currency into increasingly short-lived affairs.
Every time China's central bank has strengthened its yuan fixing by more than 0.3 percent over the past month, the currency erased initial gains on larger-than-average volumes, according to data compiled by Bloomberg. On days when fixings were cut by the same amount, trading was subdued.

The pattern suggests pent up selling pressure among companies and investors who view any rally as a chance to unload holdings, according to Bank of Tokyo-Mitsubishi UFJ Ltd. It also adds to signs that two months of relative calm for the currency could end after the conclusion of Group of 20 meetings in China on Monday.
"Many people still believe that the depreciation trend hasn't come to an end," said Li Liuyang, a Shanghai-based market analyst at Bank of Tokyo-Mitsubishi UFJ. "This will continue to curb any rebound in the yuan."
The currency has dropped 0.5 percent versus the dollar since the start of August as Chinese data failed to quell concerns over the nation's economic health and the Federal Reserve indicated it could raise borrowing costs this year. Depreciation bets have resurfaced in the derivatives market, with a three-month measure of expected yuan price swings surging the most since January last month.
Vulnerable Currency
While capital outflows have eased from record levels last year, firms and individuals still appear uncomfortable with exposure to China's currency. A Bloomberg gauge of local companies' willingness to convert foreign currencies into yuan is near a record low, while an unprecedented overseas acquisition binge suggests strong demand for exposure to foreign assets. A net $55 billion flowed out of China in July, compared with $49 billion in the previous month, according to Goldman Sachs Group Inc.
"Companies that already hold the dollar tend to be reluctant to sell," said Wan Zhao, a senior analyst at China Merchants Bank Co. "This, along with yuan depreciation expectations, keeps dollar holders on the sidelines, and in turn makes the yuan more vulnerable."
The currency's limited reaction to those headwinds has spurred speculation that China's central bank is propping up the exchange rate to deflect criticism of its policies during the G20 meeting. Given the potential distorting effects of intervention on the fixing, some analysts have increased their focus on the yuan's intraday moves to gauge trader sentiment.
Fed Risk
On Aug. 3, when the fixing was strengthened 0.39 percent, the yuan erased an intraday advance, closing 0.1 percent weaker on volumes 36 percent above the one-month average. Similar patterns were seen on Aug. 1, Aug. 11 and Aug. 17 following large increases in the fixing, which limits onshore yuan moves to 2 percent on either side. On each of those occasions, the next day's fixing was cut by at least 0.3 percent.
If policy makers can maintain a controlled yuan depreciation without fueling capital flight, it could help bolster an economy growing at the weakest annual rate in more than 20 years. Most analysts predict a subdued retreat, with the median forecast in a Bloomberg survey calling for a 1.1 percent decline through year-end to 6.75 per dollar. The onshore yuan rose 0.09 percent to 6.6760 on Monday, while the offshore rate advanced 0.12 percent.
While U.S. jobs data Friday tempered concern about an imminent Fed rate rise, traders are still putting the odds of a year-end increase at 59 percent. The risk for China's authorities is that Fed action or weaker-than-estimated Chinese economic data exacerbate existing pressures on the currency.
"Because investors still think there's room for further depreciation, dollar buyers would tend to step into the market when they see a yuan rebound," said Irene Cheung, a foreign-exchange strategist at Australia & New Zealand Banking Group Ltd. in Singapore. "We're likely to see the yuan to continue testing new lows."
Watch Next: Yuan Trading Surges, Yen Strengthens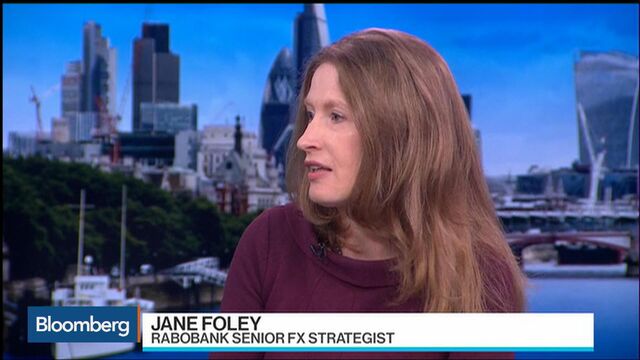 — With assistance by Helen Sun, Ran Li, and Tian Chen
(
Updates yuan's moves throughout.
)
Before it's here, it's on the Bloomberg Terminal.
LEARN MORE