business
Xi and Abe Plan Meeting During G-20 Amid Spike in Tensions
Bloomberg News
Leaders are set to have meeting Monday in Hangzhou in China

Meeting will be their first sitdown in more than a year
The leaders of China and Japan are set to meet on the sidelines of the G-20 summit on Monday evening, at a time of escalated tensions over territory in the East China Sea.
President Xi Jinping and Prime Minister Shinzo Abe will have a proper sit-down, according to an official familiar with the plan, who asked not to be identified, citing government policy. Asia's two largest economies have long bickered over territory and Japan's wartime history, but things have taken a turn for the worse in recent months, even as trade and tourism have held up.

Beijing has taken more assertive measures by sending more naval and coastguard vessels near uninhabited Japanese-administered islets in the East China Sea, triggering a flurry of protests from Tokyo.
"It's a good opportunity for both nations as they face economic downturn pressure domestically," said Liu Jiangyong, director of international relations at Tsinghua University in Beijing, referring to the Xi-Abe meeting. "An improved relationship is needed by both China and Japan."
The leaders join other heads of G-20 nations at their annual summit being held this year in Hangzhou, China. Their sideline meeting will be the first since a brief chat during the Asian African Conference in Jakarta in April last year.
Abe and Xi shook hands as Xi greeted the G-20 leaders at the start of the summit on Sunday. Xi gave a brief smile while a more relaxed-looking Abe flashed a grin and appeared to laugh a little. During a leaders' photograph, Abe stood in the middle row, to the back and several places to the left of Xi.
The first time Abe and Xi met formally, at the Asia-Pacific Economic Cooperation forum in Beijing in late 2014, it proved a brief and awkward affair. The nations broke their two-and-a-half year deadlock at the time with an uneasy handshake.
A commentary published on the official news portal The Paper said the meeting between Xi and Abe would be a "golden opportunity" for Beijing "to mold and influence Japan" and "to help Japan to fix its wrong views against China."
Accepting 'China's Rise'
"Japan still has a long way to go to understand China objectively and accept China's rise," according to the article. "It remains unclear if Japan is ready to re-recognize China." 
Abe already raised the issue of maritime security during the G-20 summit. He told leaders at a session Monday that oceanic trade connects the world and peaceful seas form a basis for global prosperity, Deputy Chief Cabinet Secretary Koichi Hagiuda told reporters in Hangzhou.
Abe said he wanted to reconfirm the importance of freedom of navigation, of aviation over the ocean and the rule of law in supporting trade, Hagiuda added. There was no response from any other leader, he said.
Sino-Japanese ties hit a particularly icy patch in 2012 when Japan nationalized three of the East China Sea islands, and China announced an air defense identification zone over the waters in late 2013. Tensions were also sparked by an arbitration court ruling in July that invalidated most of China's claims in the South China Sea, deciding in favor of the Philippines.
While Japan is not a claimant in the South China Sea, it has supported some Southeast Asian nations and urged all parties to abide by the ruling. China has accused Japan of interfering.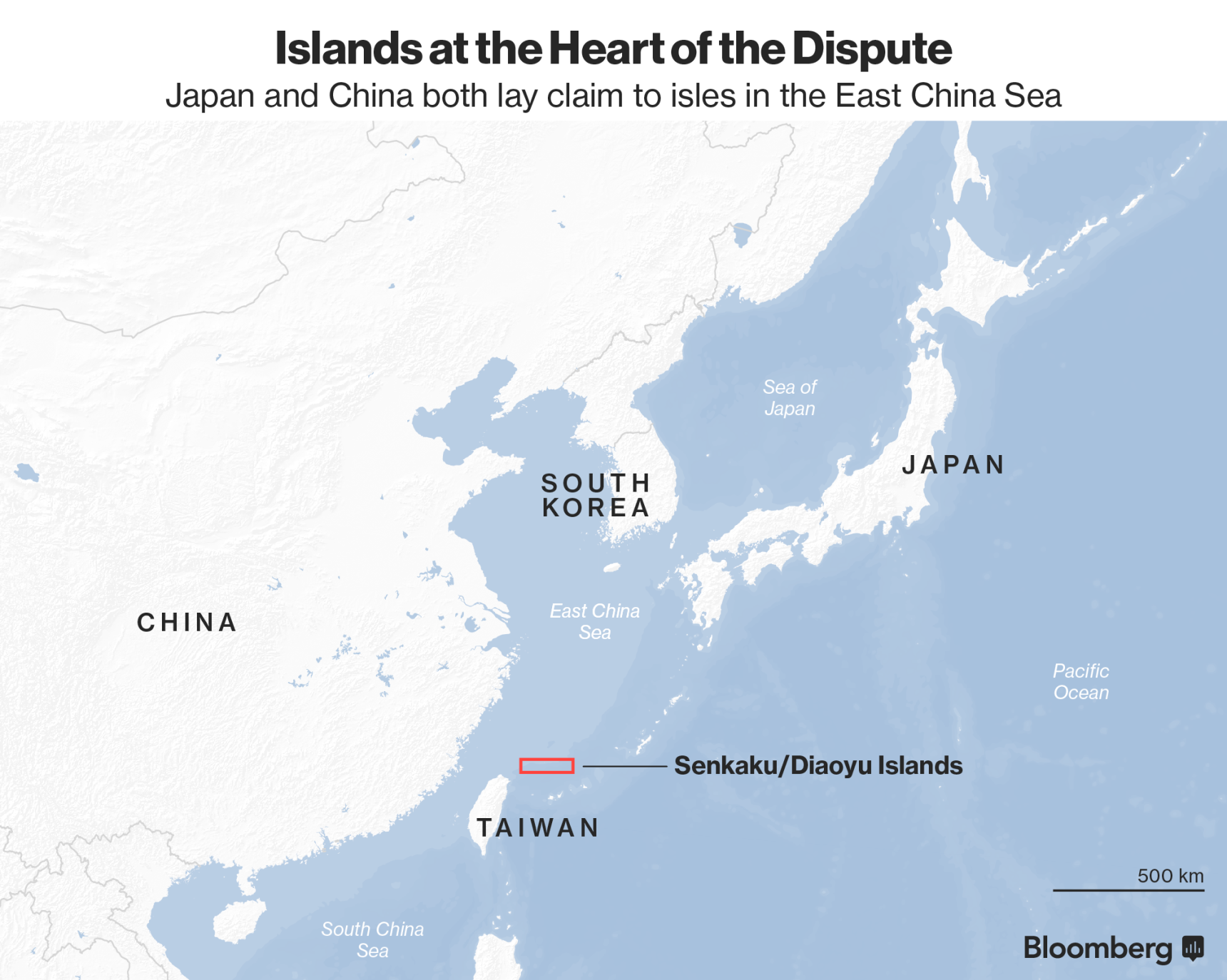 The latest tensions haven't dented Chinese tourism to Japan -- the 731,400 visitors in July marked a monthly record -- or impacted trade. But they further complicate ties just as their economies face headwinds, as well as adding to the risk of a physical clash.
Japan repeatedly protested the almost daily incursions by Chinese vessels into what it considers its territorial waters. Its coastguard released video footage showing more than 200 Chinese fishing boats were accompanied by 28 government ships in the area during the August 5-9 period -- the largest group since September 2012.
On August 18, six Chinese naval ships conducted live-fire drills in the Sea of Japan. The countries have yet to put into force a maritime and aerial communications system to prevent unintended clashes, although it has been under discussion for some time.
— With assistance by Keith Zhai, and Isabel Reynolds
Before it's here, it's on the Bloomberg Terminal.
LEARN MORE