Southeast Asian Leaders Prepare to Welcome Obama for Last Time
By and
South China Sea, economic integration, Zika top summit agenda

Fears of U.S. job losses puts Asia-Pacific trade pact at risk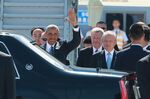 Barack Obama's push to rebalance U.S. foreign policy toward Asia will be the focus of his last visit to the region as president. With a trade deal hanging in the balance of a U.S. election that has free-trade advocates in both major parties on the defensive, Obama will seek to reassure Association of Southeast Asian Nation leaders that the accord can get through Congress. Joining Obama and the leaders of the 10 Asean countries in Laos from Sept. 6 to 8, will be leaders from China, India, Japan, Australia, New Zealand, South Korea, and Russia for the East Asia Summit. Here's a look at the agenda.
U.S. Rebalance
The first sitting U.S. president to visit Laos, Obama's regular attendance at the summit has added significant weight to the annual Asian leaders meeting and further enhanced American engagement in the region. The first U.S.-Asean summit since the signing of last year's "strategic partnership," White House officials say Obama will make a strong case for his signature Asia policies -- the U.S. economic and military rebalance to the region, rules-based order, respect for international law and peaceful dispute resolution. China has repeatedly painted the policy as an attempt to contain its economic and military expansion.
TPP Treaty
The keystone of Obama's engagement strategy with Asia, the Trans-Pacific Partnership trade deal covering 12 nations and 40 percent of world commerce has been targeted by both sides of the U.S. presidential campaign. With sentiment in the U.S. running against free-trade agreements, Obama's only chance to see the treaty ratified will be to push it through Congress during the so-called lame-duck session before he leaves office in January. White House officials say he'll make a strong case for TPP in Laos. Seven member nations will be represented in Vientiene, as well as China, which isn't part of TPP. The deal would slash tariffs on goods and services and set labor and environmental standards.
Sea Disputes
China's claim to most of the South China Sea suffered a setback in July when an international tribunal ruled that its territorial assertions had no legal basis. Five Asean nations including the Philippines, which instigated the case, and Vietnam also have claims in the waters that host more than $5 trillion in trade a year. China has said it will ignore the ruling. In June, Malaysia released a statement after an Asean meeting identifying the dispute as "an important issue in the relations and cooperation between Asean and China." China says the dispute isn't a matter between itself and Asean. Beijing pressured Laos to scrap that statement, according to a Southeast Asian official with knowledge of the talks. That's why any South China Sea references in the final communique will carry extra weight.
Duterte Debut
Newly elected Philippine President Rodrigo Duterte, a longtime mayor who swept to power with his populist approach, makes his international debut. The diplomatically inexperienced Duterte will navigate his first meetings with world leaders amid global criticism of his deadly drug war. During his trip he'll meet Obama and they're expected to discuss both the South China Sea and rights issues, though Duterte has warned that the American leader must first listen to his defense of the drug war before raising concerns. Regional leaders will be watching the way he balances interaction with both the U.S. and the China, who he's courting with an offer of two-way talks to resolve to the territorial dispute.
Zika Threat
As Zika spreads in Singapore, the threat of more infection across Southeast Asia is a major challenge for Asean. With cases being introduced or transmitted locally in Indonesia, Thailand, Vietnam and Malaysia, Asean may resolve to take joint action, similar last year's Malaria Elimination Roadmap, which aims for eradication from the Asia-Pacific by 2030.