Ruble Lulls Inflation to New Lows to Pave Way for Rate Cuts
by
Inflation eased to slowest in over 2 years, matching estimates

Bank of Russia cut rates once in past year amid risk to prices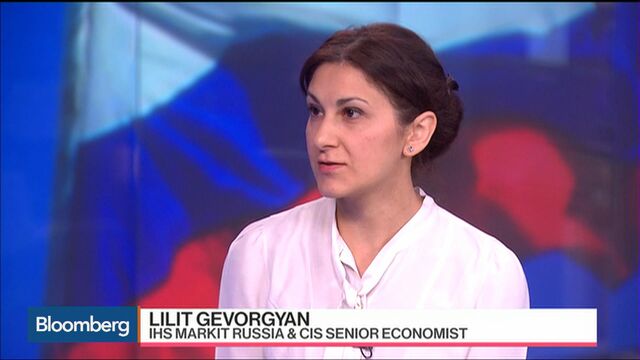 Russia's central bank can let a stronger ruble drain what's left of inflation pressure in the economy.
A surge of more than 13 percent this year, the world's third-biggest rally, is quieting the aftershocks of the nation's worst currency crisis since 1998, sending inflation expectations to the lowest in almost two years. Annual consumer-price growth slipped to 6.9 percent in August from 7.2 percent a month earlier, easing to the slowest since tensions over Crimea erupted in February 2014, the Federal Statistics Service said on Monday. That matched the median of 17 estimates in a Bloomberg survey.
"The stronger ruble should exert the main disinflationary force in the near term," Michal Dybula, an economist at BNP Paribas SA in Warsaw, said in a report. "A pull-back in inflation expectations is a crucial factor allowing the central bank of Russia to undertake more robust policy easing down the line."
The slowdown brings prices 10 percentage points below a 13-year high in 2015 and may give the Bank of Russia the confidence to embark on the first uninterrupted interest-rate cuts since policy makers halted a five-step cycle last September. Bank of America Corp. and Danske Bank A/S predict a decrease when the central bank reviews borrowing costs next week, with Morgan Stanley seeing two reductions in 2016 and BNP forecasting cuts at each of the three remaining meetings this year.
'Well-Behaved'
"Well-behaved inflation, the inflation expectations slowdown, savings-oriented consumer behavior and the government's decision not to index pensions prior to elections" argue in favor of a 50 basis-point cut on Sept. 16, Morgan Stanley economist Alina Slyusarchuk said in a report.
A stronger currency cools price growth by making imports cheaper. The ruble has traded in a range of about 67 to 63 against the dollar since mid-April, posting its first August gain in a decade. It was 0.2 percent stronger at 64.9950 against the dollar as of 3:26 p.m. in Moscow.
Forward-rate agreements on Monday signaled 65 basis points of decreases in borrowing costs over the next three months. The central bank has cut its benchmark once in the past year, lowering it to 10.5 percent in June.
'Economy's Development'
The exchange rate should "correspond to the level of the economy's development," President Vladimir Putin said in an interview last week, adding that swaying central bank policy wasn't his goal. Putin fueled speculation that the central bank could return to foreign-currency purchases to weaken the ruble in July, when he instructed his prime minister to monitor the ruble's strength.
Inflation expectations fell "noticeably" in August, with the median declining by 1.7 percentage points to 12.6 percent, the lowest since October 2014, according to results of a poll published by the central bank.

"Expectations are one of the main inflation risks for the Bank of Russia," said Vladimir Osakovskiy, chief economist for Russia at BofA in Moscow, who predicts a 50 basis-point cut next week. "That's why their slowdown proves more grounds for reducing the rate."
Chasing Target
Policy makers, who overshot their forecast in 2015 for a fourth consecutive year, want to keep price growth to 5 percent to 6 percent in 2016. The pace of disinflation is "for now not sufficiently fast to confidently reach" the central bank's 4 percent goal by end-2017, and expectations show "greater inertia" than in previous years, its research and forecasting department said in a report last week.
While price growth has stabilized, the median value of inflation expectations remains at more than triple the target. The significance of their decline in August "shouldn't be exaggerated," said VTB Capital economists Alexander Isakov. Increases for non-food prices in the first half of the year have kept inflation far above 6 percent, he said.
Cost pressures continued to mount for companies in Russian services industries in August, with the pace of input price inflation accelerating to the fastest in eight months, according to Markit Economics. Manufacturers in the country also faced higher input costs, Markit said.
"With input price inflation still at a substantial pace, and firms raising output charges only marginally, the downward pressure on operating margins will remain worrying for companies," Samuel Agass, an economist at Markit, said on Monday in a statement accompanying the Services Purchasing Manager's Index for last month.
Opening Doors
August's inflation reading may tip the balance in favor of a rate cut, according to Vladimir Miklashevsky, senior strategist at Danske Bank in Helsinki.
"A lower-than-expected print will seal a rate cut of a minimum of 50 basis points, opening the doors for another cut later this year," he said. "Private consumers and retailers will get more oxygen to breathe in 2017 which is extremely important as it's a pre-election year."
Before it's here, it's on the Bloomberg Terminal.
LEARN MORE