Philippine Police Hunt Four People After Davao City Bombing
Ian Sayson
Two men, a woman sought as 'persons on interest,' police say

14 killed by blast; president declares state of lawlessness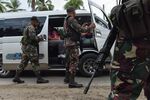 The Philippine police are searching for four people after Friday's bombing in the southern city of Davao that killed 14 people and spurred President Rodrigo Duterte to put the entire country under state of "lawlessness."
Police are looking for two men and one woman as "persons of interests," and another person that was seen talking to one of them, Chief Inspector Andrea dela Cerna, spokeswoman of Southern Mindanao Regional Police Office, said Sunday. Police have interviewed eight witnesses and are not discounting the possibility that there could have been more than four people involved in the bombing, she said.
Duterte, who was at his official residence in Davao at the time of the bombing, has declared a nationwide state of lawless violence, allowing him to use the military to assist the police to fight crime and violence. National police chief Ronald dela Rosa said Saturday that authorities are still trying to confirm media reports that Abu Sayyaf, an extremist Muslim group operating in the island of Mindanao, orchestrated the blast in the night market that injured 67 people.
"The bombing is a symbolic act," independent political analyst Earl Parreno said in a phone interview Sunday. "It's a slap in the face for the president. The group behind it wanted to send a message to President Duterte that even in his hometown that he has declared safe and well protected they can stage a bombing."
The blast was caused by an "improvised explosive device" possibly made of mortar, fragments recovered from the scene show, dela Cerna said.
Highest Alert
"Tighter security is being implemented in the city, with the highest alert status in effect and additional policemen sent to the city's entrance and exit points," she said. "We still can't say how long this will last."
Before assuming office June 30, Duterte was mayor of Davao City for two decades. He won the May 9 presidential election with a margin of more than 15 percentage points more than his closest rival, with his promise to crack down on corruption and crime.
Philippine stocks and the peso may not extend Friday's rebound when markets open Monday as local events overshadow recent US jobs data that support the outlook that the Fed will not raise rates this month, according to Astro del Castillo, managing director at First Grade Finance Inc. The benchmark Philippine Stock Exchange Index rose 0.4 percent on Friday, halting a seven-day slide, while the peso strengthened 0.2 percent, its first gain against the dollar in five days.
"Most investors might become more risk averse, limiting the impact of positive developments abroad," del Castillo said.
Overseas investors pulled out $162 million from Philippine equities last week, the biggest weekly outlflow in almost a year.
Knee-Jerk Reaction
"We expect some knee-jerk reaction but the sound macro fundamentals will not be lost to the markets," central bank Deputy Governor Diwa Guinigundo said in a mobile-phone text message. "We will continue to see a generally stable exchange rate."
Previous to Friday's bombing, Davao and other areas in Mindanao were already placed under heightened alert amid a military operation against Abu Sayyaf, which has been responsible for abductions and executions in Mindanao, home to the nation's Muslims. Duterte, who ordered soldiers last month to finish off the Abu Sayyaf, is waging a war against drug syndicates, a campaign that has seen about 2,000 people killed so far and has drawn criticism from human rights groups and the United Nations.
"I have this duty to protect the country. I have this duty to keep intact the integrity of our nation," Duterte told reporters Saturday. "So I am declaring now a state of lawlessness. It is not martial law."
Duterte said the state of lawlessness, which involves deploying more soldiers and police to conduct searches and set up checkpoints, will be in place until he decides it is safe to lift. He referred to the bombing as terrorism.
"The key point is that a lasting peace agreement in Mindanao is still somewhat far away," said Gareth Leather, senior Asia economist at Capital Economics Ltd. in London. "They wanted to open it up to investment and tourism and this latest explosion will act as deterrent."
— With assistance by Ditas B Lopez, and Clarissa Batino
Before it's here, it's on the Bloomberg Terminal.
LEARN MORE