Hong Kong Sees Record Voter Turnout in Test of China's Clout
By and
Beijing-backed leader Leung under pressure after 2014 protests

Infighting threatens to split vote among pro-democracy camp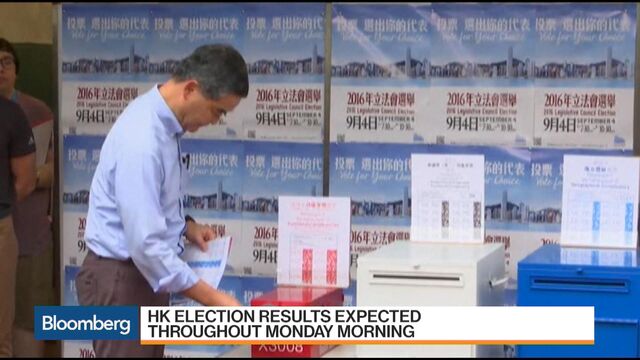 Hong Kong voters turned out in record numbers Sunday for a legislative election that will test the appeal of a new wave of anti-China activists and set the stage for future political fights over Beijing's control over the city.
Election officials worked through the night to count about 2.2 million ballots cast for the city's Legislative Council as voters waited in long lines even after polls closed at 10:30 p.m. local time. Turnout hit 58 percent of registered voters, above the previous high in 2004, according to the Electoral Affairs Commission. Results are expected on Monday.
The legislative election was Hong Kong's first since police clashes with student protesters two years ago thrust the former British colony's struggle for greater democracy into the global spotlight. The scuffles exposed rifts in Hong Kong's political camps, with some pro-democracy advocates demanding a sharper break with China and other more establishment politicians calling for the ouster of the city's Beijing-backed leader.
Chief Executive Leung Chun-ying is weighing whether to vie for another five-year term in March as economic growth slows and wealth disparities rise in the Asian financial hub. Also at stake is the opposition's capacity to block legislation with more than a third of the chamber's 70 seats, a key barrier to controversial bills like the proposed election overhaul that sparked the mass "Occupy" rallies in 2014.
"I'm hoping there will be a new dawn for our city," said Candy Lam, 21, who voted to give one of Hong Kong Island's six seats to student protest leader Nathan Law. "For too long, it's been the same people using the same tactics and they haven't made a difference. Maybe new blood will bring about another era in Hong Kong politics."
Hong Kong Tries to Cut Path From Liberty to Democracy: QuickTake
Since the last legislative election in 2012, Hong Kong has seen a series of political clashes over whether China is preserving the "high degree of autonomy" it promised before regaining sovereignty almost two decades ago. The disappearances last year of five local men who sold books critical of the ruling Communist Party drew international protests after they were revealed to be in the custody of mainland Chinese authorities.

"You may be disappointed by the fact that Hong Kong, the city we love, has not been making more progress," Chief Secretary Carrie Lam, Leung's top deputy, said after casting her vote Sunday morning. "Indifference will not lead us anywhere. Your vote is a vote of confidence in Hong Kong."
A lack of reliable polling and a complicated system in which lists of candidates vie for multiple seats in each district makes predicting the outcome difficult. Thirty-five seats represent geographical districts, while 30 are allocated for various professions, industries and special-interest groups such as medicine, finance and agriculture. Five more "super seats" are selected by citywide vote.
Red Line
Legislators under the "pan-democratic" umbrella currently hold 27 seats, compared with 43 in the pro-establishment group. That gives the opposition the power to slow legislation with filibusters and block changes to the city's charter, which require support from two-thirds of the chamber.
That power held by the opposition "is the only thing preventing the government from reintroducing the political reform package against the will of Hong Kong people," said Chung Kim-wah, a political scientist at the Hong Kong Polytechnic University.
The professional seats are dominated by Beijing loyalists, damping the fractious pro-democracy group's hope of winning a majority for the first time since the U.K. handed Hong Kong back to China in 1997. Maintaining unity has become even more challenging as more-radical parties push for self-determination or even independence from China.
The government has drawn a red line on advocacy of independence, barring six candidates from running and requiring hopefuls to sign a form acknowledging that the city is an inalienable part of China. Still, some so-called "localists" have made the cut. Success in Sunday's vote could give them a greater platform to challenge China.
Anti-Leung Campaign
One 71-year-old retiree who would give only her surname, Ho, said she was voting for the first time because she felt she needed to take a stand.
"I'm voting for the candidates who'll defend my city from these types of troublemakers," she said outside a polling station in the Hong Kong Island neighborhood of Sheung Wan. "All this talk of independence has come as a shock and there's no way I'm going to stand by and just let these people destroy my city."
Others chose candidates who have campaigned to replace the city's unpopular chief executive. While Leung, who's known as CY, hasn't said whether he'll seek a second five-year term next year, he has become the target of a cross-party campaign blaming him for failing to calm local political divides.
The chief executive is selected by a 1,200-member committee of political insiders dominated by China loyalists, and subject to approval by the central government in Beijing. Protesters in 2014 had sought free popular elections for the city's top leader.
"I'm voting for someone who will lobby for us to remove CY from office," said a 36-year-old shipping executive who gave only his surname, Chan. "I want a leader who will fight for Hong Kong and fight for Hong Kong people."
Before it's here, it's on the Bloomberg Terminal.
LEARN MORE