Germany's Merkel Sees Erdogan Talks Leading to Incirlik Solution
By
Merkel comments after meeting Turkey's president at G-20

Sees potential for compromise in talks about Turkey visas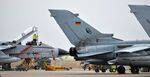 German Chancellor Angela Merkel expects a solution within days to end a disagreement with Turkish President Recep Tayyip Erdogan over his nation's refusal to let German lawmakers visit troops stationed at Turkey's Incirlik Air Base.
"I believe that there will be a possibility for positive news," Merkel said on Sunday after a meeting with Erdogan on the sidelines of the G-20 summit in Hangzhou, China.
Parliamentarians have been denied permission to visit German soldiers at Incirlik after the legislature in Berlin passed a resolution labeling the 1915 massacre of Armenians as genocide.
Merkel also said talks about the planned visa liberalization for Turkish citizens in the European Union would have to continue for several weeks. She said she was optimistic that the Turkish government and the EU commission would eventually reach a compromise.
"These talks will go on for some time, but also here I see the possibility for a positive solution," she said.
The EU commission is demanding a retraction of the new Turkish anti-terror laws in return for granting visa liberalization for Turkish citizens. Erdogan has threatened to end the refugee agreement with the EU if the planned visa liberalization isn't granted.