Carney's Stimulus Questioned as BOE Faces Pro-Brexit Lawmakers
By
BOE cut interest rate, expanded quantitative easing last month

Resilient economic data may give fodder to governor's critics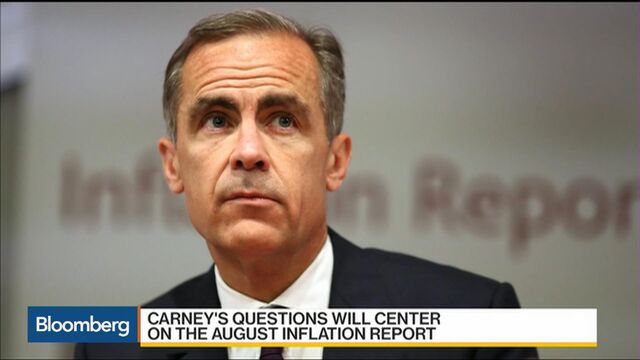 Mark Carney had better have made the most of his summer break, because he's about to meet his critics again.
In his first public appearance since the central bank unleashed a barrage of stimulus, the Bank of England governor will answer to a panel of lawmakers, including those who campaigned for Britain to leave the European Union. As he testifies in London on Wednesday afternoon, he'll probably be asked whether he acted too quickly in response to the referendum result, did too much, or went too far with his pre-vote warnings.
While previous tussles saw the governor robustly defend his stance, this encounter may see victorious pro-Brexit campaigners -- including Jacob Rees-Mogg -- on the front foot after signs of early economic resilience. While the reports show fortitude for now, there's uncertainty over how and when the U.K. will actually exit the bloc, and the BOE predicts slower growth and faster inflation ahead.
"Carney's almost certainly going to get it in the neck, or get a lot of stick, from the Brexiteers," said Grant Lewis, an economist at Daiwa Capital Markets in London who previously worked at the U.K. Treasury. "He'll be asked about whether the bank acted precipitously and whether their warnings were too alarmist about the impact of Brexit. He'll probably focus on further out and what the impact will be going in to next year."

The governor will appear alongside one of his deputies, Jon Cunliffe, official Gertjan Vlieghe and Kristin Forbes, who voted against parts of the stimulus package announced on Aug. 4. That may fuel questions about whether Carney gave his colleagues on the nine-member Monetary Policy Committee little room for maneuver by declaring on June 30 -- just a week after the Brexit vote -- that easing would probably be needed.
Click here to set a reminder to watch the event live.
Questions will center on the August Inflation Report, in which officials slashed their growth forecasts by the most ever and unveiled a multi-pronged plan that reduced the key rate to a record-low 0.25 percent and outlined plans to buy gilts and corporate bonds. The MPC also said that should their outlook for the economy prove correct, a majority expected to support a further rate cut later this year.
"The BOE's package on Aug. 4 was premature and may well turn out to be, if not unnecessary, actually counterproductive," said Ruth Lea, an economic adviser at Arbuthnot Banking Group Plc who campaigned in favor of Brexit. "I'd have much preferred if he had kept quiet and just waited until he had some hard data."
Investor Expectations
While the full effect of the referendum hasn't yet shown up in official data, initial reports show the labor market, consumer confidence, retail sales and house prices are holding up well so far. A gauge of services activity published Monday jumped the most on record in August, rebounding after an initial post-Brexit vote slump. Traders responded by pushing the pound as high as $1.3376, its strongest level since the middle of July.
The testimony will be scrutinized for clues as to how Carney sees the outlook and may influence investors, who see a 25 percent chance of a rate cut by the end of the year.
Forbes may be probed on her dissent, since she joined Ian McCafferty and Martin Weale in voting against purchases of government bonds, preferring to wait and see how the data evolved. That program has had a rocky start, with high premiums and low bid-to-cover ratios at some operations and predictions that future purchases may struggle to reach the target.
Growth Outlook
Still, some of the Treasury Committee's lawmakers will want to focus on the future and how the BOE can help mitigate economic risks as the U.K. begins its negotiations to leave the EU. The central bank projects growth will slow to 0.8 percent next year, and economists in a Bloomberg survey see a contraction of 0.1 percent in the third quarter of this year and stagnation in the fourth.

"Carney was right to buy some insurance against a sharp slowdown," said Joachim Fels, an economics adviser at Pacific Investment Management Co. "Just because it didn't show up in the first few months of data, doesn't mean it isn't coming. Growth will slow, it could become apparent that companies are less willing to invest, consumers will be hurt as inflation picks up."
Sign up to receive the Brexit Bulletin, a daily briefing on the biggest news related to Britain's departure from the EU.
Before it's here, it's on the Bloomberg Terminal.
LEARN MORE