Americans Fire Up Grills for Cheap Burgers as Beef Price Tumbles
By and
U.S. record meat supplies drive prices lower for beef

Money managers dump wagers on a rebound for cattle futures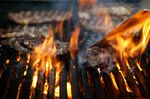 With barbecue grills lighting up across the U.S. this holiday, you might make that cheeseburger a double.
After savoring cheap burgers all summer, Americans are enjoying the lowest ground-beef prices for this time of year since 2011. The Labor Day holiday, celebrated on Sept. 5 this year, ties with Memorial Day as the most popular day for barbecues after the Fourth of July. Inexpensive meat might be here for a while -- cattle futures in Chicago are trading near their lowest since 2010, and investors have reduced bets on a rally for three straight weeks.
With the U.S. set for a year of record meat production, prices are in a downward spiral for beef, pork and chicken as suppliers compete for space on the dinner plate. Bigger supplies of cattle mean prices for the ground meat are tumbling and restaurant chains including Ruby Tuesday and Chili's are benefiting from the drop in costs.

"You have a glut of meat protein out there, and slaughter on the cattle side continues to be large, so now you have all this product looking for a home," said Altin Kalo, an analyst at Manchester, New Hampshire-based Steiner Consulting Group, an economic and commodity-trading adviser. "The challenge for Labor Day is that ground beef has to share the meat case, with chicken especially."
Bigger Herds
Cattle ranchers started expanding herds to capture record profits in 2014. Now, those extra animals are arriving in droves. U.S. slaughter rates have been up as much as 10 percent over last year in recent weeks, government data show.
Excess supplies sent cattle for October delivery down 4.5 percent last week to $1.016 a pound in Chicago. Prices touched $1.01375 on Friday, the lowest for rolling most-active futures since November 2010.
Investors aren't expecting prices to recover anytime soon. Speculators cut their net-long position in cattle by 24 percent to 31,173 futures and options in the week ended Aug. 30, according to Commodity Futures and Trading Commission data released three days later.
While prices are declining across the board for meat, the burger, in particular, is struggling. Wholesale trimmings, the fatty component in burgers, are the cheapest for this time of year in at least a decade. Because the ground meat competes directly with chicken, costs have fallen in a bid to attract demand. By contrast, premium beef items such as steaks are still fairly pricey at grocery stores, because there are few substitutes for a juicy ribeye.
Red-Meat Wary
Beef, in particular, has to follow other meats lower because consumers have grown more health-conscious, industry researcher IBISWorld said in a report last month. There's recently been less interest in the red meat than the industry expected, said Jim Robb, director of the Livestock Marketing Information Center in Denver. A stronger dollar is also stymying overseas demand, causing beef supplies to back up domestically.
Bigger supplies mean restaurants are seeing cheaper costs. Wendy's Co. is expecting commodity deflation of as much as 6 percent in 2016 "mainly due to the continued favorability in beef prices," Chief Financial Officer Gunther Plosch said on an earnings call in August.
Even as prices drop, some factors could help ranchers and cattle feeders in the coming months. This year's corn harvest is forecast to be the biggest ever, which will make animals cheaper to raise. Pasture conditions are the best for this time of year since at least 2001, creating a feast for grazing young animals. Also, with meatpackers so aggressively processing cattle now, there might be fewer animals down the road, helping futures to finally recover.
"There are quite a few older cattle in feedlots right now that are coming to market as prices are under pressure," said Tim Rudderow, chief executive officer of Newtown, Pennsylvania-based Mount Lucas Management, which oversees $1.6 billion. "What you have is sort of a near-term ample supply that might level out and be a bit tighter in coming months."
Before it's here, it's on the Bloomberg Terminal.
LEARN MORE