Watch Out for Post-Labor Day Bank Mergers
The long weekend is about more than back-to-school shopping.
By and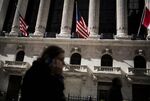 Bond traders may be seen lounging on the beach during the long Labor Day weekend, with disappointing U.S. jobs data pointing to lower odds of a Fed rate hike. Investment bankers, on the other hand, might not be so lucky.
In particular, those covering the financial industry may be burning the midnight oil, according to a report from FIG Partners. Since 1990, 187 bank mergers have been announced in the first eight days of September, the research firm said. "Our analysis of several thousand bank industry mergers from 1990 through 2015 signals that early September is historically an active time for merger announcements," writes a team led by Research Director Christopher Marinac.

To take just a few examples: On September 6, 2007, three days after the holiday, Royal Bank of Canada agreed to buy Alabama National BanCorp. for $1.6 billion. The next day, National Penn Bancshares and KNBT Bancorp. announced a $464.6 million merger pact. The buyer in that acquisition was later bought out by BB&T, a bank that is also no stranger to doing holiday deals. On September 8, 2014, BB&T entered a deal to acquire Bank of Kentucky Financial for $363 million, just a week after saying it would purchase 41 of Citigroup Inc.'s retail branches.
"We feel investors should take notice of this history since today's buyers have strong valuations (i.e., equity currency), cash liquidity is plentiful, and sellers' willingness to engage in deals has rarely been better," added Marinac.
While banks continue to be buffeted by sluggish global growth, new regulatory measures, and shrinking net interest margins, this subgroup of the S&P 500 has rallied almost 20 percent since June 27 (the Monday after the U.K.-EU referendum) far outpacing the benchmark index's 8.8 percent advance over the same span.
"The backdrop of muted revenue growth, higher regulatory costs and excess capital may rekindle larger bank M&A, especially in light of recent sizable deal activity," wrote Bloomberg Intelligence analysts Harvey Lei and Alison Williams.
A bout of banking M&A could help salvage what's shaping up to be a poor quarter for the advisory-fee revenues raked in by investment banks. Announced global M&A volume is down 34 percent annually for the third quarter through August, with deal count falling by 13 percent, noted Williams.
It's not just banks that go on back-to-school buying sprees, though. Last year, the day after Labor Day, Concordia Healthcare announced an agreement to purchase Amdipharm Mercury for $3.5 billion. Less than two hours later, Blackstone agreed to buy Strategic Hotels & Resorts for about $3.93 billion. After the market closed that day, Mylan NV — the same pharma company that's recently been under fire for jacking up the price of EpiPens — started a $27.1 billion hostile takeover bid for Perrigo.
So, as Marinac says, "Rest and relax this weekend, but keep your eye on the news headlines early next week."