U.S. ELECTION WRAP: Trump, Clinton Vie for Labor Day Edge
Clinton and Trump focus on the Midwest as both face post-Labor Day campaign challenges
By and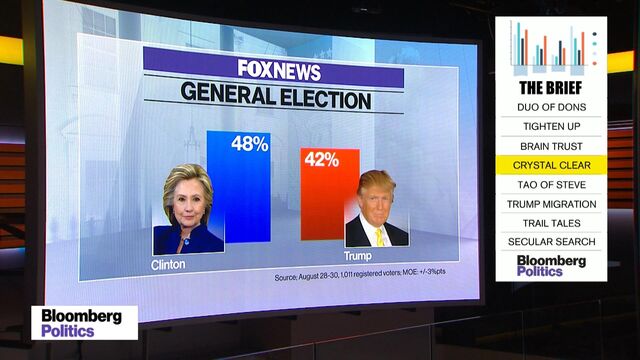 Donald Trump will visit a black church in Detroit while Hillary Clinton focuses on Ohio and Iowa this weekend as Labor Day kicks off an accelerated push to November.
Republican National Committee Chairman Reince Priebus dismissed a suggestion that Trump would be wiser to spend more time reaching out to swing voters in Florida or Pennsylvania instead of courting the black voters, a group that polls consistently show as largely loyal to Clinton

"The fact that we are going after the black vote and Hispanic vote and Asian vote across this country I think is what is going to make the difference between winning and losing," Priebus told Fox News
The GOP, he said, is the party of the "open door," and Trump "understands that"

If 2012 GOP presidential nominee Mitt Romney's share of the black vote in Ohio and Florida had increased by just a few percentage points, he would have won those crucial swing states: Priebus

NOTE: Romney still would have lost the electoral vote to President Obama, 285-253

The plans for Trump's visit tomorrow to the predominantly black Great Faith Ministries International church in Detroit didn't include a speech to the congregation; instead, he would answer questions from the pastor, Bishop Wayne T. Jackson, and the interview would air later on Impact Network, Jackson's Christian cable-TV channel, New York Times reported

After the newspaper last night wrote about a leaked script showing what the Republican's advisers want him to say in the interview, the campaign said Trump would also address the congregation for 5-10 minutes

He also plans to visit Detroit neighborhoods with former campaign rival Ben Carson, an adviser who grew up in the city

Trump previously has called Detroit a "living, breathing example" of Clinton's "failed economic agenda"

Trump's campaign hasn't yet released details of where he'll be stumping on Labor Day itself
Clinton is to spend Labor Day in Cleveland and the so-called Quad Cities, a region of four counties in northwest Illinois and southeastern Iowa
The Midwest focus follows reports this week showing an unexpected rough patch last month for U.S. manufacturing

Manufacturing payrolls fell 14,000 in Aug. after rising 6,000 in July, govt data showed today
The Institute for Supply Management's index fell by 3.2 points to 49.4 in Aug., the biggest drop in more than two years and signaling contraction for the first time in six months, the Tempe, Arizona-based group's report showed Thursday
"Weak manufacturing numbers may help Trump in Rust Belt states," Bloomberg Intelligence's Carl Riccadonna said
Click here to get the U.S. Election Wrap by e-mail every afternoon

DEBATES
Moderators for the fall's presidential debates, announced today by the commission that organizes them, include NBC Nightly News anchor Lester Holt, who will handle the first face-off on Sept. 26 at Hofstra University in Hempstead, N.Y.

ABC's "This Week" co-anchor Martha Raddatz and CNN's Anderson Cooper will guide the second one on Oct. 9 in St. Louis, and "Fox News Sunday" anchor Chris Wallace will helm the final one Oct. 19 in Las Vegas
Wallace's selection marks the first time in Fox News' 20-year history that someone from its staff has been picked for moderator duties
Wallace said he will have leeway to choose the six topics to be focused on at his debate, a decision he will make based on world conditions at the time and issues covered in the earlier debates

CBS News' Elaine Quijano will oversee the single vice-presidential debate, set for Oct. 4 in Farmville, Va.

CLINTON WATCH
The FBI today released details of its investigation into the Democratic candidate's e-mail practices when she served as secretary of state; see story here

The campaign is "pleased that the FBI has released the materials from Hillary Clinton's interview, as we had requested," Clinton spokesman Brian Fallon said
"While her use of a single e-mail account was clearly a mistake and she has taken responsibility for it, these materials make clear why the Justice Department believed there was no basis to move forward with this case"
A Trump aide said the FBI notes reinforce Clinton's "bad judgment"

Clinton on Monday will begin allowing reporters covering her to travel on her campaign plane, Bloomberg's Jennifer Epstein reported

Trump's campaign has indicated it won't put the press on the same plane as the GOP nominee or facilitate what's known as a "protective pool" of journalists meant to monitor a nominee's movements on behalf of the broader media
The plane arrangements this year differ from how presidential candidates, including Clinton eight years ago, have dealt with their reporters since the early 1960s, New York Times' Jim Rutenberg wrote earlier this week

Clinton's campaign struck back at assertions by Russian President Vladimir Putin that the hacking of Democratic Party groups was a public service, and accused him of endorsing "foreign interference" in the U.S. presidential election

Trump's campaign responded to the Clinton comment by saying she "needs to explain her deeply disturbing record on Russia, which includes her State Department approving a deal that ultimately handed Putin's allies control over one-fifth of the U.S. uranium supply while donations from involved parties flowed to the Clinton Foundation"

Bloomberg's Paul Barrett examined whether Clinton's lead over Trump is driving gun sales; click here for story

TACO TRUCKS?
Marco Gutierrez, founder of the group Latinos for Trump, drew a mostly snarky backlash on social media after he told MSNBC that if U.S. problems with illegal immigrants aren't fixed, there will be "taco trucks on every corner," the New York Times reported

Reason magazine's Nick Gillespie, perhaps in a hat tip to the late Gene Wilder, wrote: "If your best argument against immigration is an overabundance of food trucks, well, to quote Willy Wonka, 'YOU GET NOTHING! YOU LOSE! GOOD DAY, SIR!'"

ETC

CONGRESSIONAL ELECTIONS
SENATE RACES (Republicans hold 54-46 majority)
FL: Conservative group American Future Fund released TV ad calling Democratic Rep. Patrick Murphy a "fabulously phony failure," saying he embellished his résumé and misleadingly referred to himself as "an immigrant" in an interview with Jorge Ramos

AFF reported spending $1.92m opposing Murphy, according to Federal Election Commission filing today

IL: Democratic Rep. Tammy Duckworth, who's opposing Republican Sen. Mark Kirk, wrote a letter to Atty. Gen. Loretta Lynch requesting Justice Dept. antitrust review of Mylan over pricing of EpiPen allergy shot
NH: Sen. Kelly Ayotte and ex-state Sen. Jim Rubens "battled over illegal immigration, free trade deals, fiscal issues, special interests, and even Donald Trump" in Republican primary debate yday, NH1 reported

Ayotte favored to defeat the more conservative Rubens in Sept. 13 contest and face Democratic Gov. Maggie Hassan in highly competitive Nov. race
Granite State Solutions, super-PAC backing Ayotte, released TV ad referring to Hassan as "Taxin' Hassan" for voting as a state legislator to increase taxes and fees
Narrator says "more big spending and higher taxes" are "the last thing we need more of in Washington"
Granite State Solutions spent $512k against Hassan, according to FEC filing; Jay Faison, entrepreneur and philanthropist who supports Republicans who favor clean-energy policies, gave $500k to the super-PAC in 2015

VA: Democratic Rep. Bobby Scott created leadership PAC, Strengthening Virginia's Working Families PAC, "to raise money to assist other federal and state candidates," according to FEC filing and e-mail from treasurer Katie Buchanan

Scott, potential replacement for Tim Kaine in the Senate if Democrats win White House, told the Daily Press that if appointed he would run in 2017 special election and again for full six-year term in 2018
Scott strongly favored to win 13th House term in Democratic district that includes Newport News, Portsmouth

WI: National Rifle Assn's Institute for Legislative Action spent $137k on mailers backing re-election of GOP Sen. Ron Johnson, according to FEC filing

Johnson has voted against gun-control measures, sponsored proposal backed by most Republicans that aimed to block suspected terrorists from buying guns; Senate voted to kill Johnson's plan in June
Democratic ex-Sen. Russ Feingold has "tried to straddle the line on guns throughout his career, making pro-gun-rights statements while casting votes on both sides of the issue," Wisconsin State Journal reported in July story that examined both candidates' gun-policy views
HOUSE RACES (Republicans hold 247-186 majority)
Before it's here, it's on the Bloomberg Terminal.
LEARN MORE