pursuits
Trump Pinatas, Pizza Ovens Bring Hamptons 2016 Season to a Close
By
Southampton Arts Center draws Brooke Shields, Michael Karsch

Season highlights include farm, boat and music excursions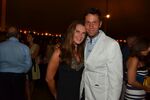 Brooke Shields raved about the pizza Thursday night but couldn't remember the restaurant that served it under a tent on Jobs Lane as part of the Southampton Arts Center's annual tasting benefit.


Was it Southampton Social Club? Nope, that was crab cakes. The lasagna was at Citarella. Tutto Il Giorno had offered farro salad.
"It's Plesser's Luxury Appliances," Greg Unis, chief executive of Victoria's Secret Beauty, said, waving the card he'd picked up.
"Appliances?" Shields said incredulously.
"They sell outdoor pizza ovens," Unis explained.
Plesser's had put a Kalamazoo Outdoor Gourmet pizza oven to work (one model sells for more than $11,000) -- one last summer sales pitch. It was, after all, the eve of Labor Day weekend, marking the end of the season. There was a nip in the air and a Lands' End catalog featuring sweaters in the goody bag.

Some people's heads were already back in city mode: Michael Karsch of Hunter Peak Investments recounted a few great nights at the U.S. Open and said a new Juice Press location is opening on East 59th Street.
Lisa Dennison of Sothebys was also pleased to learn that the Southampton Arts Center's current exhibition on presidential-campaign photography will have an edited showing, close to the November election, at the International Center of Photography's new Bowery home in Manhattan.
One political item that many reported had made a splash this summer: Trump pinatas. Even children have asked for them at their birthday parties, and some have featured both Trump and Clinton pinatas. What are the Trump ones filled with? "Little Monopoly houses," Shields joked.
While that's a trend that sounds destined to stay put in 2016, a few others are likely to carry over to next year.
At Amber Waves Farm in Amagansett, pencil in Saturday mornings to pick raspberries and chill. Its apotheosis this season was Family Day, when Stella McCartney played with David Lauren's baby, Cindy Sherman talked art with Dasha Zhukova, and everyone made their own pizzas and bouquets. (Another sighting of outdoor pizza ovens!)


An added benefit was Farmer Chris (Christopher O'Hanlon, director of education), who with that impish glimmer in his eye had kids smashing cherry tomatoes with their fists to develop hand-eye coordination. As for the picking, husk cherries, shishito peppers and tomatoes were in abundance, though there were never enough raspberries. Founding farmers Katie Baldwin and Amanda Merrow can rejoice in a season of cultivating land and community -- or as they put it, "reinventing the town-square-type experience in a farm field."
Meanwhile, there is further proof this season that a Berkshires-style classical music scene can thrive at the beach. One uncanny Tanglewood moment came when Upper West Siders Robert and Ina Caro, the authors and historians, and Dan and Toby Talbot, the owners of Lincoln Plaza Cinema, gathered at Channing Daughters Winery to hear Bach's Brandenburg concertos courtesy of the Bridgehampton Chamber Music Festival.
A more permanent outpost for violins on the East End is the Perlman Music Program on Shelter Island, where string musicians in their teens study and perform for a seven-week stretch of the summer.
"It ensures the future of classical music," said Jay Dweck of Arxis Capital at the program's benefit, held on the campus. Each student practices four hours a day in their own cabin, takes a few lessons a week, and works in some beach time.

Alan Alda often attends Friday night concerts. "They take these kids from all over the world and make them into a group that's remarkable in its coherence," Alda said.
After performing, Sterling Elliott, a 17-year-old cellist from Virginia, said: "We just go all out, we do crazy stuff."
Art dealer Barbara Gladstone discovered the program by accident, just driving by, and has become attached to it. "At the end of the day, you don't remember who the politicians were, but you know who Mozart is," she said. "This is what lasts. This is what speaks for a culture."
Finally, expect to see more cars with diplomatic license plates idling in your Hamptons hamlet. This July, the Ocean Sanctuary Alliance in conjunction with Stony Brook University brought a group of United Nations ambassadors to Southampton. During a boat ride on Shinnecock Bay, Ambassador Peter Thomson, permanent representative to the UN from Fiji and president-elect of the UN General Assembly, helped out the crew with a special clamp.
"It closes like a bear trap and grabs everything, so when we pulled it up and put it all into a big tray, we saw sea worms and baby clams and the mud," Thomson said. "It smells exactly like the mangrove mud that I used to play around in as a kid in Fiji. The crew told me people here think it's part of the sewage. It's not, its a healthy smell of decomposing organisms."
Thomson said the trip is part of an effort to make progress on all 17 Sustainable Development Goals throughout the world, including in the Hamptons.
"It's not just about getting developing countries to build toilets," he said. "Pollution of the environment is going on in what arguably is one of the most advanced places in the world -- here you have these vast big mansions that are polluting the bay -- so it's universal."
Before it's here, it's on the Bloomberg Terminal.
LEARN MORE