Spain Proposes Panama Leaks Minister Soria for World Bank Job
By
Minister attracted scrutiny over links to Panama leaks firm

Government proposes Soria appointment as Rajoy loses vote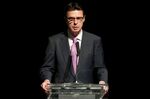 Spain proposed a former minister who resigned earlier this year after coming under scrutiny over his links to an offshore company listed in the Panama leaks as the country's representative at the World Bank.
The government is proposing ex-Industry Minister Jose Manuel Soria as executive director at the Washington-based institution, the Economy Ministry said in an e-mailed statement. The institution's 189 governors will vote on Soria's candidature as part of the process of appointing 25 executive directors.

Spain is proposing Soria for the World Bank post as Acting Prime Minister Mariano Rajoy bids to line up support in parliament to repeat his term amid a slew of corruption allegations involving his People's Party. Rajoy lost a second confidence vote Friday, bringing nearer the prospect of a third round of general elections in December.
Soria was dragged into the Panama leaks scandal after giving contradictory accounts of his relationship with U.K. Lines, an offshore firm set up by the Panamanian law firm Mossack Fonseca. The government evaluates the suitability of candidates and their track record in public services when it selects them for international posts, the Economy Ministry said.
An executive director at the World Bank earned an annual net salary of about $253,000 in 2015, according to its website. A spokeswoman for the institution said by e-mail that it doesn't publish staff salary details.