RBA's Debelle Named Deputy Governor Following Lowe Promotion
By
Debelle to commence five-year term in new role on Sept. 18

Treasurer says appointments to reinforce existing confidence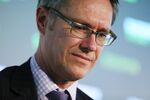 Guy Debelle has been named the Reserve Bank of Australia's new deputy governor, stepping into a vacancy created by the elevation of Philip Lowe to the central bank's top job.
Debelle, 49, who has been the RBA's assistant governor for financial markets since 2007, will begin his five-year term on Sept. 18, according to a statement Friday from Treasurer Scott Morrison. That's the same day Lowe takes over as governor from Glenn Stevens.
Debelle graduated from the University of Adelaide with an honors degree in economics and joined the RBA in 1994. He's worked at the International Monetary Fund, Bank for International Settlements, Australian Treasury and as a visiting professor in economics at the Massachusetts Institute of Technology. Like Lowe, Debelle gained his PhD at MIT, and studied under Stanley Fischer and Rudi Dornbusch. 
In his role overseeing markets, Debelle was pivotal in the RBA's response to the global financial crisis following the collapse of Lehman Brothers Inc. in late 2008. More recently, he has chaired the establishment of a global code of conduct for the foreign exchange market.
"I congratulate Dr Debelle on his appointment and believe the appointments of Dr Lowe and Dr Debelle will reinforce existing confidence in the RBA," Morrison said in a statement.
Lowe also congratulated his new deputy, in a separate statement from the central bank.
"Over many years, he has made major contributions to the bank's economic and financial policies," Lowe said. "He has also led some of the important international work aimed at improving the functioning of financial markets. I am confident that over the coming years the Reserve Bank Board will benefit greatly from his wealth of experience and expertise."
The RBA said it will soon advertise for an assistant governor role.