Putin Says Russia's Self-Sufficiency Lets It Skip Bond Dash
by , , and
No need for central bank to rush boosting currency reserves

President says he never gives directives to Bank of Russia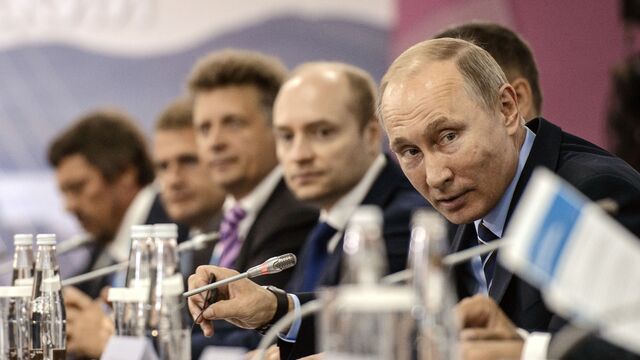 President Vladimir Putin said Russia has the fiscal health to finance its budget without joining the biggest rush to foreign debt markets by developing nations in three years.
"There have been enough people willing to buy our financial instruments," Putin said in an interview with Bloomberg News in Vladivostok on Russia's Pacific coast. "We simply don't have the need today with the government's reserve funds of about $100 billion. This is pointless, bearing in mind the cost of borrowing." 
Russia's total cash pile of almost $400 billion, which includes most of the two sovereign wealth funds cited by Putin, can cover the nation's foreign trade needs for at least half a year, he said. For now, that means Russia won't be repeating its Eurobond sale in May to join a raft of debt issuers from Saudi Arabia to Papua New Guinea poised to hit the market with tens of billions of dollars in new deals between September and the U.S. elections in early November.

"Borrowing is also possible," Putin said. "You just have to understand what is more advantageous at the given moment."
A more than 60 percent rebound in crude prices from January's low and a global race to buy high-yielding emerging-market assets have wiped away the extra yield investors demanded to hold local Russian debt after the annexation of Crimea in 2014 and subsequent sanctions. At the same time, the premium its foreign bonds carry compared with U.S. Treasuries is more than one percentage point higher than when the government sold Eurobonds in 2013, before tensions over Ukraine erupted.
Russia ignored those extra costs and pushed the door back open to the Eurobond markets in May, even as foreign banks avoided signing on as organizers. Many outside investors kept away from the $1.75 billion sale after the U.S. and the European Union warned the funds raised could be channeled to sanctioned companies. Euroclear Bank SA, which runs the world's biggest bond settlement system, didn't clear the notes until two months later.
While the central bank targets eventually raising its reserves to $500 billion, there's no rush, Putin said in the interview. The current level is "more than enough" to safeguard economic stability, he said.

Putin fueled speculation that the central bank could return to foreign-currency purchases to weaken the ruble in July, when he instructed his prime minister to monitor the ruble's strength. It has rallied 12 percent this year, the most in a emerging markets after Brazil's real. A stronger local currency can hurt companies' competitiveness while reducing the amount of rubles the government collects per barrel of oil sold abroad.
The Bank of Russia burned through about $90 billion of international reserves in 2014 in a bid to halt the worst currency crisis since 1998. Policy makers bought foreign currency over two and a half months in 2015 before halting operations when the ruble's declines started to accelerate.
Putin said swaying central bank policy wasn't his goal.
The exchange rate should "correspond to the level of the economy's development," he said. "I'm in contact with the governing members and the governor. But I never give directives. And if I say that the ruble strengthened too much, I'm not saying that the central bank's position is wrong."
'Big Pluses'
While a weak ruble has "big pluses" -- and local producers as well as foreign manufacturers working in Russia should take advantage of them -- there are also "certain difficulties," Putin said Friday at a meeting with investors in Vladivostok. Russia made the decision "for the long haul" to allow the ruble to trade freely, according to the president.
The same applies to upholding the principle of allowing unrestricted flows of money across borders. Putin said he opted against reintroducing capital controls despite proposals made in 2015 and the year before that.
"There are administrative ways of limiting capital outflow, including restrictions on its movement," Putin said. "But in the medium term term -- not to mention more distant prospects -- we believe it will be harmful, which is why we aren't doing it."
Russia's net capital outflow, which reached a record $152.1 billion in 2014 and slowed to $57.5 billion last year, declined to $10.6 billion in the first half of 2016.
"It's a good indicator of trust in the Russian government's economic policy," Putin said. "Such policy bears fruit."
Before it's here, it's on the Bloomberg Terminal.
LEARN MORE