Putin Sees Opening With Japan on World War II Island Dispute
by , , and
Russia wants 'compromise' in decades-long row, president says

Putin to discuss islands with Japanese leader Abe on Friday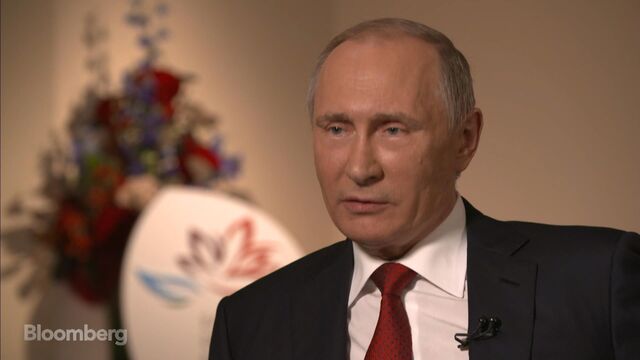 Russian President Vladimir Putin struck a conciliatory tone before talks with Japanese Prime Minister Shinzo Abe on a territorial dispute that's prevented the countries from signing a World War II peace treaty.
Resolving the conflict over four islands occupied by the Soviet Union in the final days of the war should be part of "setting the stage for the development of inter-governmental relations for the long term," Putin said in an interview on Thursday as he prepared to meet with Abe at the Eastern Economic Forum in Russia's Pacific port city of Vladivostok on Friday.
"We're not talking about some exchange or some sale," Putin said. "We are talking about finding a solution where neither of the parties would feel defeated or a loser."

The two leaders, especially Abe, seem keen to show that momentum is building toward a settlement on the island spat. Abe said after the talks that he and Putin had a deep discussion about a peace treaty and that he has a good feeling about making progress with a new approach, according to the Kyodo news service. They'll meet at the Asia-Pacific Economic Cooperation summit in Peru in November and will continue talks when Putin visits Abe's home prefecture of Yamaguchi in southern Japan on Dec. 15, Kyodo reported.
'Japanese Friends'
Russia is seeking warmer relations with Japan to woo investment as progress on deepening business ties with China has stalled. The two leaders are discussing the islands, called the Southern Kurils by Russia and the Northern Territories by Japan, for the second time this year after Abe met Putin in Sochi in May, snubbing an appeal by U.S. President Barack Obama not to visit.
While "we don't trade in territories," Russia "would very much like to find a solution to this problem with our Japanese friends," Putin said. If it "can reach a similarly high level of trust" with Japan as it now enjoys with China "then we can find some sort of compromise," he said.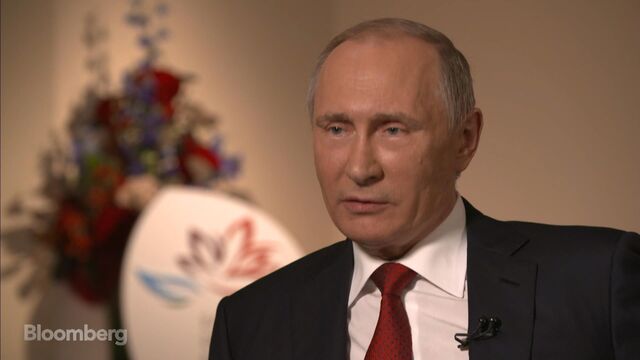 James Brown, an associate professor at Temple University in Tokyo who published a book this year on the territorial dispute, said Putin's comments suggested "the status quo suits Russia quite well."
"While he's happy to keep talking, he's in no rush to reach any conclusion," Brown said by phone.
Two Islands
The final days of the war saw a victorious Soviet Union attack Japan in 1945. It grabbed a number of disputed territories, including the Kurils and Sakhalin Island, just north of Japan.
The signing of a 1956 treaty almost resolved the dispute until "the Japanese side refused to adhere to it and then the Soviet Union basically nullified" the deal, Putin said. "I don't think it's closer than in 1956 but, in any case, we resumed a dialogue on this subject."
Yoshihide Suga, Japan's top government spokesman, said Friday that its basic stance on the dispute hasn't changed. "Japan will go into negotiations making it clear that we seek the conclusion of a peace accord and the return of the four islands," he said. It was "abnormal" that the nations had yet to sign a peace treaty, he said.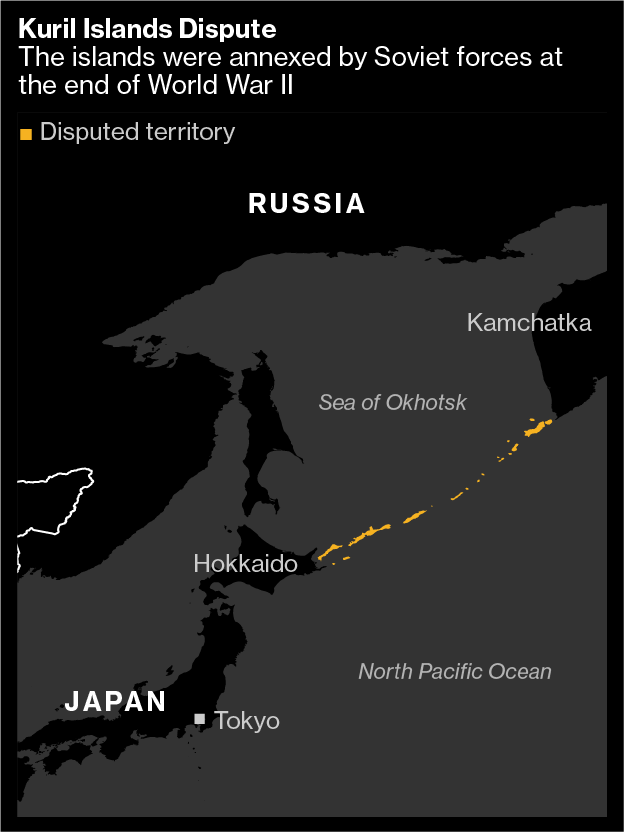 The Kyodo news agency reported before the talks that Abe and Putin would discuss the potential return to Japan of two islands.

On Thursday, Abe created a new post of minister for economic cooperation with Russia -- the only portfolio in his cabinet to name a specific country. Kyodo reported this week that Japan is considering support to develop Russia's Far East even if progress isn't made in the islands dispute.
"Abe is so enthusiastic about relations with Russia," Temple University's Brown said. "He's using economic cooperation to shore up ties with Russia in the hope that over the long term he'll get a deal on the islands."
It's "very important on the political level to support the intentions of the business community to develop mutual contacts," Putin told Abe as the talks began. Japan "as a neighbor" is ready "to make maximum effort for developing" cooperation with Russia in the region, Abe replied, according to a Kremlin transcript.
Russia would welcome Japanese investment in electricity generator RusHydro PJSC and there are "no political restrictions," while it's also ready to develop port capacity for sales of liquified natural gas to Japan, Putin earlier told business leaders in Vladivostok. It will "sit down and think properly about the logistics" if Japan is interested in gas-swap deals involving the Yamal LNG project in the Arctic, he said.
Putin will follow the Abe meeting with a trip to the Group of 20 summit in China. He'll be eager to show that Russia hasn't been left isolated by U.S. and European Union sanctions over the crisis in Ukraine, which together with the collapse in oil prices tipped his country into its worst recession in two decades.
Trade with China, Russia's biggest single partner, contracted 28 percent to $63.6 billion last year, missing the countries' joint target of $100 billion. Turnover with Japan, Russia's eighth-largest partner, declined by almost 31 percent to $21.3 billion and commodities accounted for more than three-quarters of Russian exports by value, according to the customs service in Moscow.
Before it's here, it's on the Bloomberg Terminal.
LEARN MORE