Italy's Padoan Confident Monte Paschi Plan to Be Successful
By , , and
Padoan rules out plan B because very confident on plan A

Finance chief says Monte Paschi will be strong bank after plan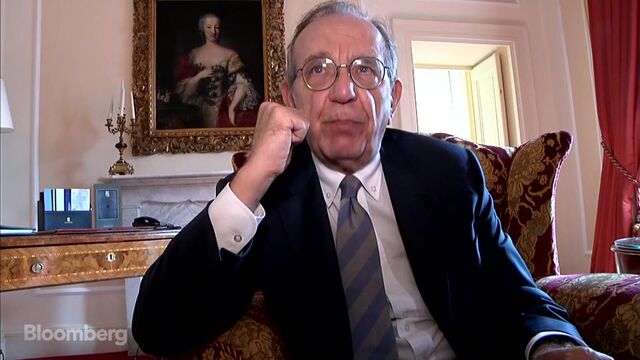 Italian Finance Minister Pier Carlo Padoan said Banca Monte dei Paschi di Siena SpA's restructuring plan will work as he ruled out any plan B to revamp Italy's third-largest lender.
"Once the plan is completed, which I'm fully confident it will be, the bank will be stronger, will have gotten rid of its non-performing loans load, will be based on a very effective business plan," Padoan said in an interview with Bloomberg Television's Flavia Rotondi at the Ambrosetti Forum in Cernobbio, Italy, on Friday. "We will have a strong Italian bank back in the Italian banking system."

Monte Paschi plans to turn to private investors to help bolster its balance sheet for the third time in two years by selling up to 5 billion euros ($5.6 billion) of stock to replenish capital after first moving 28 billion euros of bad loans off the bank's books for securitization and sale. Chief Executive Officer Fabrizio Viola announced the financing plan on July 29, the same day European stress tests showed Monte Paschi would perform the worst in a severe economic crisis among the 51 banks examined.
Monte dei Paschi is one of "the more critical cases" and is being dealt with "quietly and effectively, " according to Padoan. "We rule out a plan B because we are very confident that plan A will work."
The bank, bailed out twice since 2009, is weighed down by a pile of deteriorating loans after Italy's longest recession since World War II left businesses and households struggling to repay debt. Paschi's plan has raised concerns among investors given the high execution risks linked to a so complex deal. Success depends in part on winning backing for a new fund that will buy the bank's bad loans, then Monte Paschi needs to find investors ready to provide new equity for five times its market value.
Italy's Prime Minister Matteo Renzi, speaking at the Ambrosetti Forum, said he hopes that Monte Paschi's capital-raising will be completed this year, as he is confident that banking problems will be tackled in the next few months.
Monte Paschi's plan follows a share selloff that wiped about 75 percent off the bank's market value this year and led Italian banks to record lows in Milan, succumbing to fresh concerns that the country's lenders are under pressure to raise capital. Renzi on Friday called for consolidation in the country's banking industry, which is weighed by too many branches and management positions.


— With assistance by John Follain
Before it's here, it's on the Bloomberg Terminal.
LEARN MORE