In Last Big Brazil Impeachment Trade, Bradespar Set to Rally
By
Bradespar's shareholder pact on Vale set to expire in April

Traders bet a Temer government more likely to extend accord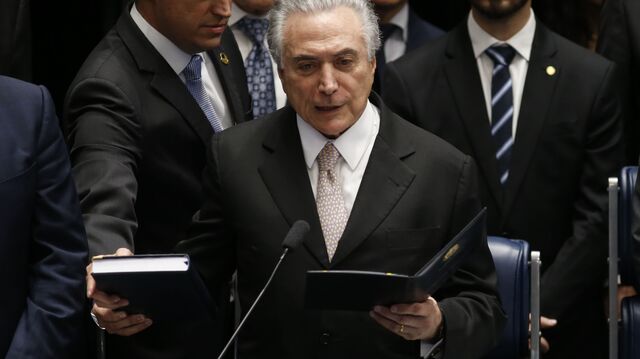 It may be Brazil's last big impeachment trade.
Bradespar SA, the holding company whose biggest stake is in miner Vale SA, is poised to rally on speculation that newly sworn-in President Michel Temer is more likely to renew a shareholders pact than his predecessor, Dilma Rousseff, who was impeached this week, according to Paschoal Paione, an analyst at Votorantim Corretora.
Concern that Rousseff would scrap the almost two-decade accord that splits control of Vale between Bradespar and others including development bank BNDES and the pension of a state-run lender sent the holding company's stock to a 13-year low in February. While the stock has tripled since then, it may rally even more once the pact expires in April and is renewed for another 20 years, Paione said.
"Our opinion is that it's going to be renewed," he said from Sao Paulo. Vale's shares would likely plunge should Bradespar be eliminated as a controlling shareholder because it would basically turn the miner into a state-run company. Previ, the pension fund of Banco do Brasil SA and Bradespar's biggest partner in Vale, "also knows what would happen to Vale's shares it if was broken."
Vale accounts for about 80 percent of Bradespar's holdings, yet the miner has historically traded at a premium to its controlling shareholder. Vale trades at 14.9 times estimated earnings, compared with 8.7 times for Bradespar. 

Paione maintains a price target of 13.50 reais for Bradespar, a 29 percent increase over Thursday's closing price of 10.46 reais. The stock gained 1.6 percent to 10.63 reais at 11:06 a.m. in Sao Paulo on Friday. Of the six analysts who cover the company, three rate it the equivalent of hold and the others say buy, including the No. 1-ranked analyst, Pedro Baptista from Nau Securities Ltd.
Bradespar declined to comment.
Brazil's stocks and currency are posting world-beating rallies this year after Rousseff was suspended in May and Temer put together a business-friendly economic team led by central bank head Ilan Goldfajn, a former economist at Itau Unibanco Holding SA. Traders are betting that Temer will have better luck driving through unpopular measures including spending caps and higher taxes after Brazil lost its coveted investment-grade credit rating last year.
Bradespar's price drop earlier this year "has opened up a good opportunity for those who believe that Temer will be less interventionist," said Rafael Ohmachi, an analyst at the brokerage Guide Investimentos in Sao Paulo.