Here Are Some Things You Should and Shouldn't Have Sold in May
Beaches and fruity drinks or terminals and trading profits?
by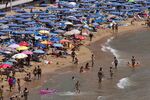 It would have been nice to take the summer off, but there was still money to be made in the markets if you didn't "sell in May and go away."
It's safe to say the past three months have been wild on the news and politics front, but global markets have been relatively subdued. Since May 31, the S&P 500 Index is up four percent, while volatility has remained remarkably quiet. However, other assets — including some individual stocks — have seen moves of well over 10 percent in that same time frame, which could leave an investor with some nice returns if they played things right. 
Here are a few assets that have seen some notably significant moves this summer — though not all of them were positive for investors.
Newmont Mining Corp. is up 22 percent since May 31, on the back of the strongest start to the year for gold in more than 25 years. 

Iron Ore is up 30 percent, despite many traders waiting for this boom to die out. In fact, selling in May would have been selling near its most recent bottom. 

Data storage maker Seagate Technology PLC is up 49 percent after having its own bottom in May. Since then, the firm has announced job cuts to deal with slowing demand, meaning expenses at the firm should fall. 

Chesapeake Energy Corp. is up 46 percent after tumbling quite dramatically in May when concerns over the firm's debt surfaced.  

Nordstrom Inc. is up 34 percent, bucking a slump at most retailers with the success of its discount brand, Nordstrom Rack. 

Brazil's stock exchange has seen a steady climb of 35 percent in U.S. dollar terms since May, despite the political turmoil in the nation. Bearish sentiment, however, is on the rise. 

Not everyone has been so lucky. Venezuela's main index is down 23 percent, priced in U.S. dollars, with almost all of the declines coming in June when Moody's Investors Service said the country was likely to default on its debt this year. This comes as the nation continues to struggle with extreme inflation and continued pressure from low oil prices. 

First Solar Inc. is down 23 percent, as the declines that have plagued the company since March of this year continue. The firm has been making a strategic shift to selling solar panels rather than developing new power plants, causing analysts to worry about what revenue growth will look like in the future. 

Diamond Offshore Drilling Inc. started the summer fairly well, but things recently took a turn for the worse. The stock is now down 36 percent, as oil prices remain lower and explorers are slashing offshore spending. 

Before it's here, it's on the Bloomberg Terminal.
LEARN MORE