Solid Hiring Without Wage Jump Tests Fed Hopes for Inflation
By
'Nobody understands the inflation process,' Slok Says

August jobs report to sharpen rate-hike debate inside Fed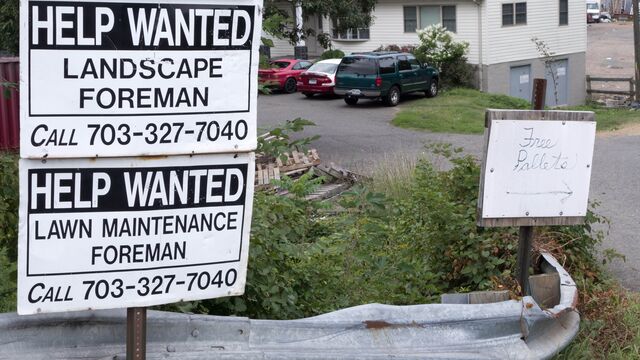 It took more than a decade for Paul Volcker and Alan Greenspan to wring persistently high inflation from the U.S. economy. Federal Reserve officials now may need at least half that time to bring too-low inflation back to their target.
Fed Chair Janet Yellen, Vice Chairman Stanley Fischer and most other U.S. central bankers remain confident further improvement in the labor market will gradually lift prices to the central bank's 2 percent objective. That's become a divisive assumption as the Federal Open Market Committee heads into a meeting later this month.
The August employment report released Friday will sharpen the debate. The figures showed a monthly net gain of 151,000 jobs, an unemployment rate holding at 4.9 percent and a slowdown in wage growth. There's ammunition in the latest data for officials who want to delay a rate increase as they look for signs of continued tightening in the job market. A critical component in Fed officials' forecast is a rise in wages that boosts demand and drives prices higher.
"Nobody understands the inflation process, including the Fed," said Torsten Slok, chief international economist at Deutsche Bank AG in New York. "When we are near full employment, why has inflation been so incredibly well-behaved?"
After the report, traders trimmed their bets on a rate hike at the Sept. 20-21 FOMC meeting to a roughly 14 percent chance, according to federal funds futures contracts.
The mystery of weak wage growth is troubling, for the short run and the longer-term. If Yellen and the FOMC majority are wrong, inflation could remain stuck below their target, setting the economy up for lower rates of inflation in the next downturn.

"The risk is that when the next crisis hits, you fall from 1.5 percent inflation to 0.5 percent inflation, and then to deflation in the next recession after that," said Ethan Harris, head of global economics research at Bank of America in New York. "You are going down a slippery slope."
What's more, Harris said, very low rates of inflation can lead to higher rates of unemployment in a downturn. Rather than cut wages as their prices fall, companies tend to cut workers instead.
The jobless rate has plunged from 8 percent at the start of 2013. Inflation over that time was steady around an annual rate of change of 1.6 percent, according to an underlying measure of inflation tracked by the Dallas Fed, leading many economists to wonder whether parameters in traditional inflation models have shifted.
"Slack doesn't matter" as much as it once did, said Laurence Meyer, who as a Fed governor from 1996 to 2002 was one of central bank's biggest proponents of the Phillips Curve, a description of the tradeoff between unemployment and inflation.
Fed officials in January restated their inflation goal to say policy makers would be concerned "if inflation were running persistently above or below" its 2 percent target.
No Overshoot
Yellen said in a press conference in March that the FOMC would tolerate an overshoot, just as it allows undershooting now because the economy rarely runs at a precise inflation rate. "We are not trying to engineer an overshoot," she added.
The communication is a tight-rope walk for Yellen. By saying officials would tolerate, though not aim for, a policy that would encourage a slightly higher rate of inflation over time, the risk is that they average inflation below 2 percent.
At least one FOMC member, Chicago Fed President Charles Evans, who isn't a voting member of the panel this year, said it may be best to hold off raising interest rates until core inflation rises to 2 percent.
A stronger dollar which lowers import prices, plus abundant global supplies of energy and many other goods, have kept headline inflation measures unusually low. The Fed's preferred inflation measure, the personal consumption expenditures price index, rose 0.8 percent for the year ending July, extending a run of more than four years below the central bank' goal.
Staff's Forecast
Fed officials in June forecast that inflation would be at 1.9 percent at the end of 2017, effectively on target. The Fed staff isn't so optimistic, forecasting at the July 26-27 meeting that inflation would still be "slightly below" the committee's target in 2018.
"I would think there would be a little less sanctimony about their forecast given how long they have been below 2 percent," said Mark Spindel, chief investment officer at Potomac River Capital LLC in Washington, which manages $400 million. "Tell me how raising rates helps you get back to your inflation target?"
Risk management also figures high in Fed officials' decision-making just now as they ponder potential distortions arising from keeping rates too low.
"Policy makers must weigh the benefits of low interest rates now against the potential costs in the future of possibly spurring financial instability," Boston Fed President Eric Rosengren said in an Aug. 31 speech in Beijing.
Following a collapse in the housing and mortgage markets, which produced the worst recession since the Great Depression, "imbalances are also seen as a threat to the dual mandate over time now," said Laura Rosner, senior U.S. economist at BNP Paribas in New York. "Not many Fed officials sound concerned about where inflation is now."
Before it's here, it's on the Bloomberg Terminal.
LEARN MORE