Europe Must Deter U.K. 'Pirate' Funds After Brexit, Nowotny Says
by
Austrian central banker says U.K. funds seek light regulation

Says Brexit must address EU budget as well as market access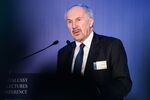 European Central Bank Governing Council member Ewald Nowotny said the European Union should protect itself against the risk that the U.K. turns into a lightly regulated haven for investors targeting the bloc.
Nowotny, the governor of Austria's central bank, told reporters that the U.K. financial industry was split between banks interested in maintaining access to the single market after the country leaves the EU, and funds hoping for looser regulation.
"There are different positions in the City," Nowotny said in Alpbach, Austria. "For banks, passporting is of decisive importance, but the City isn't just banks. There's also hedge funds, or private equity funds, which were more pro-Brexit and who hope there will be lighter regulation allowing them to enter the EU single market like pirates."
"It will be a challenge to defend against such a strategy of 'regulation light,"' Nowotny added.
A lot is at stake for both the EU and the U.K., he said. Britain is the second-biggest contributor to the EU budget after Germany. Since other member states don't seem keen to raise their contributions, the EU's capacity to make payments to poorer members could be curbed, especially in eastern Europe, Nowotny said.
On the other hand, a lot of the City of London's euro business is at risk, especially in the areas of currency trading, interest rate derivatives and clearing, he said.
"Those are two cornerstones that will be relevant for the talks," he said. "How a compromise will be formed from those two cornerstones is hard to say at the moment."
Before it's here, it's on the Bloomberg Terminal.
LEARN MORE