End of Hot-or-Cold U.S. Payrolls Shifts Focus to Wages, Slack
By
Pay gains slow while number of part-time workers rises

Measures could help determine path of Fed interest rate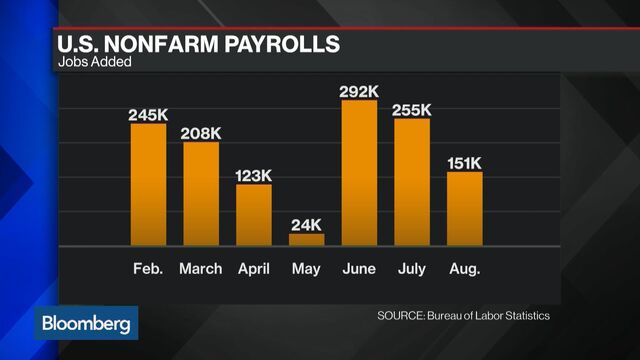 U.S. job growth has swung from too cold, to too hot, to just right. Now the question is whether other labor-market measures such as wages and participation will warm up.
The 151,000 increase in August payrolls, as reported by the Labor Department on Friday, is more than enough to keep up with the expansion in the workforce. Hiring rose an average 273,000 in the prior two months after an exceptionally tepid 24,000 in May. Still, average hourly pay registered its weakest year-over-year gain since March, people working part time for economic reasons edged up and the participation rate was unchanged from July.
The mixed bag of August figures provides fodder for analysts hailing a strong labor market while carrying some of the same spoilers that have limited economic growth seven years after the recession's end. With employment widely expected to decelerate to match expansion in the labor force, a long-awaited boost to paychecks and a reduction in slack remain to be seen as the Federal Reserve debates whether to raise interest rates later this month.
"The No. 1 story for me has to be wages," said John Silvia, chief economist at Wells Fargo Securities LLC in Charlotte, North Carolina. "And then second, if I really want to think about broadening this economic recovery and getting more people involved, I've got to see more improvement with labor-force participation rates and the employment-to-population ratio."
Payroll gains should decelerate over time, given labor-force demographics, so a monthly jobs gain of 150,000 "is a pretty good number," he said.
Several other numbers in the report were weaker than forecast, including a 2.4 percent year-over-year increase in average hourly earnings. The workweek shrank by 6 minutes from a month earlier to 34.3 hours, compared with economists' median estimate of 34.5 hours. 
The rate of underemployment, the broadest measure of joblessness because it includes those too discouraged to look for work, held at 9.7 percent, as the number of part-time workers who wanted full-time jobs rose to a three-month high. Underemployment has shown little change since October.

Many economists haven't appropriately adjusted their expectations for wage growth, even after marking down estimates of potential expansion in line with the entrenched slowdown in productivity, said Stephen Stanley, chief economist at Amherst Pierpont Securities LLC.
Stanley sees reason to project smaller paycheck increases than the pre-recession norm, given that employers aren't willing to shell out raises amid lackluster productivity. Corporate profits have been weak as well.
"The consensus is still stuck with the idea that we should be getting 3 percent wage growth because that's what we were getting before the crisis," he said. "We already have tight labor markets, we already have some wage acceleration, and we're already at a point where wages are firming enough that they're giving a gentle nudge upward on inflation."
— With assistance by Sho Chandra
Before it's here, it's on the Bloomberg Terminal.
LEARN MORE