Brazil Real, Stocks Rise as President Temer Reassures Investors
By and
Local assets seen attractive with new government recovery plan

Prospects for U.S. monetary policy favor emerging markets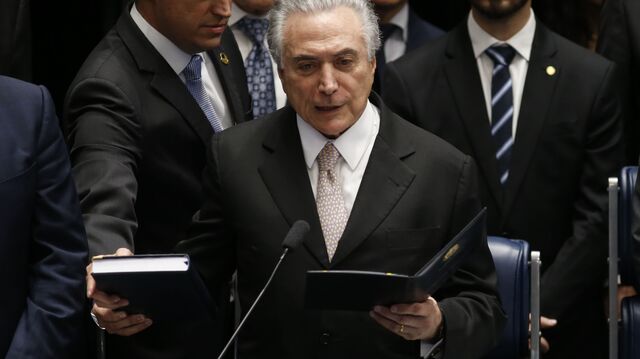 Brazil's real posted its first weekly gain since early August and the Ibovespa rose to a two-year high on speculation local assets will attract foreign investors as interest rates in the U.S. remain low for a longer time and Brazil puts in place a plan to restore growth.
The currency has strengthened 0.3 percent over the past week, trading little changed at 3.2526 per U.S. dollar on Friday. The benchmark equity index climbed 2.4 percent to 59,616.40 on Sept. 2 after data showed U.S. payrolls grew more slowly than forecast. 
Temer, who officially took over on Aug. 31 after Dilma Rousseff was removed from office, has vowed to jump start the economy and promised to trim a budget deficit and make Brazil a more attractive destination for investment. At the same time, traders have dialed back bets on a U.S. interest rate increase this month, which could damp demand for the real as Brazil's debt yields and local stocks look less compelling.
"Brazil is the flavor of the month among emerging nations," said Renato Nobile, the chief executive officer at Bullmark Financial Group in Brasilia, which has 1.2 billion reais ($370 million) in assets under management. Nobile says he's looking for buying opportunities in financial companies, power utilities and consumer stocks.
State-controlled oil producer Petroleo Brasileiro SA was the major contributors to the Ibovespa's advance, following gains in crude. Power utility CPFL Energia SA climbed to a four-year high after its controlling shareholder agreed to sell its stake to State Grid Corp of China during President Michel Temer's trip to the country, Brazil's top trading partner.
The real's advance this week was the biggest since Aug. 5, while the Ibovespa has climbed 3.3 percent. A gauge of 20 emerging-market currencies tracked by Bloomberg rose 0.4 percent Friday after a monthly U.S. non-farm payrolls increased by 151,000, less than the 180,000 median forecast of economists surveyed by Bloomberg, weakening the case for a rate hike.
"The payroll data reduces the probability of a September rate hike, which weighs on the U.S. dollar and supports emerging-market currencies such as the real," said Georgette Boele, a strategist at ABN Amro Bank NV in Amsterdam who forecasts the currency will weaken to 3.35 per dollar by year end. 
Brazilian assets have led global gains this year on speculation that a new government would pull Latin America's biggest economy from its worst recession in a century.
The central foundation of Brazil's government is fiscal responsibility, Temer said in a speech in China, according to a video posted on the presidency's Facebook page. At the same event, Finance Minister Henrique Meirelles said the current administration's next step is to stabilize the economy and shore up the country's finances. Meirelles has also highlighted the importance of the spending-cap bill, which has already led to higher confidence, adding that Brazil's economy should grow 1.6 percent next year and 2.5 percent in 2018.
Industrial output expanded for a fifth consecutive month in July as industry confidence grew on hopes that lawmakers will approve structural reforms proposed by Temer's government. Production rose 0.1 percent in July from the previous month, slightly above the median forecast of 40 economists surveyed by Bloomberg, who expected zero growth. From a year earlier, industrial output fell 6.6 percent, the national statistics agency said.
Brazilian swap rates on the contract maturing in January 2018, a gauge of expectations for interest-rate moves, fell 0.07 percentage point to 12.52 percent, extending this week's decline to 0.25 percentage point.