markets
Bank of America: The Jobs Report Will Have the Biggest Impact on the Bank of Japan
Kuroda has limited options to push back against currency strength.
By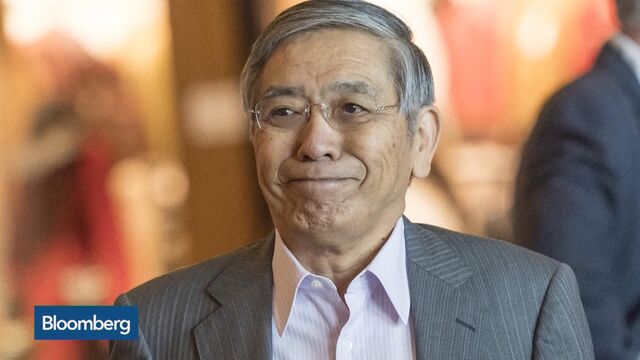 Bank of Japan Governor Haruhiko Kuroda may have been wishing for a stellar U.S. jobs report even more than Federal Reserve Chair Janet Yellen.
The underwhelming result for employment growth in August increases the pressure on Japanese monetary policymakers to keep the yen on its back foot by increasing monetary stimulus at its upcoming meeting, according to Bank of America Merrill Lynch Head of Global Rates and Currencies Research David Woo.
"Of all the people in the world, the ones that had the most invested in today's non-farm payrolls numbers would have been the BOJ," said Woo in an interview on Bloomberg TV.
Strong jobs data would have raised the odds of a Fed hike in September and prompted an appreciation of the greenback that would have let the Bank of Japan "off the hook," said Woo. That is, the central bank wouldn't have to worry as much about having to add accommodation with the aim of eliciting weakness in its own currency.
After a multi-year stretch of weakness, the yen has been far and away the best-performing G-10 currency in 2016, gaining more than 15 percent relative to the U.S. dollar.

The dollar/yen pair whipsawed in the aftermath of the jobs data on Friday, initially moving lower before rising above 104 as of 11:00 a.m. New York time. Woo, however, asserted that the yen will strengthen against the greenback next week, causing a headache for the Bank of Japan.
The problem for the Bank of Japan, according to the strategist, is that the central bank may have reached the limits of how much it is independently able to juice economic activity and inflation. The potential for policy changes and tweaks to its asset purchasing program at its September 21 meeting are already causing market jitters, as evidenced by the back-up in Japanese 20- and 30-year sovereign bond yields to their highest levels since March. 
Meanwhile, the January move to negative interest rates was not well received by markets, fueling a sell-off in bank stocks and fostering strength in the yen. This raises the risk that the BOJ, which has promised a comprehensive review of its policy ahead of this meeting, ends up standing relatively pat and causing investors to worry about its impotence.
"I don't think there's that much they can do," said Woo. "I think it's gonna be a huge event if they come away with nothing, because the market is going to all of a sudden wake up to the realization that everything they've been doing up until now is basically emperor's new clothes."
Before it's here, it's on the Bloomberg Terminal.
LEARN MORE