Yellen Speech Contained Clue to Reading August Jobs Report
by
Said moves depend on if data 'continues to confirm' outlook

Economists estimate 180,000 job gains after two strong months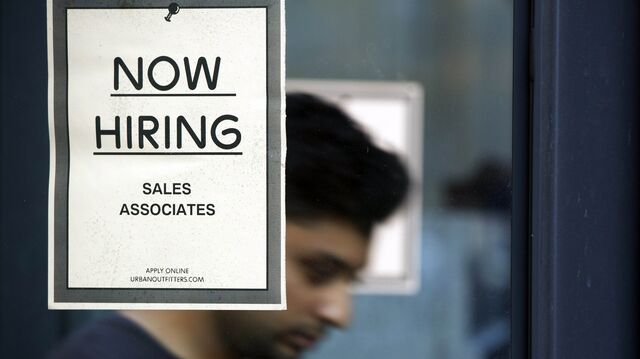 An overlooked line in Federal Reserve Chair Janet Yellen's speech last week could hold the key to whether Friday's U.S. jobs report clinches an interest-rate increase this month.
While the focus was on Yellen's statement that the case for an interest-rate increase "has strengthened in recent months," she followed with new language that the central bank's decisions depend on the degree that data "continues to confirm" the outlook. That, and other recent remarks by Fed officials, suggest that job gains need to be merely solid -- rather than extraordinary -- to warrant raising borrowing costs for the first time in 2016.
After global developments and weak May employment derailed Fed rate-hike plans earlier this year, U.S. payrolls surged in June and July, and economists expect Friday's Labor Department figures to show a gain of 180,000 in August, in line with the average for 2016. That would provide evidence the economy is on steadier ground and faster wage gains are coming, context that some Fed officials have been waiting for.
"Unless there's a massive disappointment, the bar seems pretty low for the Fed," said Laura Rosner, a senior U.S. economist at BNP Paribas in New York. Yellen's language "gives the impression that the indicators and the data are already consistent with the outlook, and they want to see that confirmation continue. And so it doesn't mean things need to ramp up and accelerate way above and beyond what we've seen."
Payrolls rose by 255,000 in July. Unemployment may have dropped to 4.8 percent in August from 4.9 percent, according to the median projection in a Bloomberg survey.
September Meeting
Yellen and her colleagues have left the door open to an interest-rate hike at their Sept. 20-21 meeting without giving an explicit signal that they are likely to take such action. Trading in federal funds futures shows about one-in-four odds; investors see better chances of such a move by year-end.
An increase may also hinge on gauges of wage growth and labor-market slack in Friday's report, and officials could still point to tame inflation, weak business investment and uncertain global prospects to justify keeping borrowing costs on hold.
As for the headline payrolls figure, the Fed could still make the case that the employment picture is bright enough if only 100,000 or so jobs were added, since that's all that's needed to keep up with the growth in the labor force, said Scott Brown, chief economist at Raymond James Financial Inc. in St. Petersburg, Florida. San Francisco Fed President John Williams said in a recent speech that just 80,000 jobs a month are needed to satisfy the increase in available American workers.
Still, a 100,000 increase in employment would be the second-worst reading since early 2015. PNC Financial Services Group Inc.'s chief economist, Stuart Hoffman, pegs the Fed's threshold at closer to 200,000, or if there are large upward revisions to prior months. The PNC economists project the next rate hike for December.
August Curse
Two potential issues complicate the report: One, the payrolls data have been cursed in August, with the survey median overshooting the first print for the month in each of the last five years, by an average 47,000.
"At least over the last few years there's a few guarantees -- there's death, taxes, and a disappointing August first print," said Ryan Sweet, a senior economist at Moody's Analytics Inc. in West Chester, Pennsylvania.

Culprits include low response rates in a popular vacation month and difficulty adjusting for seasonal effects at the start of the school year. Even so, four of those last five Augusts looked better by the time the Labor Department released its final estimate. From 2011 to 2014, they were revised up by an average of 94,000 between the first and the latest prints.
The second issue is that wages could be subject to a calendar quirk. The report's survey week doesn't include the 15th -- a payday for many workers -- and that pattern frequently has resulted in weaker average hourly earnings growth.
In the past five instances of this calendar makeup over three years, average hourly earnings showed one monthly decline and four unchanged readings, Morgan Stanley's Ted Wieseman said in a research note. The Bureau of Labor Statistics and Bank of America Merrill Lynch each point to research that shows the calendar pattern doesn't result in a statistically significant impact on the wage figures. 
Hourly Earnings
Average hourly earnings probably rose 0.2 percent after climbing 0.3 percent, according to the Bloomberg survey. They increased 2.5 percent from August 2015 after 2.6 percent in the year through July, the median estimate shows.
At least one measure of the labor market has been unquestionably positive. Filings for unemployment benefits were little changed in the week ended Aug. 27, holding close to four-decade lows and showing that employers have been reluctant to fire workers.
A solid increase in payrolls could give some cover for a less-than-stellar wages reading, said Michael Gapen, chief U.S. economist at Barclays Plc in New York, who predicts the Fed's only interest-rate increase of 2016 will be in September.
"If the number is pretty good, I think it'll confirm their suspicions and their belief in the labor market, and they take a really strong cue from that," said Gapen, a former Fed economist. "The order of importance would be employment growth, the interaction of the unemployment rate and the participation rate, and then wages."
Before it's here, it's on the Bloomberg Terminal.
LEARN MORE