We Just Got A Bunch of Bad News From the Clothing World
More trouble for this sector.
By and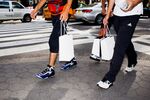 Despite a seemingly strong U.S. consumer, clothing retailers can't catch a break. 
The S&P 1500 Apparel Index is tumbling Thursday after a slew of disappointing data from companies in the industry, led by footwear retailer Genesco Inc., which slashed its forecast for the year ending January 31, 2017, due to issues with one of its main divisions, Journeys. Its stock is leading the declines, with shares down more than 30 percent as of 12:00 p.m. in New York.
Other shoe companies are dragging down the index as well. Shoe Carnival Inc. is down more than 10 percent after it missed analyst estimates in its earnings report, with second quarter net sales at $231.9 million vs the $235.7 million that analysts were expecting. Caleres Inc., owner of brands like Famous Footwear and Dr. Scholl's Shoes, is down roughly 3 percent, after having their best day since May 27 on the back of the firm's earnings report. 
Others stocks contributing to the decline are fashion retailers Buckle Inc. and Cato Corp. They are lower by 5 percent and 4.5 percent, respectively, after both reported weak sales. Analysts had been expecting bigger things from the firms in the back-to-school shopping season. 

Of the 24 members in the index, 22 of them are trading lower, with 15 of them down by more than 1 percent. Tailored Brands Inc. and Children's Place Inc. are the only names bucking the trend. Tailored Brands was recently upgraded by an analyst at Johnson Rice.