Venezuela's Capital Caracas Pulses With Opposition Protest
By and
Opposition had counted on a large turnout to force recall vote

Government has detained opposition activists and journalists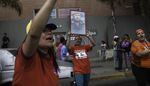 Hundreds of thousands of Venezuelans demonstrated in Caracas Thursday in support of a recall vote against President Nicolas Maduro in the biggest display of discontent with the government's mishandling of the country's economy since a wave of protests in 2014.
Letter to the Editor: Venezuela Responds to Bloomberg Article
Dressed in white to symbolize peace, the protesters marched down three avenues in eastern Caracas, many chanting "Recall Now!" in an event that had been dubbed the "Great Taking of Caracas." Pro-Maduro groups also rallied, in downtown Caracas, as the government stationed police and troops throughout the capital. Businesses closed, anticipating a spike in violence similar to the crackdown on anti-government protests two years ago, when over 40 people were killed, but there were few signs of overt violence.

"The central theme is that the march achieved a re-mobilization of the opposition in terms of showing its capacity to get its supporters to respond to a call to march," Luis Vicente Leon, director of Caracas-based polling firm Datanalisis, said in a telephone interview. "Marches don't show the size of the government's or opposition's support base, but rather motivation. It's clear that Venezuelans want change."
While no official attendance count has been published, opposition estimates ranged from 300,000 marchers to over a million. In a statement read at the march, opposition alliance executive secretary Jesus "Chuo" Torrealba urged more mobilizations this month, including events across the country planned for Sept. 7 and Sept. 14. Supporters followed his call to bang pots and pans in the early evening, and the "cacerolazo," as the type of protest is called in Latin America, could be heard in eastern Caracas for around 20 minutes.
To read a Bloomberg QuickTake on Venezuela's political situation, click here.
"Today has been historic," opposition leader Henrique Capriles, the twice-unsuccessful candidate for president, said in comments broadcast by VivoPlay. "We're talking about the biggest mobilization in the country's history." That claim couldn't be verified, in part because the government banned the use of drones, making it more difficult to estimate the size of the crowd.
The country's benchmark dollar bond, due in 2027, fell the most in a month on Thursday, with the price dropping 1.22 cent to close at 48.5 cents on the dollar in New York.

Juan Guaido, the organizational secretary at the Voluntad Popular opposition political party and national assembly deputy, said any estimate is not precise, but that there could have been as many as 1.2 million people in the streets. Miguel Pizarro, an opposition lawmaker from the Primero Justicia party, put the total at around 300,000.
Jose Rafael Leon, an independent expert on crowd sizes affiliated with the Central University of Venezuela, said 300,000 would be on the minimum end of the range.
"By far, it's one of the largest marches there's been in the last 10 years," he said by telephone. "But it's harder to calculate than it was for the marches in 2002 and 2003 because there were three different routes this time."
Tear Gas Reported
There were reports of tear gas being fired and of the national guard blocking access to the city, and journalists were denied entry to the country, including reporters from France's Le Monde, Al-Jazeera, and the Miami Herald, according to the newspaper and New York-based Committee to Protect Journalists.
After the formal march wrapped up around 2:00 p.m., some protesters scuffled with security forces on a nearby highway. Later in the evening, tear gas was deployed in the upscale Altamira neighborhood, and the municipality's mayor, Ramon Muchacho, attributed the confrontation to a "small group of infiltrators" in a post on his Twitter account.

The streets resembled a national holiday at times, with many shops closed and office buildings empty. Workers at state oil company Petroleos de Venezuela SA were seen earlier in the day dressed in red, departing for the rival pro-government rally.
Turnout Crucial
Opposition leaders had been banking on a large turnout to ratchet up pressure on the government, as previous marches and rallies over the past year have been met with sparse turnout and heavy presence of state security forces. Racked by triple-digit inflation and empty store shelves, Venezuelans gave the opposition control of Congress in elections last year but quickly found their majority narrowed and initiatives blocked by the courts. Maduro has brushed off any chance of a vote before year's end.
"I am angry and feel like there's no way out," Ana de Dominguez, a 69-year-old homemaker, said at the march as supporters banged pots and pans. "I came today to demand the recall vote because we don't want Maduro. This is the worst government we've ever had, and I've lived in this country for 65 years. I've never seen anything like it. We are dying of hunger and lack of medicine. Maduro is a coward and he's afraid of us. But I'm not afraid anymore because I've got nothing left to lose. I'm not even afraid of death."
Maduro says the opposition was trying to foment a coup, evoking the massive marches in 2002 that culminated in the brief ouster of former President Hugo Chavez. The government made multiple high-profile arrests of opposition activists in the days leading up to the march, and state telecommunications regulator Conatel warned journalists and media outlets Wednesday to "refrain from promoting or spreading malicious campaigns."
Speaking at the pro-government rally, Maduro started by singing a song and then said that only 30,000 people had attended the opposition rally. Supporters, mostly dressed in red, waved flags of the socialist party, and some held cardboard effigies of Chavez.
"If they want to march every day, go ahead and march," Maduro said, promising to defend his mandate. "I will use the iron fist granted to me by Chavez. Make no mistake about me. I am willing to do anything to defend the homeland, its sovereignty and our people."
(A previous version of this story corrected Guaido's party identification in sixth paragraph.)