U.S. ELECTION WRAP: Trump's Big Speech Sparks Latino Backlash
Donald Trump faces Latino ire as he touts a hard-line position on immigration.
By and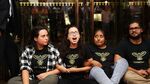 Donald Trump's emphasis on a hard-line approach in a speech meant to clarify his position on immigration may have put him back to where he started with many U.S. Latino voters.
"He's done for with the Hispanic community," U.S. Hispanic Chamber of Commerce's Javier Palomarez told MSNBC's "Morning Joe." "This guy is a complete clown"

"I'm really sad for the American people and for the Republican Party," Palomarez added, expressing regret the GOP didn't nominate Ohio Governor John Kasich

Trump's speech last night in Phoenix prompted Houston-based immigration lawyer Jacob Monty to resign as a member of the candidate's National Hispanic Advisory Council

Monty told MSNBC he can no longer be part of a "prop apparatus" for Trump
Making it clear that he won't vote for Hillary Clinton either, he said, "I'm suggesting that we leave that slot blank and we focus on down-ballot viable Republican candidates"

The Latino Partnership for Conservative Principles President Alfonso Aguilar, a prominent surrogate for Trump, told CNN he felt disappointed and misled by Trump and his campaign after speculation the GOP nominee would ease his position on undocumented immigrants
Trump last night—after days of pundit commentary over whether he was "hardening" or "softening" his immigration stance—reverted to the message that propelled his GOP primary campaign by outlining a nativist plan that rules out legal status for undocumented immigrants; read full Bloomberg story here
Monty said as recently as yesterday afternoon, as Trump visited Mexico President Enrique Pena Nieto, a great deal of "hope" persisted among many Latinos about the GOP nominee

"He looked like somebody who was trying to solve the problem"

Monty also said Trump had seemed receptive, during previous consultations, to the views of Latino leaders who support a border wall and tougher immigration law enforcement, but also seek a compassionate way to deal with law-abiding undocumented workers

"We thought he heard us," he said. But the Phoenix speech was "very, very disappointing," and there was "nothing pro-business" about it
Click here to read Bloomberg story on how Trump's visit backfired on Nieto
Click here to get the U.S. Election Wrap by e-mail every afternoon

ON THE TRAIL
Vice President Joe Biden stumped for Clinton today in Ohio, where he acknowledged that some voters are unhappy with her

Biden made the case that Clinton understands the issues facing working Americans better than Trump
"I know some of you are mad at Hillary," Biden said at a United Autoworkers Local 1714 union hall near the GM plant in Lordstown, Ohio
"But let me tell you something, she gets it, and she never yields. She does not break, and she stands up"

Trump also spoke in Ohio, where he criticized Clinton over the Trans-Pacific Partnership trade deal

He also promised that as president, he would "treat everyone with dignity, respect and compassion"

Senator Bernie Sanders will campaign for Clinton in New Hampshire on Labor Day, according to WMUR

Sanders defeated Clinton in the New Hampshire Democratic primary; he later formally endorsed her at a rally in Portsmouth in July

POLLS
The trend of Clinton's shrinking leads in various polls continued with a new survey out of Pennsylvania

Clinton drew support from 47% of respondents in the state vs 40% for Trump; that compares to the 11-point lead she enjoyed shortly after the Democratic convention in July, according to the Franklin & Marshall College poll

Nationwide, Clinton is ahead of Trump by 7 points, a Suffolk University/USA Today poll showed, a stronger result for her than in some other recent surveys

In four-way race with Libertarian Gary Johnson and Green Party's Jill Stein, Clinton gets 42% to Trump's 35%; Johnson draws 9%, Stein 4%

CAMPAIGN FINANCE
Clinton raised about $143 million in August for her White House bid and the Democratic Party, her campaign said in a statement

The figure marked Clinton's best fundraising month of the race; her campaign, along with the Hillary Victory Fund and Hillary Action Fund, began Sept. with a combined $152 million in the bank
More than 2.3 million people have donated, with an average contribution last month of about $50

ADVERTISING
In another sign of the unusual nature of this election year, slightly more has been spent so far on general-election broadcast TV ads targeting U.S. Senate contests than on those for the White House race, Bloomberg's John McCormick reported; see story here
Clinton is making a six-figure ad buy in the traditionally "red" state of Arizona following Trump's immigration speech, according to her campaign

Arizona joins Florida, Iowa, Nevada, New Hampshire, North Carolina, Ohio, Pennsylvania and the Omaha market in Nebraska as part of campaign's state-specific ad buy

Overall, Clinton is outspending Trump by about 10-to-1 on the airwaves, according to NBC News

The Democrat's camp has spent more than $75 million on ads in the general election; Trump's campaign has spent $7.7 million, NBC reported, citing ad-spending data from Advertising Analytics

ETC
Bill Clinton's staff used a government program to subsidize his family's foundation and a related business, and to support Hillary Clinton's private e-mail server, Politico reported, citing its own investigation, which found nothing illegal

Taxpayer funds were used to buy IT equipment, including servers, housed at the Clinton Foundation, and to supplement the pay and benefits of several aides
Politico's probe was based on records obtained from the General Services Administration through the Freedom of Information Act

Trump's real estate business dealings brought him in contact with people who had ties to the mob, Wall Street Journal reported

Trump told the newspaper that at times he worked with people who may have had such connections, but said he either had cursory relationships with them or wasn't aware of the ties at the time
"If people were like me, there would be no mob, because I don't play that game," Trump said, calling himself "the cleanest guy there is"

Judicial Watch released 510 pages of new State Department documents, including a 2009 request by Clinton Foundation executive Doug Band for diplomatic passports for himself and an associate; see the group's press release and link to documents here

CONGRESSIONAL ELECTIONS
SENATE RACES (Republicans hold 54-46 majority)
RATINGS: Sabato's Crystal Ball updated ratings of seven key races

Ind., Ill., N.H.., Penn., Wis. now rated as leaning or likely Democratic; Fla. and Ohio re-rated as lean Republican from tossup
GOP is defending party in all seven races; Democrats need net gain of five seats for 51-seat majority, or four seats if Clinton is elected president and her running mate, Tim Kaine, presides over Senate as tie-breaker

AD SPENDING: Money spent on general-election broadcast TV ads targeting Senate races -- $129.3m -- outpaces the $128.4m spent on spots for presidential election, Bloomberg's John McCormick reported using Kantar Media/CMAG data through Aug. 29
AZ: Democratic Rep. Ann Kirkpatrick on MSNBC today expressed support for overhaul of immigration laws that includes so-called DREAM Act; also said GOP Sen. John McCain is "not a maverick" and "not the 'straight talk express' that he once was"

McCain in 2013 among "Gang of Eight" sponsors of Senate-passed immigration overhaul that included billions for border security and path to citizenship for many undocumented immigrants; McCain emphasized border security in Aug. 30 GOP primary he won 52%-39% over more conservative challenger

FL: Democratic Rep. Patrick Murphy in statement said Republican Sen. Marco Rubio should "immediately tell Floridians where he stands" on immigration proposals Trump outlined in Phoenix yday
IN: Republican Rep. Todd Young's campaign released TV ad highlighting his service as Navy intelligence officer; narrator says Marine Corps also "shaped his approach to representing Hoosiers in Congress"

Ad cites Indianapolis Star editorial endorsement in GOP primary that said Young, who beat Tea Party-aligned House member, showed pragmatism and bipartisanship in making "decisions that should be celebrated"
Spot shows Young running, playing basketball, and says he "lives here"; doesn't mention Democratic ex-Sen. Evan Bayh, whom Republicans have noted owns multi-million dollar Washington home in addition to Indianapolis condo
Bayh in TV ad said he will ''work with both parties, and whoever the next president is'' to close ''loopholes'' in tax code that ''ship jobs overseas"

NH: Democratic Gov. Maggie Hassan's campaign in statement said spending by National Rifle Assn on anti-Hassan mailers is meant to "prop up" GOP Sen. Kelly Ayotte's "struggling re-election campaign" and underscores incumbent's ties to "gun lobby"

Ayotte in June voted against Democratic Sen. Chris Murphy's proposal to improve national instant background-check system; Ayotte said Murphy's plan was too broad and instead voted for alternative by Republican Sen. Chuck Grassley

NV: Minority Leader Harry Reid has "ratcheted up his rhetoric" against Republican Rep. Joe Heck, who's facing Democrat Catherine Cortez Masto in what may become state's "ugliest contest in at least three decades and maybe longer," political analyst Jon Ralston wrote in Reno Gazette-Journal

In Nev. politics, "all roads lead to Prince Harry" and for Reid, "the political is often indistinguishable from the personal"

OH: Vice President Joe Biden said GOP Sen. Rob Portman voted for budget proposals that would harm Medicare and education and "was in charge of the Bush budget" as Office of Management and Budget director in George W. Bush's White House

Biden appeared at United Auto Workers union hall in Warren, Ohio, to criticize Trump and promote Clinton and ex-Gov. Ted Strickland, Portman's Democratic opponent who joined Biden on the dais

PA: Democrat Katie McGinty in TV ad said she would "stand with law enforcement" and keep Pa. families safe by putting "more police on the streets" with better training and equipment and by "taking on the gun lobby"

McGinty, who notes in ad she's daughter of ex-police officer, opposing GOP Sen. Pat Toomey, who co-wrote proposal to expand gun-background check system that failed to advance in Senate
McGinty held press conference today in Erie with labor officials to attack trade pacts, advocate for proposals to boost manufacturing employment

Poll by Franklin & Marshall college shows McGinty leading Toomey, 43%-38%
WI: Let America Work, super-PAC backing GOP Sen. Ron Johnson's re-election, released TV ad saying Democratic ex-Sen. Russ Feingold "will make America weaker" and "already has," citing his post-9/11 votes in 2001 against Patriot Act and in 2002 against creating Dept of Homeland Security

Feingold campaign said in statement Johnson "needs to own up to his own failed record as chair of the Homeland Security committee and do what Russ has already done: present a real plan of his own"
HOUSE RACES (Republicans hold 247-186 majority)
CA-46: Race between Democrats Lou Correa and Bao Nguyen in Orange County highlights importance of Vietnamese-American voters, a "politically organized ethnic voting bloc," Los Angeles Times reported

Nguyen, ex-Garden Grove mayor of Vietnamese descent, "has taken unpopular positions in the historically conservative Vietnamese community"; Correa, ex-state senator who is Hispanic, known as "old-school retail campaigner who has built support in both Latino and Vietnamese communities"
District includes most of Santa Ana and Anaheim; winner will succeed Democratic Rep. Loretta Sanchez, who's running for Senate

MI-07: Democratic state Rep. Gretchen Driskell's campaign released TV ad referring to GOP Rep. Tim Walberg as "Trade Deal Tim" and criticizing pacts that "hurt Michigan families and sell out Michigan workers"

Ad cites Walberg's votes to implement trade pacts with Peru in 2007 and with Korea, Panama, and Colombia in 2011; Peru deal backed by 109 Democrats including Nancy Pelosi and Mich. Rep. Sandy Levin, who also joined dozens of Democrats backing the Korea and Panama pacts
Southern Mich. district includes Jackson, Adrian, Monroe; voted 51%-48% for Mitt Romney in 2012 election

PA-08: Speaker Paul Ryan raised campaign funds yday for Republican Brian Fitzpatrick in Bucks County, Levittown Now reported

Fitzpatrick, ex-FBI special agent, running to succeed his brother, retiring GOP Rep. Mike Fitzpatrick, in competitive suburban Philadelphia district
Democratic state Rep. Steve Santarsiero wrote in Bucks County Courier Times he'll work to overturn Supreme Court's Citizens United campaign-finance decision, oppose pay raises for Congress, support "reasonable term limits"
Before it's here, it's on the Bloomberg Terminal.
LEARN MORE