Dollar Extends Best Winning Streak Since March Before U.S. Jobs
By
U.S. currency climbs to one-month high against the yen

Futures signal 36 percent chance of Fed move this month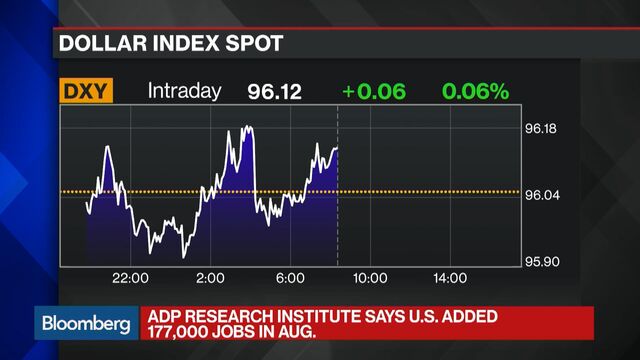 The dollar rose for a seventh day against the yen, its longest winning streak since March, as investors awaited the latest U.S. jobs report to assess the outlook for interest rates in the world's largest economy.
The U.S. currency advanced versus seven of its Group-of-10 peers, touching the highest level in more than a month against its Japanese counterpart. Economists in a Bloomberg survey forecast that Friday's employment report will show jobs growth was 180,000 last month, after July's reading of 255,000.

Federal Reserve Chair Janet Yellen said last week at a gathering in Jackson Hole, Wyoming, that the case for higher U.S. interest rates has strengthened, a message later reiterated by Vice Chairman Stanley Fischer, who said a move in September is possible. Bank of Japan Governor Haruhiko Kuroda reinforced his willingness to ease policy further, potentially widening the divergence between the two central banks.
"This will be a very important payrolls number," said Richard Falkenhall, a strategist at SEB AB in Stockholm. As the previous two readings were "very strong," a figure around 200,000 on Friday would create "the base for further tightening already in September. People start to realize that now, which explains why the dollar has been a little bit stronger since the Jackson Hole conference."
The dollar rose 0.4 percent to 103.89 yen as of 9:16 a.m. in New York, after reaching 103.90, the highest since July 29. The U.S. currency strengthened 0.2 percent to $1.1139 per euro.
September Prospects
The prospect that the Federal Reserve will increase rates as early as its Sept. 20-21 meeting climbed to 40 percent, from 18 percent at the start of August, according to fed fund futures data compiled by Bloomberg. The chance of an increase by December was 62 percent.
"I don't think it's enough, just a strong payrolls number," SEB's Falkenhall said. "We need that to be followed up by further hawkish comments from the Fed to really convince markets that they will hike." 
Falkenhall's main scenario is for a move in December, but that call could change in coming weeks, he said.
"While a September hike is not impossible, forward guidance will remain cautious and a range break for the dollar is highly unlikely," analysts at Australia & New Zealand Banking Group Ltd., led by foreign-exchange research head Daniel Been, wrote in a monthly outlook report.