Tony Blair Says Concerns Raised by Brexit Exist Across Europe
Vidya Root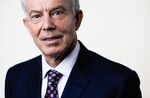 Former British Prime Minister Tony Blair said the issues about immigration, sovereignity and regulation raised in the U.K. vote to leave the European Union are also concerns being raised by people in other members of the 28-nation bloc, and need to be addressed.
Speaking in an interview on France's Europe 1 radio, Blair said the British people have yet to fully comprehend the costs and consequences of Brexit. They will not know those until the terms of the exit have been worked out, he said.
Until then, the uncertainty generated is likely to put investments on hold, he said.
Separately, Blair said he agrees with the demand from some quarters in France for the renegotiation of the accord that maintains the U.K.'s border with the continent in France. The accord has left about 10,000 migrants camped out around the northern French port of Calais, seeking to cross over to Britain, causing tensions in the area.
Sign up to receive the Brexit Bulletin, a daily briefing on the biggest news related to Britain's departure from the EU.
Before it's here, it's on the Bloomberg Terminal.
LEARN MORE