Style
The Art of the Fashionably Lived-In Sweatshirt
Your favorite weekend garment can be worn stylishly in public. Here's how.
by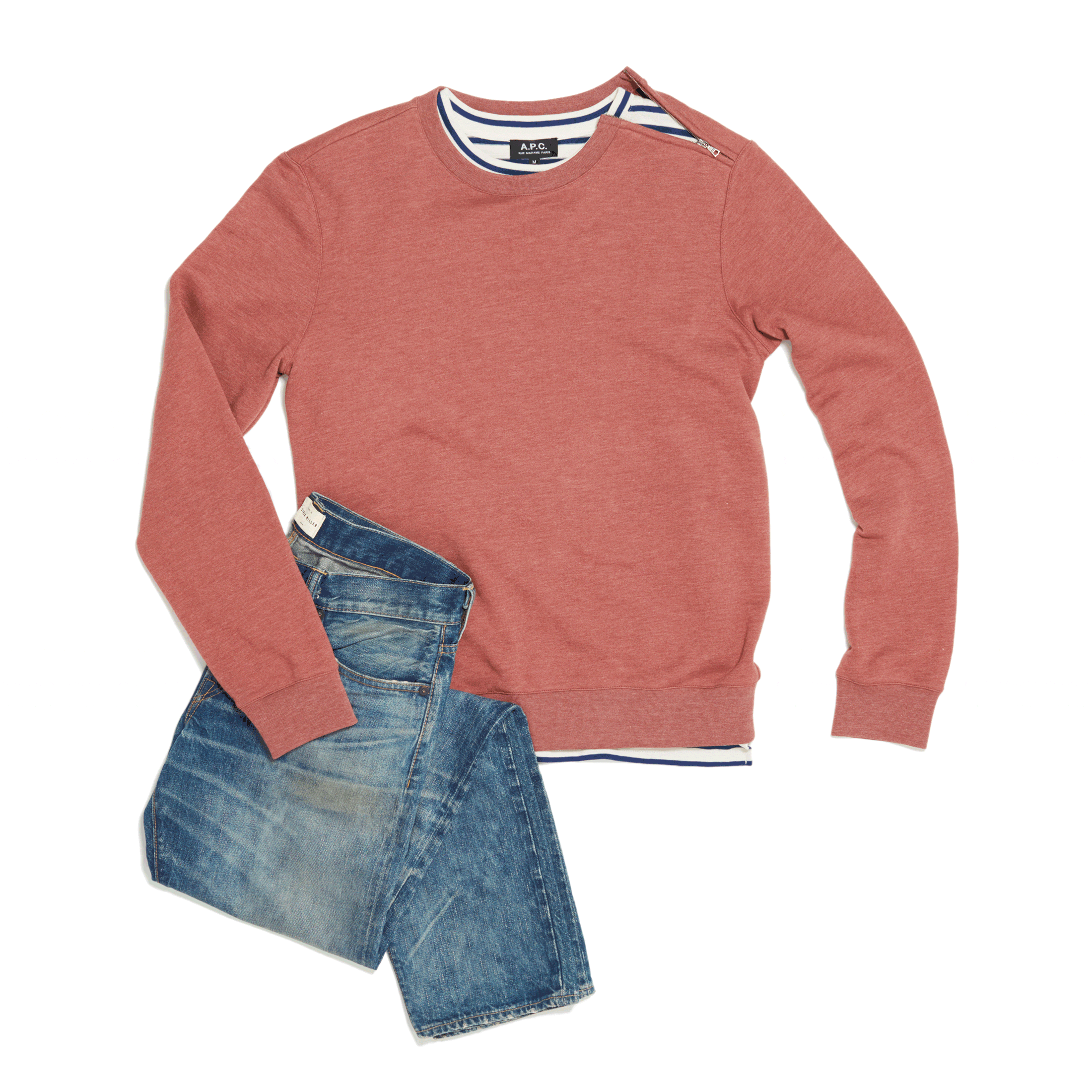 Summer is almost over, and if this article isn't a good enough reminder, Labor Day weekend will get the job done. This week, for our summer style series, we highlight one of man's weekend best friends: a lived-in sweatshirt. What is a lived-in sweatshirt, you ask?
There are two kinds of lived-in sweatshirts. The first is one you've had forever; it's comfortable, it's loose, and it probably has your college logo on the front. You wear it around the house and on any Saturday morning errands you can accomplish while wearing flip-flops.
The second is a sweatshirt that you wear all the time because it is actually flattering—it's one you might wear out to an low-key dinner or to catch the eye of the girl next door while you are raking leaves.
Believe it or not, the latter is something that can even be elevated to wear out to social occasions. Here's how.   

Wanting to wear a sweatshirt 24/7 is totally understandable, but just make sure it's the right one. If you're picking a new one to develop a long-term relationship with, don't be afraid of color. Go for a muted or dusty shade such as this red one from A.P.C.  ($180, apc.fr)

Don't forget to layer your sweatshirt with a lightweight T-shirt underneath. Although it will only be peeking out, the bit of stripe present on this shirt will make the sweatshirt look a bit more dressed up. It's the small details that make the difference. ($125, apc.fr) 

Finding the perfect pair of distressed blue jeans is just as difficult as finding the perfect sweatshirt. You don't want your denim to be too distressed, with one too many holes, or not distressed enough. These Simon Miller jeans are just right. ($300, simonmiller.com)

Metal and leather band watches are great for the work week, but leave them for exactly that. The weekend calls for a sporty watch with a fabric strap, such as this Black Bay Bronze from Tudor. ($3,975, tudorwatch.com)

These classics never go out of style. ($200, ray-ban.com)

Suede kicks are a summer staple, plus they're a carry-over staple for the fall season. Prepare yourselves to wear these all season long (again). ($411, commonprojects.com)
Before it's here, it's on the Bloomberg Terminal.
LEARN MORE