Shields Up! New Device Promises to Ward Off Unwanted Drones
ApolloShield's $30,000 box enters a market that includes anti-drone ray guns, cargo nets, and–yes–trained attack birds.
By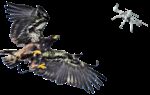 Innovators Nimo Shkedy and Gilad Beeri
Ages 33 and 30
Co-founders of ApolloShield, a year-old startup in Palo Alto.



Form and function
The ApolloShield, which looks like a home internet router, uses radio waves to prevent small drones from flying overhead. Unlike the radar-based systems that can only detect drones, it promises to get rid of them.
Detection
Hobbyist drones have unique codes in their signals so their users can control them. ApolloShield's receivers scan for these codes, alerting you if there's an unauthorized drone overhead.
Eviction
ApolloShield's app essentially spoofs the drone's remote control signal, allowing you to redirect the copter elsewhere, without crashing it. The device won't work on military drones, which use encrypted signals.
Origin
Shkedy and Beeri, veterans of Israeli intelligence, started their company after reading that supermodel Bar Refaeli requested a government no-fly zone over her wedding.
Range
The disruption technology reaches 2 miles above the ground—higher than most civilian drones can go and well above the 400-foot limit set by the Federal Aviation Administration.
Cost
Each ApolloShield unit costs $30,000 a year; larger users (stadiums, prisons, power plants) would need several for coverage.



Funding
Shkedy and Beeri have raised $500,000 from Y Combinator and other angel investors.
The competition
Jamming gun, DroneDefender

Researcher Battelle built this rifle-like jamming device as a military alternative to what the Pentagon calls "kinetic solutions"—i.e., blowing up drones. Instead, DroneDefender fires an intense signal that Battelle says can disrupt drones' navigation systems from a distance of 1,300 feet. Drawbacks: It runs on a 10-pound battery backpack, and it's illegal for civilian use.
Net gun, SkyWall100

"Minimal skill required," boasts a brochure for the SkyWall, a shoulder-mounted rocket launcher that fires a cargo net. Once the net hits a drone, an attached parachute deploys to bring it more safely to earth. The device, created by the U.K.'s OpenWorks Engineering, is still in development.
Straight-up eagles, Guard From Above

In The Hague, this security company trains birds of prey—"mostly eagles," says Chief Executive Officer Sjoerd Hoogendoorn—to attack drones. The CEO recommends that clients, which include the Dutch national police, use his attack birds in conjunction with electronic drone detection.
Next Steps
ApolloShield launched its device in August and says it's being used by a law enforcement agency Shkedy wouldn't name. Still, the legality of the device remains something of an open question. Federal Communications Commission rules that prohibit jamming cell phone and GPS signals could apply to anti-drone devices, says Michael Blades, an aerospace analyst with researcher Frost & Sullivan. Shkedy argues that his product is legal because it's not a jammer, but adds: "It is up to the user" to follow the rules.
Before it's here, it's on the Bloomberg Terminal.
LEARN MORE