Samsung Plans Global Recall of Note 7 Phones, Yonhap Reports
By
Company is evaluating issues with the big-screen smartphones

News impacts Samsung just before Apple introduces new iPhones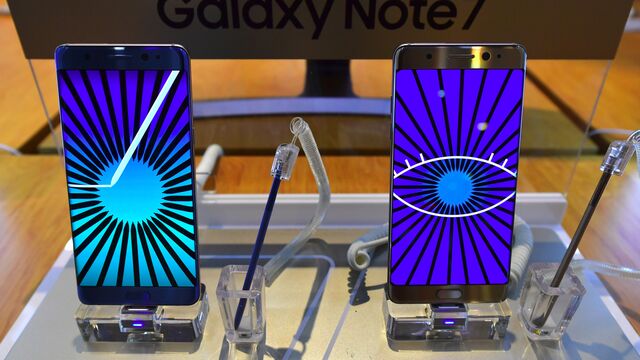 Samsung Electronics Co. is expected to announce a global recall of the large-screen smartphone Note 7 because of faulty batteries that catch fire, Yonhap reported, citing an unidentified company official.
The world's largest smartphone maker will announce the results of an investigation and a plan to deal with the issue as soon as this weekend, according to the news agency. Samsung shares, which had climbed more than 25 percent this year, rose less than 1 percent to 1,601,000 won in early Seoul trading. Affiliated battery unit Samsung SDI Co. saw its stock decline as much as 3.7 percent to 104,500 won.

"In response to questions on Galaxy Note7, we are conducting a thorough inspection with our partners. We will share the findings as soon as possible," Samsung said in a statement. "Samsung is fully committed to providing the highest quality products to our consumers."
The recall comes at a critical time for Samsung, just a week before Apple Inc. is set to introduce new iPhone models at its annual September event. The Korean company had gambled that positive reviews for the new device, which features iris-reading technology, would lead to robust sales. Analysts, who were growing increasingly bullish over Samsung's smartphone sales amid slowing demand for iPhones, have been raising their price targets for the company after it reported second-quarter profits that exceeded projections in July.
"This could sour consumer sentiment," said Greg Roh, an analyst at HMC Investment Securities in Seoul. "Since this is connected to the safety issue, it may nudge undecided customers to swing to new iPhones due next week."
Samsung is also delaying the release of the Note 7 in Europe, Yonhap reported. The smartphone maker said on Wednesday that it delayed shipments of its new devices to mobile carriers, citing more testing needed for quality checks without elaborating on the cause. A series of reports since last week said that the Note 7 had caught fire while charging and some customers uploaded pictures of their burned-out devices on the internet.
Samsung reported the biggest profit in two years in the second quarter, helped by strong demand for Galaxy S7 smartphones as U.S. carriers promoted the product, letting Samsung cut back its own marketing expenses during the quarter.
"Samsung was initially expected to ship at least 11 million units of Note 7 by the end of this year but it looks daunting to meet the target now and moreover this would have an impact on its brand image," Roh said. "This creates room to cut the earnings outlook for the year."
Before it's here, it's on the Bloomberg Terminal.
LEARN MORE