Rajan Exit Means Easier India Central Bank Ties With Government
By and
New governor brings a more restrictive communication approach

Markets may struggle with diminished guidance on RBI intention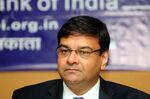 Months before India almost defaulted on its debt in 1991, a young economist at Yale University co-wrote a paper warning that "a fiscal crisis was bound to come."
Urjit Patel's publication was hailed as a seminal work, and it helped propel him to the International Monetary Fund, the lender that ended up bailing out India. Patel next week succeeds another IMF veteran as head of the Reserve Bank of India, though the parallels are limited.
Unlike departing Governor Raghuram Rajan, who used his intellectual heft and celebrity status to goad Indian leaders on a raft of issues from corruption to trade barriers, Patel brings a history of restrictive communication.
As one of Rajan's four deputies the past three years, Patel has spoken at just one public event, compared with about two dozen by his predecessor. The more disciplined approach may be welcomed by Prime Minister Narendra Modi's administration and the ruling party, which sometimes were at odds with Rajan, who ended up serving a single term.
"He will prove to be a good, conservative central banker," said Eswar Prasad, a professor at Cornell University in Ithaca, New York, who worked with both Patel and Rajan at the IMF. "He understands how complicated the political terrain is that he has to navigate."
Fewer Clues

The Reserve Bank didn't respond to a request for an interview with Patel, 52, on his communication strategy. He takes the helm of the central bank on Sept. 4.
The economist most recently drew prominence for leading a review of the RBI's mission, an initiative that helped trigger the biggest overhaul yet of the 81-year-old institution. As part of the change, a Monetary Policy Committee will be established to oversee policymaking that's tied to a newly established inflation target.
Should Patel maintain his restrictive approach toward communication, financial markets may be left with fewer clues on the intentions and direction of the man who will wield the tie-breaking vote on the MPC.
"One of the biggest challenges for him, or a grey area, is how he will be able to interact, communicate with both the market and the outside world, and how frequently he will do that," said Sunil Kumar Sinha, an economist at New Delhi-based India Ratings and Research Pvt., the local unit of Fitch Ratings. "No one really knows how he will be able to perform that task."
Wise Owl
Patel will be operating in an environment in which other actors rarely hesitate to express their views. Modi administration officials have made clear their preference for lower borrowing costs, and one adviser to the Finance Ministry has even suggested the RBI is using the wrong inflation index as its main gauge. Meantime, many from the banking industry complained about Rajan's aggressive efforts to clean up bad debt at state-owned lenders.
In addition to his limited public speaking as the deputy for monetary policy, Patel conducted few interviews with the media. A key test of his communication strategy will come just weeks after he takes his new office, with the RBI's Oct. 4 interest-rate decision. Rajan typically held press conferences and briefings with investment analysts, along with broadcast interviews, following policy meetings.
When called on by Rajan at a January 2014 press briefing to answer a question about how "policy action is hawkish but the guidance is dovish," Patel showed a desire for a centrist image.
"An owl is traditionally a symbol of wisdom -- so we are neither doves nor hawks but owls, and we are vigilant when others are resting," Patel said with a smile, prompting laughter.
'Intense Lobbying'
Patel may need to call on owlish wisdom when confronted with calls to bring down interest rates further, in the face of signs of accelerating inflation. With several key state elections next year, Modi will be under pressure to boost growth and create thousands of jobs.
Another potential pressure point for the new chief is a $120 billion bad-debt clean-up that Rajan had termed an essential deep surgery to ensure sustainable growth in the $2 trillion economy. With an extensive stint in the corporate sector, Patel is anticipated at least by some to take a potentially softer approach.
"With the new guy, I'm sure the effort will be redoubled" to ease provisioning for non-performing loans, said Prasanna Ananthasubramanian, chief economist at ICICI Securities Primary Dealership in Mumbai. "There's going to be more lobbying, more intense lobbying."
Private Life
Born in Kenya to an Indian immigrant family, Patel studied in England before heading to Yale for his doctorate. He worked at the IMF's India office from 1992 to 1995, impressing then-Finance Minister Manmohan Singh, who later became prime minister. From 1995-97, Patel advised the RBI on developing India's debt and foreign-exchange market.
Subsequently, he was tapped to set up the Infrastructure Development Finance Corp., a private-sector enterprise where Patel refined policy and managed its proprietary equity group until 2006. He also worked at Boston Consulting Group and India's biggest conglomerate Reliance Industries Ltd., where he assessed macroeconomic risks and advised on business strategy.
Patel has a reputation for leading a spartan life, perhaps limiting opportunities for others to lobby the incoming governor. He is said to have limited his interactions at the RBI to a small circle of officials, and rejected an RBI-allotted apartment in downtown Mumbai to live with his octogenarian mother, according to the Indian Express newspaper. Family ties were also behind his not taking the offer of a full-time resident fellowship at the Brookings Institution in Washington, according to his resume.
In private among his peers, though, he often regales with keen observations and gentle teasing -- leaving some to wonder whether his public reticence is truly a natural trait, or a survival technique in an environment that has punished the outspoken. Rajan in an interview to India Today aired Thursday said it was the "legitimate duty" and "moral responsibility" of public figures to inform young minds about citizenship.
Patel's "a very well prepared guy, very solid, intelligent, very good humored but at the same time a very tough negotiator," said Paulo Nogueira Batista, a former Brazilian official who worked with Patel on a 2014 BRICS-nation swap line.
Nogueira Batista, who now serves as vice president of the BRICS Bank development lender, said "he was one of the guys that helped move the process along because he understood fully the mechanism. He's very well prepared."
— With assistance by Vrishti Beniwal, and Nupur Acharya
Before it's here, it's on the Bloomberg Terminal.
LEARN MORE