Rajoy or Not, Spain Stocks Are Flying With Small Caps Up 19%
By
Economic recovery, ECB bond buying are driving the market

Bond yields on 10-year debt fell to record low in August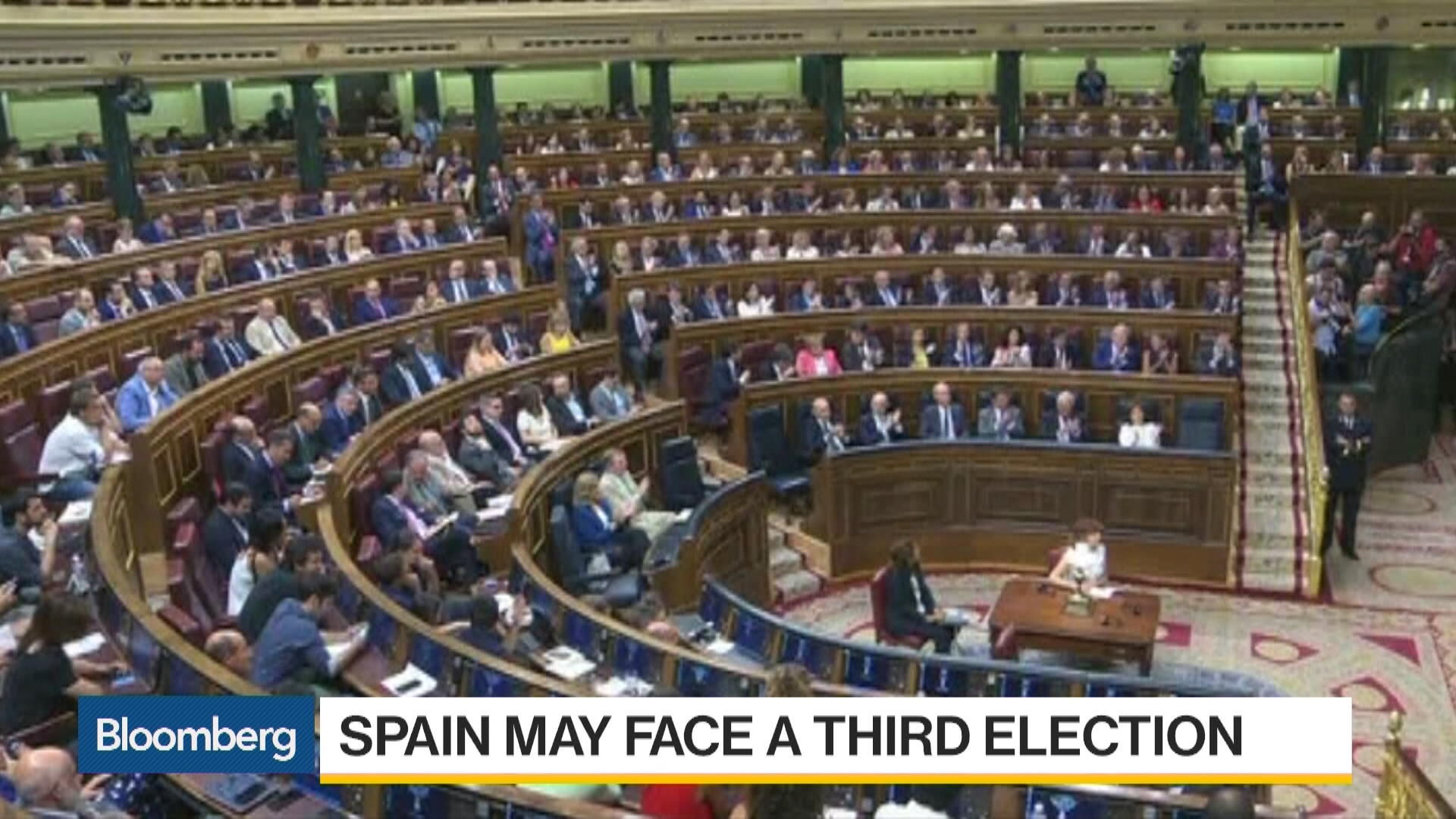 Spain may be heading for a third general election in a year, but for investors, that's no reason to avoid the market.
The IBEX 35 Index's 16 percent jump since a June low is one of the best among 94 equity gauges tracked by Bloomberg globally. A measure of the nation's smaller shares -- those more dependent on domestic growth -- has rebounded 19 percent since the selloff that followed the U.K. secession vote, sending it to a nine-month high.

Spain's economy has remained strong despite the political turmoil, expanding more than forecast in the second quarter, and economists expect it will have one of the euro area's biggest biggest growth rates this year, 2.8 percent. While the political drama may well continue -- Caretaker Prime Minister Mariano Rajoy lost a confidence vote in parliament on Wednesday and is likely to lose a second one this evening -- concern that an anti-austerity party will come to power has eased.
"Political uncertainty isn't weighing on the Spanish market," said Miguel Rodriguez, who helps oversee 358 million euros ($400 million) as a fund manager at Metagestion SGIIC SAU in Madrid. "Last year's fears about a radical government have dissipated because most votes have gone to the two major parties, so the market is pricing in that the next government will be more of the same. The economy isn't reflecting any anxiety either."
The weak result by anti-establishment group Podemos and the Socialists at the June election alleviated worries about a leftist government. And while Rajoy failed to get enough votes to secure a second term on Wednesday, he managed to clinch an alliance with liberal party Ciudadanos last month.
Tonight, a simple majority would suffice for the caretaker prime minister to win the vote, which will take place at about 8 p.m. Madrid time. But if no one shifts positions, it's likely he'll lose, sending Spain closer to another general election in December.
Sill, indicators from manufacturing to consumer confidence have shown the economy's resilience. The IBEX Small-Cap Index has gained 2.9 percent in 2016 through Thursday, heading for a second year of advances, while the measure of bigger companies is down 8.2 percent. Despite the outperformance, the gauge of smaller firms trades at 14.3 times past earnings, about 35 percent lower than the IBEX 35. Both indexes rose by 3:15 p.m. in Madrid.

It's not just stocks that are doing well. The yield on Spain's benchmark 10-year bonds fell below 1 percent for the first time on record last month, also helped by the European Central Bank's asset-buying program. The nation's debt returned 0.02 percent in August, according to Bloomberg World Bond Indexes. While that was better than the 0.4 percent loss investors saw for euro-area bonds in the month, the tide turned in recent days, setting up Spanish securities for their worst week of the year.
While the economy has held up, Acting Economy Minister Luis de Guindos warned that it may not be able to withstand the impact of a third general election. The political deadlock that's marred the country since December is holding up crucial reforms and Spain risks missing an October deadline to submit its 2017 budget to the European Commission, he said. Without a proper government in place, Spain will only be able to rollover its 2016 spending program without the cuts officials in Brussels are demanding.
Abante Asesores Gestion's Alberto Espelosin sees the recent bank rebound continuing and leading the market higher. Lenders in the IBEX 35 have climbed 19 percent since their June low, beating the benchmark index. That, in addition to good economic data and lower valuations than for the Stoxx Europe 600 Index is driving investors toward the market, he said.
"The conditions are there for results to improve in 2016 and 2017, and at the same time salaries are growing and exports are doing well," Espelosin said. He manages an $88.5 million equity fund at Abante Asesores Gestion in Madrid. "Taking those factors into account, Spanish stocks are attractive."
— With assistance by Todd White
Before it's here, it's on the Bloomberg Terminal.
LEARN MORE