MTN Nigeria IPO Said to Target $1 Billion Proceeds After Fine
by , , and
Africa's largest mobile-phone operator is planning 2017 offer

Comes as part of a deal to pay record fine to Nigeria
MTN Group Ltd., Africa's biggest wireless operator by sales, and minority shareholders in its Nigerian business are seeking to raise about $1 billion in an initial public offering, a condition tied to the settlement of a record fine imposed by the West African government, people familiar with the plan said.
Minority shareholders may sell down their holdings or exit entirely, while MTN may offer a small portion of its stake in the business, one of the people said, declining to be identified because the details are private. The Johannesburg-based company is still fine-tuning any offer and no final decision has been made on the amount, the people said. MTN declined to comment.
The IPO is part of a deal struck with the Nigerian government to pay a 330 billion naira ($1 billion) penalty for missing a deadline to disconnect unregistered subscribers. The negotiations over the fine, which has contributed to a 38 percent decline in MTN's share price since it became public in October, cost 1.3 billion rand in professional-service fees, according to the company. Nigeria is MTN's biggest money spinner, accounting for more than a third of its sales and profit for a company that has a market value on the Johannesburg bourse of 220 billion rand ($15 billion).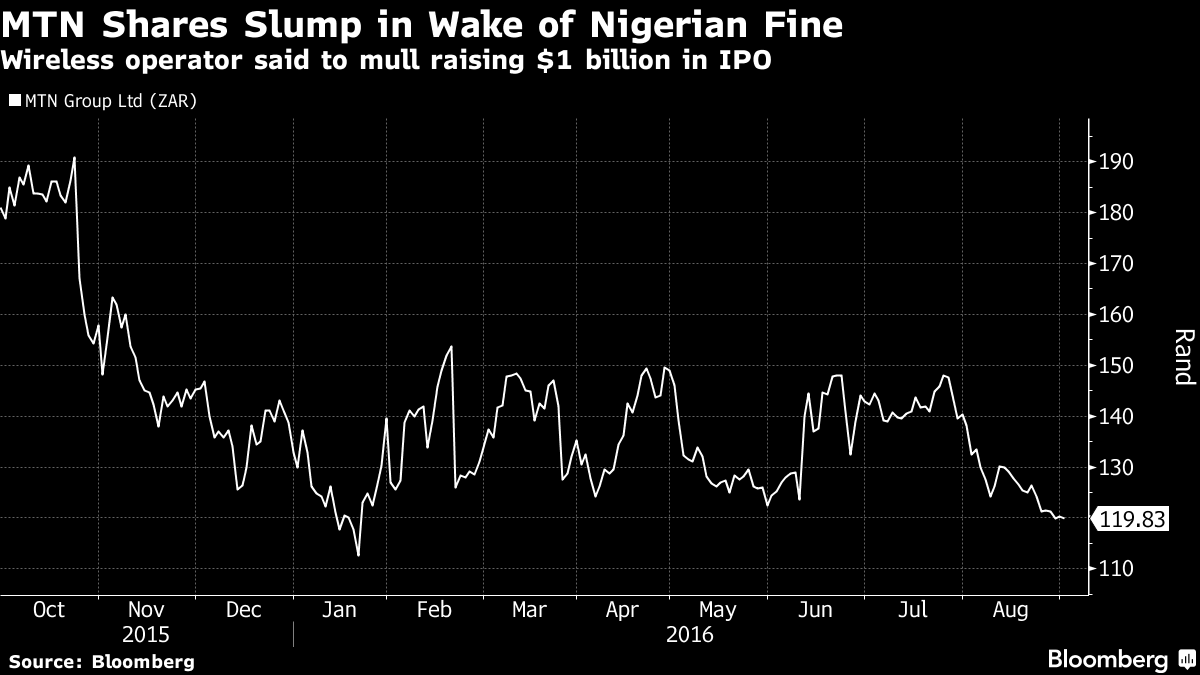 Nigeria's economic slump deepened in the second quarter as a declining oil industry weighed on output, with gross domestic product in Africa's most populous country contracting by 2.1 percent from a year earlier, after shrinking 0.4 percent in the first quarter. 
The Nigerian Stock Exchange All Share Index has slumped 7 percent over the past year as a currency peg that lasted about 16 months deterred foreign investors, weighed on growth and led to a lack of dollars, curbing imports and causing shortages from fuel to industrial materials.
MTN said in July that it hired Citigroup Inc. and Standard Bank Group Ltd. as advisers on the transaction.
Before it's here, it's on the Bloomberg Terminal.
LEARN MORE