business
Merkel Faces Home-State Defeat Over Immigration
By and
AfD running neck-and-neck with Merkel's CDU ahead of election

Northeast state of Mecklenburg-Western Pomerania votes Sunday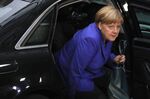 German Finance Minister Wolfgang Schaeuble's election rally in the Baltic Sea town of Rostock was all going according to script until the discussion turned to refugees.
QuickTake Europe's Refugee Crisis
After the elder statesman won praise from the crowd of middle-aged and retired party faithful for his role in the country's reunification, the goodwill quickly evaporated as he defended Chancellor Angela Merkel's open-door refugee policy. Then the murmurings from those gathered at the event in the Hanseatic city's medieval center turned to applause when an audience member stood to challenge Schaeuble.
"I want to clearly contradict you: Islam does not belong to Germany," the man said. "Long after you and the chancellor have your names written in the pages of the history books, Germany will still have to grapple with these massive social problems from this incredible influx of millions of people from a foreign culture, and I'm holding that against you personally."
Many others in the northeastern German state where the chancellor has her electoral district are feeling the same way. The anti-immigration Alternative for Germany, or AfD, is running neck-and-neck with Merkel's Christian Democratic Union in Mecklenburg-Western Pomerania ahead of this Sunday's vote. The local electorate's grievances with the CDU run the gamut of the chancellor's hallmark policies -- from refugees to sanctions on Russia to the country's energy overhaul -- and the AfD is capitalizing on that discontent.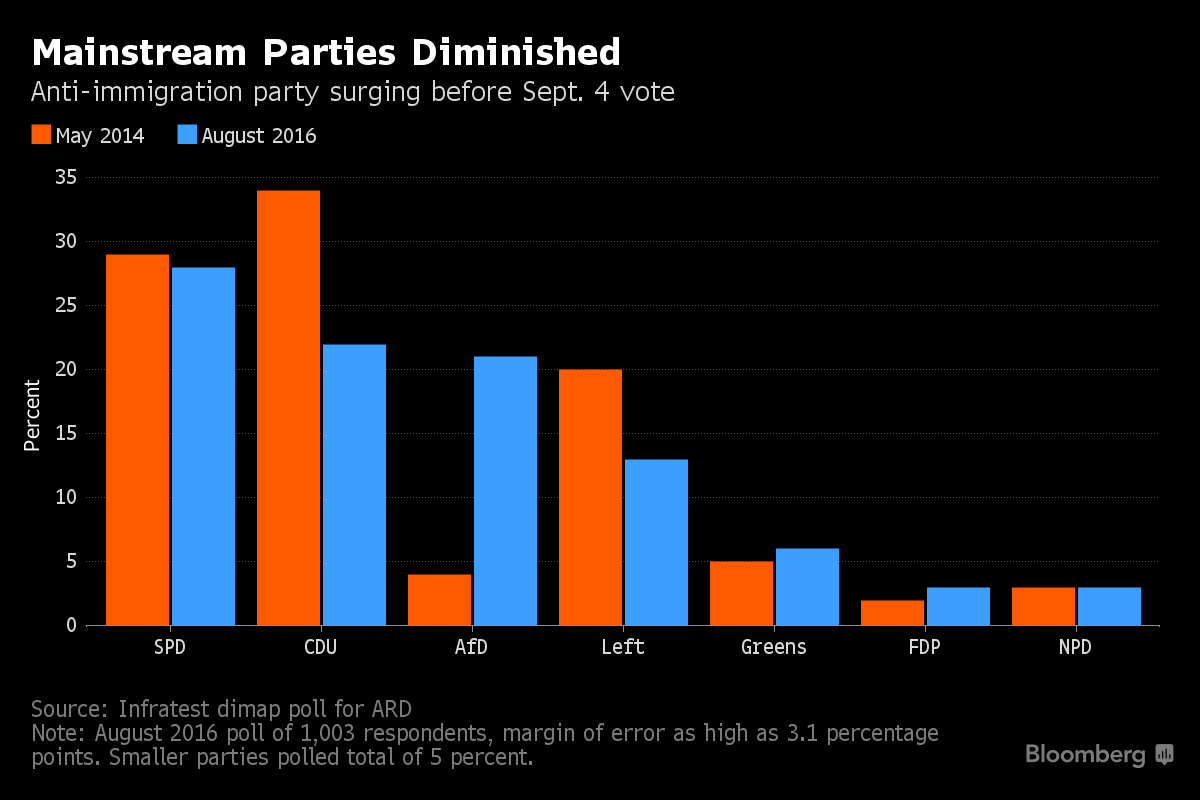 The most recent poll, released late on Wednesday, shows the AfD leading the CDU by 23 percent to 20 percent, with the Social Democrats, who currently run the rural state in coalition with Merkel's party, at 28 percent support. What's more, the AfD's recent history in regional votes suggests it will perform better on election day than predicted in polls.
Just over a year ago, polls indicated that the CDU was poised to retake the state. But the AfD, founded in 2013 as an anti-euro party, has wiped away that lead with appeals that include securing the border, setting up a citizen police force and curbing the use of English in the German language. At an AfD polling stand in Ribnitz-Damgarten, townspeople crowded around to sift through the party's pamphlets as just a few blocks away Merkel held a closed-door gathering with hand-selected participants. 
"Without Mrs. Merkel, there would be no AfD," Leif-Erik Holm, the party's candidate for state premier, said in an interview. "She has led her Christian Union from the center to the left so that middle-class, conservative values are no longer represented."
High Unemployment
On first blush, it might seem surprising that refugees have become such a big topic in the election. The number of foreign-born people in the state of 1.6 million last year reached just 65,000 or about 4 percent of the population. But it's become a touchstone for voter disaffection in Mecklenburg-Western Pomerania, which isn't home to a single company in Germany's benchmark DAX and has the country's lowest GDP per capita. The state's unemployment rate is 9 percent, compared with 6.1 percent nationally.
One economic bright spot has been in the agricultural sector, which benefited from exports to Russia thanks to longstanding ties dating back to Communist rule. Those sales have come to halt as a result of the sanctions and many local farmers blame Merkel for their woes. The AfD is campaigning for an end to the curtailments.
"'We have a few green shoots in terms of exports and some success in the food industry," Holm said. "In cheese production, for example, we have exported a lot to Russia and this has now slumped."
Political Embarrassment
Rural, poor and peripheral, Mecklenburg-Western Pomerania is an outlier in more than just political terms, and in any case polls suggest that the SPD and CDU will garner enough support for a rerun of their coalition of the past decade.
Still, defeat in her home state by the AfD would prove a political embarrassment for Merkel, and likely reignite grumblings about her refugee policies among some in her bloc. The chancellor looked on in frustration in March as the AfD, which is shunned by the political establishment, won support in three state elections, including almost a quarter of the vote in the eastern state of Saxony-Anhalt. In the last year, CDU support has also dropped in Berlin while the AfD has gained. The city-state holds its regional vote Sept. 18.
"Merkel's critics within the party will see it as a confirmation that her refugee policy is wrong and that the party may get another beating two weeks later in Berlin," Gero Neugebauer, a political scientist at Berlin's Free University, said of an AfD victory over the CDU. "An ascent of the AfD would mean that it's better able than the CDU to integrate the right wing of the electorate and to motivate non-voters to go to the polls."
Campaigning Hard
Merkel has campaigned hard to win back support, crisscrossing Mecklenburg-Western Pomerania in recent weeks, with a final push scheduled for this Saturday. She's adopted a law-and-order tone at rallies, calling for a larger police force and "more video surveillance of public spaces." But on the question of refugees, she's doubled-down, refusing to step back from her "we can do this" slogan adopted last year as 1 million asylum seekers poured into the country. Her opponents have ridiculed the remarks as naïve.
The CDU must stand by its values, from its opposition to "xenophobia and racism" to its commitment to the North Atlantic Treaty Organization, Merkel said in Mecklenburg's capital of Schwerin on Monday, warning that if turnout is low, "then the parties with more extreme tendencies will have greater results."
Protest Party
Michael Grosse-Broemer, the chief parliamentary whip of Merkel's CDU bloc in the lower house of parliament, lashed out at the AfD on Thursday in Berlin.
"The AfD is in no way a traditional party, but rather a pure protest party," he told journalists. "Everything else in terms of concrete results, we'll have to wait."
This has clearly been Merkel's summer of discontent. While her CDU still leads in all national polls, her personal approval rating has plunged, dropping 12 percentage points in an August survey to 47 percent following a spate of violent attacks in the country, two of which involved asylum seekers. A poll released this week indicated 50 percent of Germans don't want her to seek a fourth term in national elections next year.
Watch Next: The Implications of German 'Political Noise'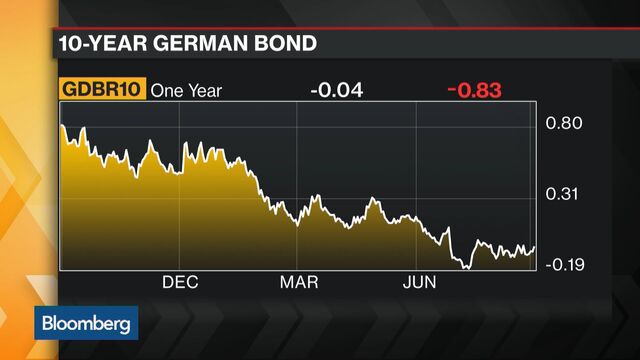 At the Rostock event, Schaeuble said he and Merkel took concerns like those expressed by the audience member seriously, before then offering a rebuttal that integrating those who've come to the country is the best path forward and reminding those present that millions of Muslims already call Germany home.
"It's much better if those who live here, whose children and grandchildren have lived here for a long time and have grown up here, feel well at home here and join in," Schaeuble said. "This is Angela Merkel's policy and mine."
Just how convincing those arguments are will become evident Sunday. Schaeuble's antagonist, a self-described lifelong CDU voter, said he was grudgingly sticking with the party.
— With assistance by Arne Delfs, Birgit Jennen, and Tony Czuczka
(
Updates with comments from CDU chief whip beginning in 16th paragraph.
)
Before it's here, it's on the Bloomberg Terminal.
LEARN MORE