Lindsay Lohan 'Grand Theft Auto' Suit Thrown Out on Appeal
By
Actress alleged game violated right to privacy with likeness

Appeals court says game is a work of satire and fiction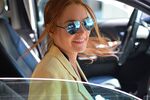 Lindsay Lohan's claim that Take-Two Interactive Software Inc.'s "Grand Theft Auto V" game violated her privacy by using her likeness without permission was thrown out by an appeals court that ruled the game was a work of fiction and satire.
The "Mean Girls" star sued New York-based Take-Two alleging the company used a lookalike model as a character named Lacey Jonas to evoke her image -- complete with voice impersonation, bikini, shoulder-length blond hair and her "signature 'peace sign' pose."
A New York state appeals court on Thursday threw out the suit, as well as a similar case filed by Karen Gravano, the daughter of former Mafia underboss and FBI informant Sammy "The Bull" Gravano, who also alleged her likeness was used in the game. The panel said that even if the depictions are close enough to be considered likenesses of the two women, the game falls outside the legal definitions of advertising and trade and is protected by the First Amendment.
Video-game makers are increasingly battling athletes and celebrities that claim their likenesses are being used in games without permission. Actress Ellen Page alleged in 2013 that a video game used her image for a character, and a group of college athletes won a $40 million settlement from Electronic Arts Inc. in 2014 and Collegiate Licensing Co. after they sued over the use of their likenesses in NCAA-branded video games.
Last year, Take-Two was sued in Manhattan federal court over claims its National Basketball Association games violated copyrights by depicting the actual tattoos of LeBron James, Kobe Bryant and other stars. Take-Two has called the claims don't have merit, and last month, a judge threw out the plaintiffs' demands for statutory damages and attorneys' fees in the case.
Largest Franchise
Grand Theft Auto is Take-Two's largest franchise, and "Grand Theft Auto V" exceeded $1 billion in sales within the first three days of its release. It was the best-selling console video game in North America, Latin America and Europe in 2013, shipping more than 33 million copies and driving fiscal 2014 sales up 97.5 percent to $2.4 billion.
Lohan alleged the game depicted her as Jonas, an anorexic celebrity who enlists players for help dodging paparazzi in a race throughout Hollywood. Gravano alleged that her image, portrait and voice are incorporated into a character named Andrea Bottino who uses phrases and a backstory similar to her own.
The appeals court said company didn't refer to Lohan or Gravano by name, use their photographs nor deploy them as actresses in the game.
"This video game's unique story, characters, dialogue and environment, combined with the player's ability to choose how to proceed in the game, render it a work of fiction and satire," the appeals court said. "Further, Lohan's claim that her image was used in advertising materials for the video game should also be dismissed. The images are not of Lohan herself, but merely the avatar in the game that Lohan claims is a depiction of her."
Lohan's lawyer, Robert O. Pritchard, said they planned to appeal the ruling, and Thomas Farinella, an attorney for Gravano, said his client is disappointed by the court's decision and is exploring her options for an appeal. An attorney for Take-Two was not immediately available for comment.
The cases are Karen Gravano v. Take-Two Interactive Software Inc., 151633/2014, and Lindsay Lohan v. Take-Two Interactive Software Inc., 156443/2014, New York State Supreme Court, New York County (Manhattan).