Kmart Woos Millennials With Concierge Service, Scottie Pippen, and ... Paint?
The big box retailer wants to get in on the $600 billion buying power of millennials.
By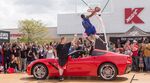 Scottie Pippen signed basketballs, a disc jockey spun tunes, and a red sportscar glistened in the parking lot at a newly revamped Kmart store in Des Plaines, Ill., over the weekend. The first guests in line received free Sodastreams. Inside, customers encountered a beauty bar, a paint shop, and the "Aisle of WOW!".