Kmart Woos Millennials With Concierge Service, Scottie Pippen, and ... Paint?
The big box retailer wants to get in on the $600 billion buying power of millennials.
By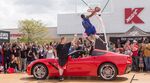 Scottie Pippen signed basketballs, a disc jockey spun tunes, and a red sportscar glistened in the parking lot at a newly revamped Kmart store in Des Plaines, Ill., over the weekend. The first guests in line received free Sodastreams. Inside, customers encountered a beauty bar, a paint shop, and the "Aisle of WOW!".  
Dubbed the "Whole Lotta Awesome" store initiative, the store redesign and lavish, if eccentric, grand reopening are all part of the struggling retailer's master plan to get millennials in the door. "The refreshed store is part of an ongoing strategic marketing and rebranding initiative to provide enhanced, new and exclusive offerings to long-standing and loyal members, as well as a new Millennial Kmart audience," the company said in a statement.

America's millennials spend a collective $600 billion annually, according to a report by professional service company Accenture, and they gravitate toward online shopping. But Kmart isn't seeing much of that sizable spending power right now. Asked to recommend a retailer to their friends by the YouGov BrandIndex in 2014, millennials pointed to Amazon,com, Best Buy, and Target. While e-commerce giant Amazon had a recommendation score of 54.3 and Walmart 20.3, Kmart received a 4.8. In 2013, Kmart fared even worse with millennials, with a score in the red. (Scores range from -100 to 100. Zero is neutral.)
It comes as no surprise that Kmart is willing to try something new to get shoppers in the door: Parent company Sears Holding Corp. announced in April that it would close 78 stores—mostly Kmart locations—and it recently took out a $300 million loan. Over the past four years, Sears has taken over $9 billion in losses. 
Kmart isn't the only company desperately trying to woo millennial consumers. Macy's renovated the basement at its flagship New York City location to attract young shoppers last September. The $400 million revamp features a 3D printing shop, beauty bar, and "selfie wall."
Though lacking a selfie wall, Kmart's new "Aisle of WOW!" seems promising for debt-ridden millennials looking to save money. It includes a selection of items priced at just a buck and limited-time promotions. The "Shoparazzi" may remind millennial consumers of Instacart, as the concierge will go shopping for you (at no additional cost) when provided a list.
Somewhat inexplicably, the revamped Kmart also includes a paint shop, à la Lowes and Home Depot. Perhaps Kmart knows something about millennials painting habits that we don't. 
Watch Next: Millennials, Don't Worry. You'll Be Able to Retire.