Italy Prosecutors Said to Request Closing of Paschi CEO Probe
by and
Magistrate now will rule on prosecutors request to close case

Ex-Paschi, Deutsche Bank managers probed for covering losses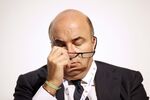 Milan prosecutors have filed a request to drop an investigation of Banca Monte dei Paschi di Siena SpA Chief Executive Officer Fabrizio Viola and former Chairman Alessandro Profumo for alleged false accounting, two people with knowledge of the matter said.
Prosecutors decided to dismiss the case related to the accounting of derivatives transactions known as Alexandria and Santorini because they have already reviewed the matter in a separate year-long investigation, according to the people, who asked not to be named because the filing isn't public. That probe lead to an indictment request against former Monte Paschi managers and former executives of Deutsche Bank AG and Nomura Holdings Inc.
The Milan prosecutors opened the investigation into Viola and Profumo after an investor filed a complaint with the authorities, Monte Paschi said Aug. 19. The bank said the derivatives transactions were carried out by former executives and the new management subsequently assessed them and decided to settle.
Monte Paschi had to restate its accounts in 2013 and 2015 after a fresh request from market regulator Consob, which asked the bank to amend how it booked a transaction with Nomura dubbed Alexandria. The lender's previous management used Alexandria and a transaction with Deutsche Bank, dubbed Santorini, to mask losses.
A magistrate will now rule on the request by prosecutors in the Viola-Profumo case, the people said. A spokesman for Monte Paschi declined to comment, while the chief prosecutor in Milan wasn't reachable for a comment. Reuters earlier on Thursday reported the request by prosecutors. A spokesman for Profumo declined to comment.
Prosecutors have been investigating how Monte Paschi's former managers allegedly misrepresented the lender's finances in the years before it sought a government bailout. The bank used transactions to mask losses and was later forced to restate its accounts. In February prosecutors sought charges against executives of Deutsche Bank and Nomura for allegedly colluding with ex-managers of Monte Paschi to falsify its accounts, manipulate the market and obstruct authorities. Preliminary hearings to determine whether to proceed with a trial are underway.
The "operations in question were carried out by the previous executives of the bank and by the ex-managers," the Siena-based lender said in the statement last month when the investigation of Viola was made public. Monte Paschi has acted "with complete propriety" in the matter and executives have "always collaborated" with authorities, the bank said.
Before it's here, it's on the Bloomberg Terminal.
LEARN MORE