Greece's Biggest Bank Sees Profits Return Amid Leadership Change
By and
Piraeus Bank expects to name CEO, chairman this month

Bad loan sales won't begin before next year, acting CEO says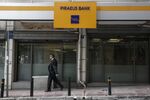 Piraeus Bank SA is on track to post its first yearly profit since 2009 even after factoring in an expected decline in the Greek economy, acting Chief Executive Officer George Poulopoulos said.
The country's largest bank is making progress on reducing non-performing loans and the second quarter was profitable, Poulopoulos said in an interview from the lender's headquarters in Athens on Wednesday. "I expect the second half of 2016 to be also profitable and that we are going to post a positive bottom line after many, many years."
The guidance is based on the bank's baseline scenario, which sees Greek gross domestic product contracting by about 1 percent this year, before growing by about 2 percent in 2017.
Piraeus shares rallied as much as 25 percent on Wednesday, after Greece's biggest lender reported a net income of 20 million euros ($22 million) for the three months through June and the second consecutive quarterly reduction in its bad loans ratio. The stock was up 2.1 percent at 11:35 a.m in Athens on Thursday.

Greek banks are struggling to contain the fallout from the biggest sovereign debt restructuring in history and the steepest economic contraction since World War II, which forced them to seek successive capital injections from taxpayers and investors.
Piraeus has set up a dedicated unit of about 2,500 employees to manage soured loans and reduce its nonperforming loan ratio, currently around 39 percent, to 17 percent by the end of 2018.
"But the basic premise to achieve this is the stabilization of the economy," Poulopoulos said.
Piraeus is in talks to outsource the servicing of some bad loans to distressed debt managers by the end of this year, Poulopoulos said. While the bank also plans to sell batches of soured consumer and other unsecured loans, no agreements are expected in 2016.
"We don't plan large sales of loans," he said. "Some may take place, but they aren't very close."
Sales of secured loans are out of the question for now because of wide disparities in the valuation of Greek assets and the spread between the offer and bid prices. "Secured loans will be sold only when real estate prices stabilize, and won't be large ones," he said.
Leadership Overhaul
Poulopoulos, who took over from Stavros Lekkakos in June, is Piraeus's third CEO this year. Anthimos Thomopoulos resigned in January, prompting a protest from Paulson & Co. Inc., one of the lender's main shareholders. Paulson partner Alex Blades alleged Thomopoulos resigned due to political interference, according to a letter to regulators obtained by Bloomberg News.
Paulson's main antagonist in the bank, Michael Sallas, also stepped down from chairman of the board in July, amid a probe by the Frankfurt-based Single Supervisory Mechanism of some of the funds used for a capital increase last year. Poulopoulos said he expects the "routine" check to conclude "very soon" and any impact on the bank's capital ratio to be "insignificant."
The bank is looking to appoint a new CEO and chairman by the end of September, he said, declining to say whether he is seeking to retain his role.
"I'm interested in what's good for the bank," he said.
Before it's here, it's on the Bloomberg Terminal.
LEARN MORE