Global Banks Said to Seek Brexit Deal to Keep Status Quo
by and
Plan would look to safeguard passporting rights for banks

A short timeframe for exit could spark exodus, PwC's Gray says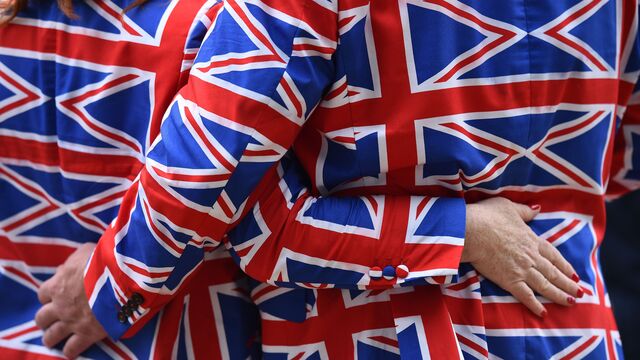 The world's biggest banks are pressing U.K. Prime Minister Theresa May to strike an interim agreement with the European Union for financial companies before formal exit talks start, according to two people with knowledge of the matter.
An interim agreement would seek to preserve passporting, the ability of banks to freely sell services and products across the EU, beyond the end of two years of official negotiations, said the people who asked not to be identified because the matter is private. The gambit may prove unrealistic because European leaders including German Chancellor Angela Merkel have repeatedly said they won't engage in informal talks.
"Our principle of no notification, no negotiations is there to protect those who stay together, not the one leaving," European Council President Donald Tusk wrote on Twitter on Thursday. "We shall not give it up."
Failure to win special status could prompt major international investment banks to start shifting staff and operations from the U.K. to elsewhere in the EU within weeks of May invoking Article 50 of the Lisbon Treaty, which sets the timetable for withdrawal over a two-year period.
'Undesirable Decisions'
"The shorter the timeframe, the more likely it is that undesirable decisions might have to be made," said Andrew Gray, head of Brexit for U.K. financial services at PricewaterhouseCoopers LLP. "Without a deferral of passporting rights, some firms may start applying for banking licenses, seeking regulatory approvals and securing office space elsewhere irrespective of whether Article 50 has been triggered,"
Despite the 2008 crisis and subsequent recession, financial services remain a crown jewel of the U.K. economy, accounting for about 10 percent of it and providing 2 million jobs nationwide.
A transitional period following the two-year Article 50 negotiations could help prevent trade barriers being erected at the end of that process if no deal is won, ensuring the status quo until a lasting deal on financial services could be struck between the U.K. and the EU. Other solutions to smooth the path of Brexit for businesses are being proposed by various lobbying groups.
Britain Stronger in Europe, the official campaign for the U.K. to remain in the EU, rebranded itself on Friday as Open Britain. It's seeking a deal that keeps the country open to trade and skilled workers with continued membership of the EU's single market.
Clarity Needed
While some European countries are circling to lure banks from London to their financial capitals, and once Brexit has occurred, many of the region's biggest lenders' operations in London could face disruption. The U.K. vote to leave doesn't just have the potential to hurt the U.K., it could also undermine Europe and global financial stability.
"Brexit created an element of uncertainty, which is extraordinary important both for the U.K. and the euro area, the European Union and also for the world," former European Central Bank President Jean-Claude Trichet said in a Bloomberg TV interview with Francine Lacqua on Friday at the Ambrosetti Forum in Cernobbio, Italy. "Let's clarify the situation and have certainty on the process as soon as possible."
Deutsche Bank AG Chief Executive Officer John Cryan said this week that London will remain a top financial center over the next decade and that his bank realizes that many of its customers and trading operations are based there. The bank operates most of its European investment banking business from a branch in London.
Sign up to receive the Brexit Bulletin, a daily briefing on the biggest news related to Britain's departure from the EU.
"A transitional hiatus period would create breathing space for carrying on negotiations so that a deal is struck that benefits everyone," said Arun Srivastava, head of financial services in London at law firm Baker & McKenzie.
Lobby Push
Various finance industry lobbying groups are pushing for concessions to minimize disruption from Brexit, including TheCityUK and the Financial Services EU Taskforce, convened by Banco Santander SA's U.K. Chairman, Shriti Vadera, to represent some of the biggest banks and insurers. The British Bankers' Association is working with advisers at law firm Clifford Chance and Global Counsel, the advisory firm co-founded by former lawmaker Peter Mandelson, according to a person familiar with the matter.
Bankers say the U.K. government is also yet to finalize which of its administrative departments will have ultimate responsibility for hammering out an agreement for financial services. While lawmaker David Davis is charged with leading the Brexit talks, Chancellor of the Exchequer Philip Hammond's Treasury is traditionally the point of contact between banks and the government.
Before it's here, it's on the Bloomberg Terminal.
LEARN MORE