Auto Market Becomes a Hard Sell in U.S. as Chance of Record Dims
By and
Sales incentives, while at high level, aren't drawing buyers

Industry's annual sales rate slipped to 17 million in August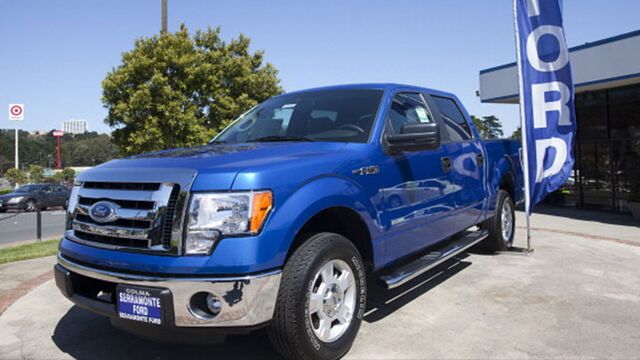 The auto market that once invigorated the U.S. economy has become a tough sell, with every major automaker missing analysts' estimates for August in a further sign that the industry's six-year growth run has hit the end of the road.
Buyers are being offered the sweetest deals since the Great Recession of 2009 and yet are responding with a shrug, pushing the month's seasonally adjusted annual sales rate down to 17 million light vehicles, according to Autodata Corp. The pattern of steeper-than-predicted declines held true for Ford Motor Co. and General Motors Co. as well as for Japan-based makers Toyota, Nissan and Honda. Even the lone major company to report a gain, Fiat Chrysler Automobiles NV, trailed estimates.

Even more concerning was the softness in the pickup market, where U.S. automakers earn the most money and which has benefited from cheaper gasoline prices. Sales were down for the Ford F-Series, GM's Chevrolet Silverado and Fiat Chrysler's Ram pickups. While some of that can be attributed to selling fewer trucks to fleet buyers, Ford essentially declared the death of runaway auto sales growth on a conference call.
"We had a period of several years coming out of the financial crisis when growth in auto sales outpaced broader economic growth, and that period is over," said Bryan Bezold, Ford's senior U.S. economist. "We're no longer in a period where we have a lot of pent-up demand."
The annual sales pace, as measured by Autodata, was less than the 17.2 million cars and light trucks projected in a Bloomberg survey of analysts and was down from a 17.9 million rate in July that was the highest of the year. Deliveries of such vehicles dropped 4.2 percent to 1.51 million for the month.
Lower Incentives
Incentives -- while at a generally high level -- were lower than in July, when GM offered 20 percent cash back on several Chevrolet models, according to vehicle-shopping website TrueCar. Consumers aren't responding to discounts and other incentives as readily as in 2014 or 2015, Mark LaNeve, Ford's U.S. sales chief, told analysts on the call.
"Incentives do wear over time," said Mark Wakefield, managing director and head of the automotive practice for consultant AlixPartners. "There isn't a lot of juice left to squeeze. And the companies don't want to incite an incentive war."
The slack response will test whether automakers can keep avoiding even deeper discounts to chase sales, the practice that helped force GM and Chrysler to restructure through bankruptcy in 2009. Another batch of discounts may emerge this month to clear out inventory of the outgoing models, said Jessica Caldwell, an analyst at Edmunds.com.
Looking ahead, industry volume should continue to decline both this month and in October because there are strong year-earlier comparisons, according to forecaster Christopher Hopson at IHS Markit. He expects the sales rate, however, to be stronger in the year's second half than it was in the first six months.
Company Details
Shares of GM, Ford and Fiat Chrysler all declined less than 1.3 percent. Among the results from August:
Sales of Ford's F-Series pickups, the top selling vehicle line in America, fell, as did Explorer SUV deliveries. Low fuel prices continued to take a toll on the sale of cars, which fell 25 percent. The overall decline for its light vehicles was 8.8 percent. 
GM's 5.2 percent decline was due in part to a 4.4 percent pullback in fleet sales and a reduction in sales incentives.

Fiat Chrysler's 3.1 percent gain -- the only one among major automakers -- was short of the 5 percent average estimate. Sales of its Ram pickup fell less than 1 percent.
Toyota Motor Corp.'s deliveries declined 5 percent as the Corolla, Camry and Prius cars all fell. The brand's SUV sales climbed.

Nissan Motor Co. sales fell 6.5 percent, with drops for both its namesake brand and the Infiniti premium brand. The Nissan brand set an August record for sales of crossovers, SUVs and pickups with a 19 percent gain.
Honda Motor Co. surprised analysts with a 3.8 percent drop instead of the 1 percent increase they projected. Accord midsize sedan sales plunged 26 percent.
Volkswagen AG's namesake and Audi brands declined a combined 4.8 percent, a better performance than analysts predicted.
Better Pricing
While discounts have, at least on paper, crept back up to pre-recession levels, there's more cushion than ever: Transaction prices are at a record high as buyers opt for bigger vehicles with nicer interiors, electronics and driver-assist features. With that profit protection, carmakers can weather a snap in the record streak of sales increases. GM and Ford both said transaction prices continued to rise.
The pricing discipline has helped the industry stay profitable while it's still backed by strong, if weakening, underlying trends: low unemployment, available credit, high equity valuations, and cheap gasoline. Consumer confidence jumped this month, the Conference Board reported this week, beating estimates and rising to the highest level in almost a year.

Even so, that has failed to inspire investors, who have been preoccupied with the lack of growth in the U.S. market and potential disruption to the industry from new technology, new entrants and new concepts of personal mobility. While the Standard & Poor's 500 Index gained 6.2 percent this year through Thursday, GM lost 6.5 percent, Ford fell 12 percent and Fiat Chrysler plunged 25 percent.