Photographer: Troy Harvey/Bloomberg
Elon Musk Is Pushing Tesla Hard
The Fremont factory will have to floor it to meet the Model 3 production deadline.
By
Tesla Motors Chief Executive Officer Elon Musk stunned investors in May when he announced that, thanks to phenomenal demand for the forthcoming Model 3, he was accelerating the company's already aggressive build plan by two full years. Instead of increasing production to 500,000 cars in 2020, he wants to reach that level by 2018. To put that into perspective, Tesla delivered just 50,658 cars in 2015 and is projecting 80,000 this year. The company acknowledged the scale of the challenge in an Aug. 5 Securities and Exchange Commission filing: "We have no experience to date in manufacturing vehicles at the high volumes that we anticipate for Model 3, and to be successful, we will need to develop efficient, automated, low-cost manufacturing capabilities, processes, and supply chains necessary to support such volumes."
Musk has referred to his factories—the auto plant in Fremont, Calif., and one for batteries going up in Reno, Nev.—as the "machine that builds the machine." But with only 10 months to go before the self-imposed July 1, 2017, deadline for the start of Model 3 mass production, the machine that will build the new car is still being built. About 373,000 customers have already paid $1,000 to preorder the electric sedan.
The Fremont factory employs more than 5,000 workers and, like most auto plants, has four main shops: stamping, body, paint, and general assembly. A stamping die is a precision tool that cuts and forms metals into car parts such as door panels, hoods, fenders, and roofs. All the stamped parts for the Model S and Model X are made in Fremont. The Model 3 stamping line will be entirely new but hasn't been installed yet.
The new body line, where the stamped pieces are welded together, hasn't materialized either. Japan-based Hokuto is one of the builders. "We understand what Elon is saying and are trying to do it right now," Tomoyuki Mori, Hokuto's global business development manager, said in an e-mail.
Much of the work on the body line will be performed by robots. The Japanese company Fanuc, the world's largest maker of industrial robots, already has about 600 robots at Tesla's Fremont plant, a number that will grow for Model 3 production. Rob Kuphal, director for sales at Fanuc America, says he and his team "will work as hard as we can to support an on-time Model 3 startup." He adds: "It's tight timing, but it's attainable with a lot of work between now and then."
Tesla has vowed not to repeat the mistakes it made with the Model X, which featured complex elements such as "falcon wing" doors that open vertically. In April the company blamed its own "hubris in adding far too much new technology" to the car, contributing to delays in deliveries. In contrast, the Model 3 "is well-designed for manufacturing," says Peter Hochholdinger, who spent two decades at Audi before joining Tesla in May as vice president for vehicle production. "We're avoiding the production complexities of the Model X, and we're doing more pre-assembly," he says. The company is also bringing more of the parts production in-house. For instance, it now makes all Model X seats itself.
Musk has put suppliers and employees on notice that he won't tolerate much slippage. "I don't expect us to be at full production on July 1," he said during an August earnings call. "But I have to drive all suppliers and internal efforts to that date, knowing that some will fall short. And those that fall short will be cut out of the picture."
The bottom line: Tesla's Musk is leaning hard on workers and suppliers to meet a July 1, 2017, deadline to start mass production of the Model 3.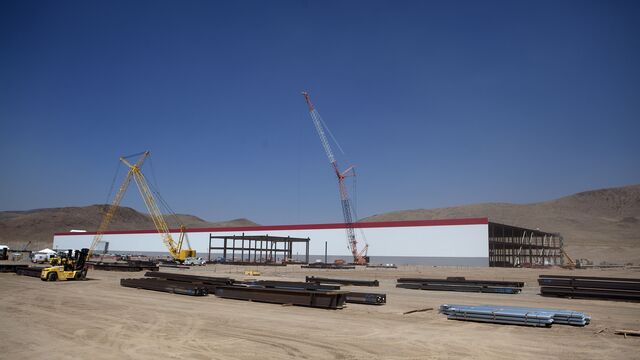 Before it's here, it's on the Bloomberg Terminal.
LEARN MORE