Deutsche Bank CEO Weighs Drastic Steps as Revamp Sputters
by
Commerzbank deal talks suggest desperation, says analyst

Merger might make sense later but not now, investor says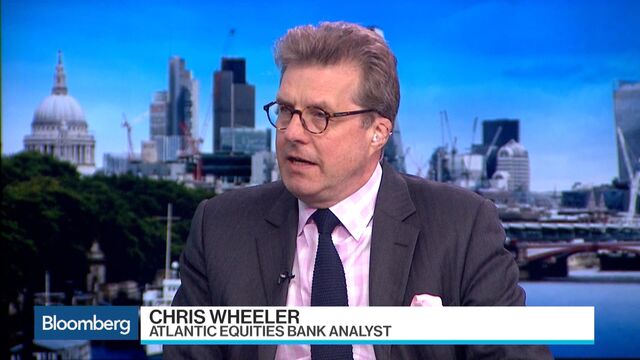 John Cryan is going back to the drawing board after Deutsche Bank AG lost more than half its market value since he unveiled his overhaul last year.
The chief executive officer and his top managers will meet this weekend to assess progress on the reorganization, said a person familiar with the matter. Deutsche Bank held talks over a potential merger with Commerzbank AG last month, before both concluded the timing wasn't right, another person said Wednesday, asking not to be identified.

The firm, which runs Europe's largest investment bank, has struggled to adapt to an era of tougher capital requirements and diminished trading revenue. Since laying out his strategy last October, Cryan has cut risky assets, eliminated thousands of jobs and suspended dividend payments to conserve capital. The latest revelations suggest he's open to examining more drastic measures after the stock fell to a record low in August.
"The management at Deutsche Bank is desperate," said Dieter Hein, an analyst who follows German and Swiss financial firms at Fairesearch-Alphavalue in Kronberg, near Frankfurt. "They have realized that their current strategy is wrong and they're looking at what possibilities they have."

The shares rose 1.1 percent to 13.23 euros at 3:26 p.m. in Frankfurt, giving the bank a market value of about 18 billion euros ($20 billion). Commerzbank has a market value of 8.1 billion euros. Both banks' shares trade at about 30 percent of book value, a signal investors doubt their assets are worth as much as company accounts indicate. 
The report of a possible combination Wednesday lifted both Commerzbank and Deutsche Bank, as well as the stocks of other European lenders, a sign some investors are keen to see a bolder shakeup of the industry in Europe.
In a speech in Frankfurt that day, Cryan said consolidation is needed to improve profitability and competitiveness at Europe's banks. At the same time, he said Deutsche Bank isn't seeking a partner. Short of a merger, Cryan may have to unload additional assets and make even deeper cuts at the investment bank, steps some analysts say are overdue.
'Radical Surgery'
Deutsche Bank "needs radical surgery," said Mark Williams, a master lecturer on finance at Boston University and a former bank examiner at the Federal Reserve. "It has to act more aggressively to restore its capital levels and become financially sound again. Selling core assets and downsizing will help restore its capital base."
Deutsche Bank may consider exiting some non-core parts of its asset management unit, but doesn't plan to sell large parts of that division, according to a person familiar with the matter who asked not to be identified because the deliberations are private.
Cryan's overhaul ran into hurdles from the start. The bank scrapped plans for a new digital bank in the U.S. and said it will struggle to sell German retail lender Postbank. That sale was part of Cryan's plan to increase capital buffers, hurt by fines tied to misconduct and restructuring expenses. A sale of its British insurance business, Abbey Life, has also been complicated by a regulatory inquiry.
"There's clearly a very lively debate going on within Deutsche Bank as to the way forward," said  Piers Brown, an analyst at Macquarie Bank in London. "I view it all quite negatively –- it implies the current restructuring is failing and that there's no consensus at the senior management level on what to do about it."
Wrong Time
A combination with Commerzbank -- off the table for now -- would represent a flip-flop in Deutsche Bank's strategy toward German consumer banking. Former CEO Josef Ackermann led the takeover of Postbank in 2010, betting the purchase would lower Deutsche Bank's reliance on investment banking. His successor, Anshu Jain, decided in 2015 to trim ownership in Postbank to a minority stake, a plan Cryan adopted when he became co-CEO in July 2015.
Investors and analysts are split over whether a Commerzbank deal would make sense, but many agree this would be the wrong time to take on such a complex challenge.
"This type of consolidation strategy could come back on the agenda when Deutsche Bank has solved some of its legacy issues and its profitability has become more apparent," said Jonathan Fearon, who helps manage 300 billion pounds ($398 billion) at Standard Life Plc in Edinburgh.
Further Cuts
Unlike Swiss competitors UBS Group AG and Credit Suisse Group AG, which have giant private banking operations, Deutsche Bank lacks a strongly profitable alternative to investment banking. That's left Cryan with little choice but to rely mostly on cost reductions to revive profitability, while trying not to cut so deep that revenue suffers. 
Cryan signaled in July the lender may have to deepen those cuts after second-quarter profit was almost wiped out by a slump in trading and restructuring costs.
"Deutsche Bank's business model over the last decade has been defined primarily by using balance sheet leverage to make money out of inherently low-margin capital markets businesses," said Brown at Macquarie. "This doesn't work in the new world."
Before it's here, it's on the Bloomberg Terminal.
LEARN MORE