Deutsche Bank Climbs on Report Cryan Weighing Fresh Revamp
by and
Bank weighed sale of all or part of asset management, WSJ says

Five-year financial goals may be revised in overhaul attempt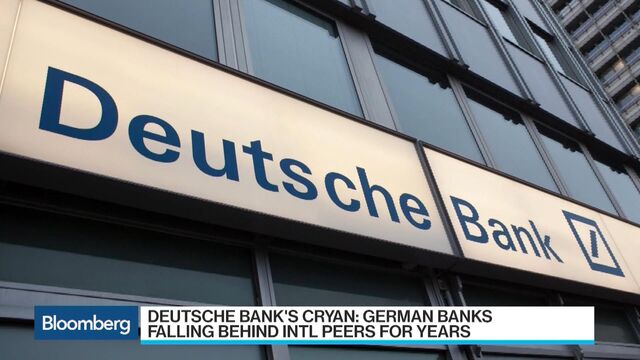 Deutsche Bank AG extended gains in Frankfurt trading on a report Germany's largest bank considered the sale of all or part of its asset management business as it explores strategic options to revive profit.
While small parts of the asset management division could be sold, executives at the bank are keen to hold on to most of the business, the Wall Street Journal reported, citing unidentified people familiar with the discussions. Senior managers are meeting this weekend to discuss Deutsche Bank's options and may adjust financial targets set in October, according to the report.

Chief Executive Officer John Cryan is considering fresh measures less than a year into his strategic overhaul as volatile markets and negative interest rates continue to squeeze profit. While executives also explored a possible merger with the biggest German competitor, Commerzbank AG, the banks abandoned the idea for now as they focus on their own restructuring plans, a person familiar said.
The shares climbed as much as 4.8 percent, and were up 3.6 percent at 13.69 euros as of 3:12 p.m., paring this year's decline to 39 percent. The merger talk also continued to buoy Commerzbank shares on Thursday, with the stock rising as much as 6.3 percent. That's the biggest intraday gain since July 8. The shares were the biggest gainers on Germany's benchmark DAX Index.
A spokesman for Deutsche Bank in Frankfurt declined to comment on the WSJ report.




Cryan is eliminating thousands of jobs and selling assets to boost profitability, hurt by charges tied to past misconduct and a slump in trading revenue. The CEO has already called 2016 a "peak restructuring year" and said Deutsche Bank may fail to be profitable.
Deutsche Bank executives are meeting this weekend to examine accelerating the restructuring program, Reuters reported, citing unidentified people familiar with the matter. The lender is currently targeting costs equivalent to about 65 percent of revenue by 2020. That compares with 87 percent in 2014.
'Overbanked'
Some of Europe's largest banks have scrapped profitability targets and deepened cost cuts to counter the margin squeeze in the industry.
At a conference hosted by Handelsblatt newspaper in Frankfurt, Cryan on Wednesday brushed aside reports of the merger talks with Commerzbank, saying Deutsche Bank isn't looking for a merger partner and is concentrating instead on becoming "a bit smaller." Even so, both Cryan and Commerzbank CEO Martin Zielke -- who spoke at the same conference -- said an overabundance of lenders in Germany is undermining profitability across the industry.
UBS Group AG Chairman Axel Weber, a former president of Germany's Bundesbank, said that Europe remains "overbanked." Felix Hufeld, head of Germany's Bafin financial regulator, said in an interview with Bloomberg Television that while the country's banking industry is naturally consolidating, "full-blown mergers aren't a cure-all."
"We have seen mergers in the past in a whole variety of countries where the results were awful, absolutely disastrous," Hufeld said on Thursday. "And there have been other mergers which were quite beneficial. So It's neither one size fits all, nor do we think that any particular merger cures all your problems."
Before it's here, it's on the Bloomberg Terminal.
LEARN MORE