markets
China Growth Playbook on Display to G-20 in City Transformed
By
China spent $10.8 trillion on infrastructure in last decade

G-20 leaders in Hangzhou on Sept. 4-5 face low growth outlook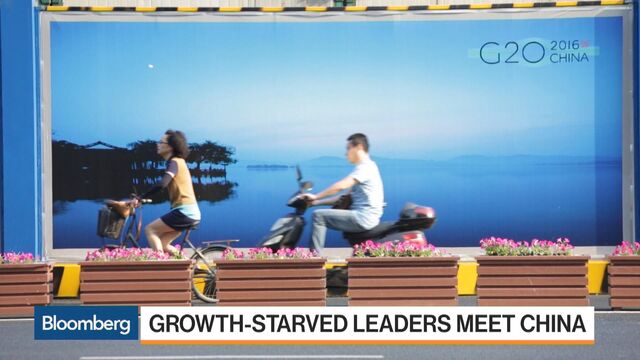 Group of 20 leaders meeting in Hangzhou this weekend will encounter a manicured, booming city transformed by billions of dollars in infrastructure investment that includes underground tunnels, new subway lines and a six-lane airport highway.
There is a cost. China's economy is groaning under the weight of a debt bill that now equates to about two and a half times gross domestic product, and overcapacity has brought waste and disinflation. Yet such is the global growth funk, visitors may be tempted to cast doubts aside and take a leaf out of the nation's stimulus playbook: build first, fix up the mess later.
It's a prescription with shades of former U.S. Treasury Secretary Larry Summers, who warns the global economy is in much worse shape than many think and that a jolt from infrastructure and other fiscal spending is exactly what the doctor ordered. Case in point: Hangzhou's economy surged almost 11 percent in the first half, an eye-watering pace compared with tepid expansion rates around the developed world since the financial crisis.
A key advantage of China's approach is that it creates railways, roads and telecom networks that connect cities and boost productivity. In contrast, monetary easing may have cushioned the slowdown but it has struggled to spur growth, most notably in Europe and Japan. Even in the U.S., where stimulus had more success, it's only now -- eight years on from Lehman Brothers Holdings Inc.'s collapse -- that the path toward normal policy is being contemplated.
'Makes Sense'
So does China have the neo-Keynesian answer to the global economy's malaise?
"The idea of looking at infrastructure development rather than, say, another round of QE probably makes sense in many developed countries," said Louis Kuijs, head of Asia economics at Oxford Economics in Hong Kong. Yet "it's not straightforward to directly translate China's experience. The more developed and zoned nature of the physical landscape in developed countries, and the many checks and balances in their political systems, mean that infrastructure projects are harder to get off the ground."

The warning signs over China's strategy can be seen in the empty towers and vacant industrial zones that pock-mark the nation. What's more, relying on infrastructure to give the economy a fillip is becoming more expensive.
If the government wants to keep growth around its 6.5 percent target, capital spending on roads, rails, and other transportation projects will have to reach a combined 8.4 trillion yuan ($1.3 trillion) in 2016 and 2017 -- more than double the planned amount -- according to estimates by Bloomberg Intelligence economist Fielding Chen.
Even so, Vice Finance Minister Zhu Guangyao said at a briefing in Hangzhou on Friday that China should have a "more active" fiscal policy, citing the failure of monetary policy in other nations to prove effective. He also described fiscal measures in developed economies as having "come to an end."
For an infographic on China's debt problem, click here
For growth-starved leaders from elsewhere, the first step may be to break the cycle of pessimism that has companies hoarding cash rather than investing.
The world is falling into a dangerous trap known as hysteresis, where "nobody believes in a rebound anymore," said Frederic Neumann, co-head of Asian economic research at HSBC Holdings Plc in Hong Kong. "That's why you need this massive growth shock -- you need fiscal policy to push us out of that."
Infrastructure is probably the best place for government-led spending. The Organization for Economic Cooperation and Development estimates the need for such outlays at $53 trillion to 2030, or about 2.5 percent of global GDP, by 2030.
Part of the problem is that the recovery from the global financial crisis has been marked by a dearth of public investment, which remains below pre-crisis levels, according to a study of G-7 nations by Oxford Economics. With governments failing to fill a hole after the private sector cut back, median public investment has dropped to 3.5 percent of GDP in advanced economies, almost one percentage point lower than in 1980, the report shows.

It's an altogether different story in China, which spent more than $10.8 trillion in the last decade alone, according to Bloomberg calculations based on official data on investment in categories such as transport, storage, power supply and water conservation.
China has also been expanding its role in global infrastructure building via international platforms such as the $100 billion Asian Infrastructure Investment Bank and President Xi Jinping's New Silk Road initiative, aimed at bolstering the nation's economic clout across more than 70 countries in Asia, Europe and Africa.
Now, others are promising action too.
"Today, the G-20 is no longer debating growth versus austerity, but rather how to best employ fiscal policy to support our economies," U.S. Treasury Jacob J. Lew said in a speech in Washington on Wednesday. "More needs to be done, but we have made real progress."
Democratic presidential candidate Hillary Clinton is pledging $275 billion in spending on infrastructure investment over five years, and Republican candidate Donald Trump is proposing almost twice as much.
Fiscal Expansion
Pressure is building in Europe too. European Central Bank interest rates are already below zero and policy makers Peter Praet and Francois Villeroy de Galhau both called this week for governments to do more, echoing remarks on Saturday by colleague Benoit Coeure that monetary officials will need to dig deeper "if other actors do not take the necessary measures." An ECB paper last week showed that fiscal expansion in "core" EU countries, such as Germany, could help the region's weaker economies.
Thus far, Germany isn't obliging. In fact, underfunding has meant bridges and major transportation routes being shut down for safety reasons. Net investment by municipalities in the region's biggest economy has been negative since 2003, according to DIW Berlin, an economic research institute. In Italy, the third-biggest economy, ballooning debt levels and European Union fiscal restraints are holding back spending in a country still reeling from the sovereign debt crisis.
The European Commission does have a strategy -- albeit fairly small. The so-called Juncker Plan is an initiative to spur 315 billion euros over three years in investments that include infrastructure. As of July, a year after it came into force, the plan had unlocked 115.7 billion euros of new investments in 26 EU countries, according to the European Investment Bank.

The U.K., navigating a path toward life outside the EU, is considering a state-led industrial revival, with details expected to be released toward the end of the year. Canada is embracing fiscal stimulus with plans to raise deficits with more money for infrastructure a key part.
Japanese Prime Minister Shinzo Abe announced 6.2 trillion yen ($60 billion) of infrastructure spending as part of an economic stimulus package last month. He said projects will include expanding port facilities for cruise ships and bringing forward construction of a high-speed maglev train line.
Near-zero or negative interest rates in many advanced economies mean that higher government spending might be especially effective. An increase in state investment of 1 percent of GDP over two years would raise the output in individual G-7 countries by as much as 1.4 percent by 2017, according to Oxford Economics. A coordinated move would be even stronger and could effectively pay for itself as output and tax receipts rise.
Productivity Boost

McKinsey Global Institute estimates the return on such investments as about 20 percent. The short-term impact feeds through to the local economy immediately, for example by providing construction workers with money to spend, while the longer-term effect continues throughout the asset's life. A bridge that means less time spent in traffic contributes to greater productivity.
G-20 members know this; they just haven't had much success turning talk into action. Take the group's 2014 Brisbane communique, when leaders agreed to lift collective GDP by at least an additional 2 percent over five years, meaning an extra $2 trillion in economic activity and hundreds of millions of new jobs. Coordination hasn't materialized and such goals appear a long way off.
As global leaders begin their discussions in Hangzhou, they'll be looking to revive the momentum.
"Some people say that China may overdo it," said David Loevinger, a former China specialist at the U.S. Treasury who is now an analyst at fund manager TCW Group Inc. in Los Angeles. "The risk of having too much infrastructure is a risk worth taking."
— With assistance by Xiaoqing Pi, Keith Zhai, Carolynn Look, Greg Quinn, Kevin Hamlin, Piotr Skolimowski, and Catarina Saraiva
(
Updates with comments by Zhu Guangyao in ninth paragraph.
)
Before it's here, it's on the Bloomberg Terminal.
LEARN MORE