Donald Trump Affirms Nativist Immigration Vision in Fiery Speech
Hours after meeting with Mexico's president, the U.S. Republican returned to form.
By and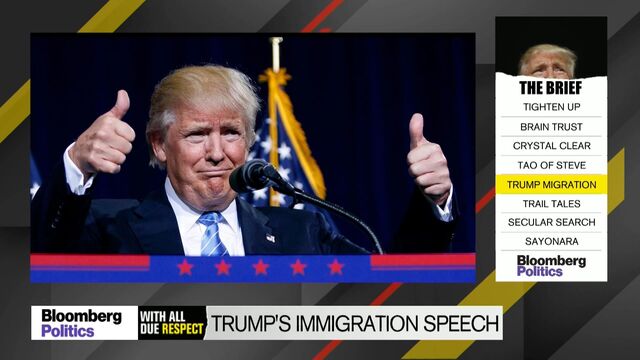 Donald Trump returned to form in Phoenix on Wednesday night with a nativist immigration plan definitively ruling out legal status for undocumented immigrants and proposing to build a wall on the southern border of the U.S. and forcing Mexico to cover the cost.
"We will build a great wall," the Republican presidential nominee said to a cheering crowd. "And Mexico will pay for the wall. One hundred percent. They don't know it yet, but they're going to pay for it."

The speech, which postulated crime prevention as a rationale, came just hours after Trump traveled to Mexico at the invitation of President Enrique Pena Nieto. The two men met privately and discussed a range of topics that included illegal immigration and the possibility of amending the North American Free Trade Agreement. They came away with markedly different interpretations on the question of Mexico's willingness to pay for a wall.
Though he didn't mention that Mexico would pay for the wall during the visit, Trump assured his Arizona audience that their neighbor would be a willing partner in both funding it and helping to monitor the border.
"Mexico will work with us, I really believe it," Trump said.
Trump didn't back away from his pledge to deport criminal aliens, as well as those who attempted to cross the border illegally, though he didn't specify how long such an effort would take or how much it would cost.
"Under my administration, anyone who illegally crosses the border will be detained until they are returned," Trump said, adding that, if he is elected president, the U.S. would "end catch-and-release" and beef up the number of police and immigration officers dedicated to handling undocumented workers.
He also said, "There will be no amnesty. Our message to the world will be this: You cannot obtain legal status or become a citizen of the United States by illegally entering our country."
Trump promised to "immediately terminate" President Barack Obama's executive actions on immigration, including a 2012 program that currently shields some 750,000 young people from deportation.
Little of what Trump proposed was new, and the speech hewed to the immigration blueprint that he published on his website in August 2015. It came after a week in which he seemed to shift his position on using a "deportation force" to remove approximately 11 million undocumented immigrants from the country. On one point, however, Trump added more clarity, pledging to deport "all illegal immigrants who are arrested for any crime whatsoever," saying they would "be placed into immediate removal proceedings."
Democratic nominee Hillary Clinton's campaign called it Trump's "darkest speech yet."
"The only immigrants allowed in the future are those that pass Donald Trump's own test of 'desirability,'" Clinton national Latino vote director Lorella Praeli said in a statement. "He showed us, very clearly, what's at stake in this election by painting a picture of his idea of America: one in which immigrants are not welcomed and one in which innocent families are torn apart."
Clinton running mate Tim Kaine knocked Trump for inconsistency after the Pena Nieto meeting, where, Kaine said, Trump "suddenly just choked and forgot to say" Mexico would pay for the wall.
"I think the important thing about leadership is you've got to be consistent," Kaine said Thursday on NBC News. "You can't say different things to different audiences."
The fiery speech dashed the hopes of Republican operatives who wanted Trump to adopt gentler and more measured rhetoric.
"There was never any pivot," said Doug Heye, a former Republican National Committee spokesman who has been critical of Trump. "The media has been using that term for a year and it never happened. Even the Trump campaign stopped using it months ago."
The rally was at a convention center in downtown Phoenix. Trump's warm-up speakers including Arizona Governor Doug Ducey; Joe Arpaio, the sheriff of an Arizona county who has become a symbol of the anti-illegal-immigration movement; former New York City Mayor Rudy Giuliani; and Trump's running mate, Mike Pence.
At various points in the speech, the crowd broke into chants of "build the wall!"
"There is only one core issue in the immigration debate, and that is the wellbeing of the American people," Trump said. "Nothing even comes in a close second."
To stem the flood of illegal immigration, Trump pledged to enact new "ideological certification to ensure those admitting to our country share our values and love our people."
Trump also promised to improve the nation's monitoring system for those who overstay their visas, and to crack down on 23 countries that he said currently don't take back citizens whom the U.S. deports.
If the U.S. elects him president in November and follows his prescription, Trump said, "crime will go down, border crossings will plummet, gangs will disappear, and welfare use will decrease."
—With assistance from Ben Brody.