Broadcom Projects Fourth-Quarter Sales in Line With Estimate
Company cites optimism for robust growth in wireless unit

Wireline sales fell short of some predictions in third quarter
Broadcom Ltd., whose chips are used in Apple Inc.'s iPhone and other smartphones, forecast fiscal fourth-quarter revenue that was in line with analysts' estimates, citing healthy demand from its wireless division.
Key Points

Revenue in the period that ends Oct. 30 will be $4.09 billion, plus or minus $75 million, the Singapore-based company said Thursday in a statement. That compares with an average analyst estimate of $4.06 billion, according to data compiled by Bloomberg.
The net loss in the third quarter was $298 million, or 75 cents a share, compared with profit of $240 million, or 84 cents, a year earlier.
Excluding costs associated with the sale of business units, profit was $2.89 a share, compared with an average analyst projection of $2.78.
Third-quarter revenue more than doubled to $3.79 billion, reflecting Avago's combination with Broadcom Corp. last year in the biggest-ever chip merger. On average, analysts has predicted revenue of $3.76 billion.
The Big Picture
Chief Executive Officer Hock Tan has assembled one of the most diverse chipmakers in the industry and has said he's aiming to give Broadcom an even bigger reach through future acquisitions. The company's earnings are an indicator of demand across the mobile phone, wireless and fixed-line and computer industries.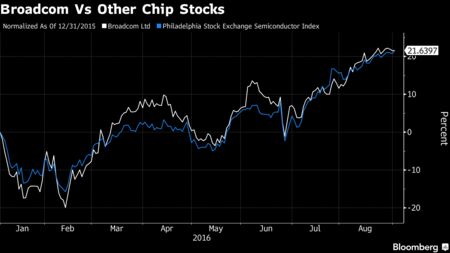 Details
Broadcom's stock fell 1.9 percent in extended trading following the announcement as some investors expressed concern that the company's wired infrastructure business had fallen short of estimates in the third quarter, according Ian Ing, an analyst at MKM Partners.

"Wireline is a little bit light. That's the one slightly negative area," Ing said. "It's just that expectations are a bit elevated for this company."

Wired infrastructure, which provides the company with 54 percent of its sales, contributed $2 billion of sales in the quarter, Broadcom said. Wireless, the next largest unit, had sales of just more than $1 billion.
Before it's here, it's on the Bloomberg Terminal.
LEARN MORE